Looking for an easy DIY Classroom Clock idea to zhuzh things up a bit? You'll love this simple, quick Kmart Clock Hack that will make your classroom look good and make learning to tell time easier too!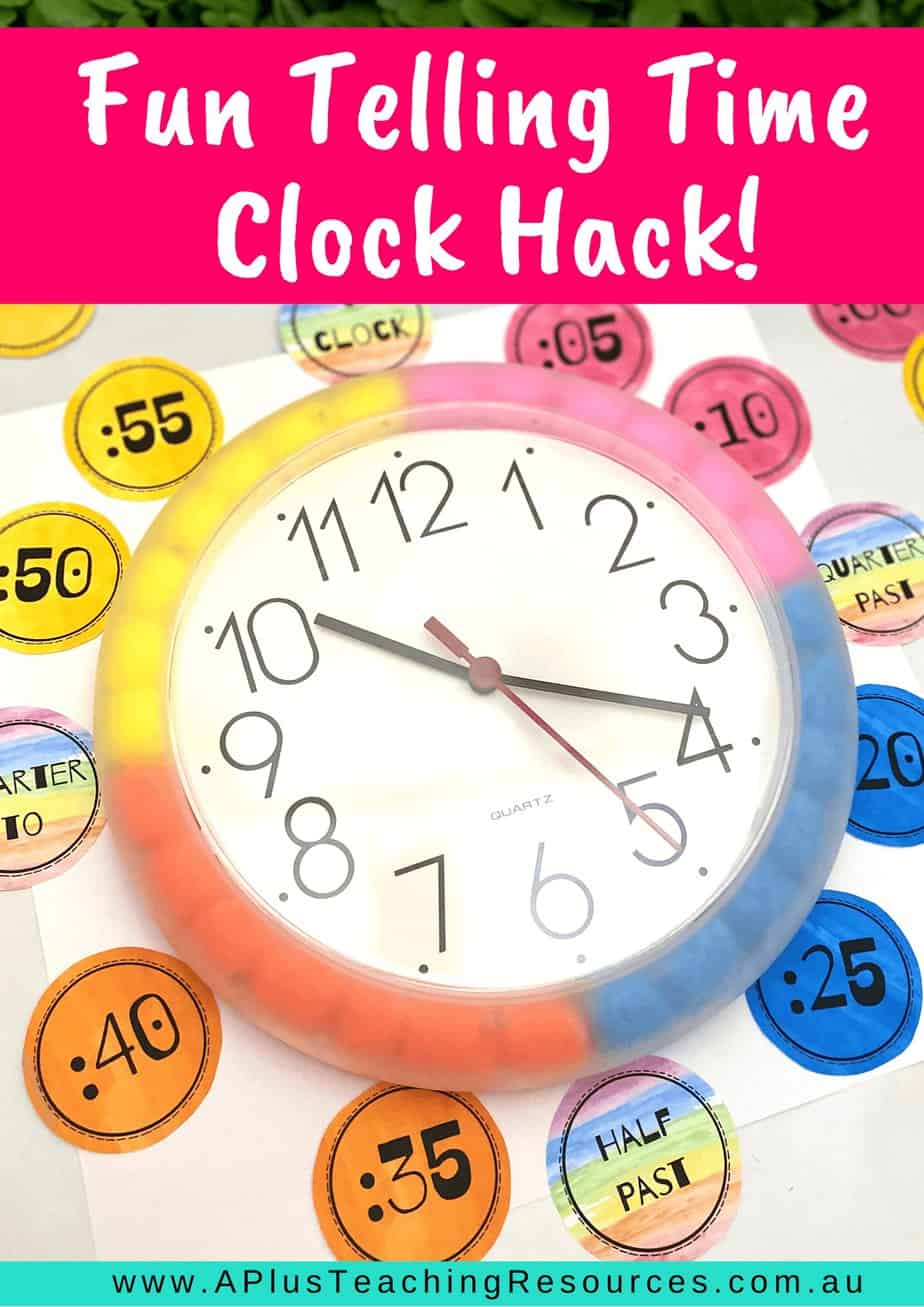 A clock is an essential piece of kit, in everyone's classroom. It only takes a spent battery to realise that we can't function without a working classroom clock!
But the humble school clock is pretty uninspiring! In this post I'm going to show you that doesn't have to look so drab, boring and functional!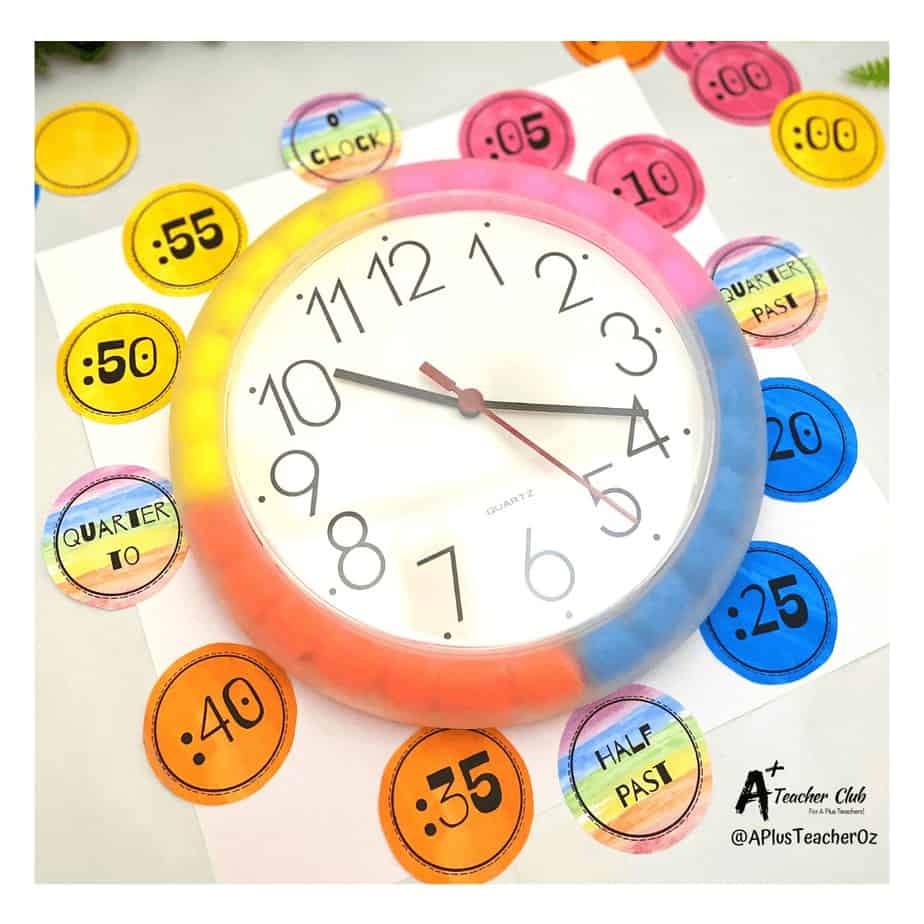 By the way, we may get a small share of the sales made through the links on this page. We try our best to only recommend useful stuff that all teachers love!
I love zhuzzhing up everyday cheap classroom items! Once I step inside the 'cheap' shops or Kmart my mind instantly starts to explode with creative ideas! I start to think about how I can adapt almost everything I see for my classroom! Can you relate?
To be fair this happens because I spend way too much time on Pinterest or Instagram looking at all the awesome teacher hacks and ideas from the amazing educators around the world!
There's a plethora of creative hacks for almost any everyday item, even the classroom clock!
Classroom Clock Ideas
The humble classroom clock is certainly crying out for a makeover. Why not also take a look at our other posts : 10 DIY classroom Clock Ideas  for even more clock decoration ideas after you've read this one!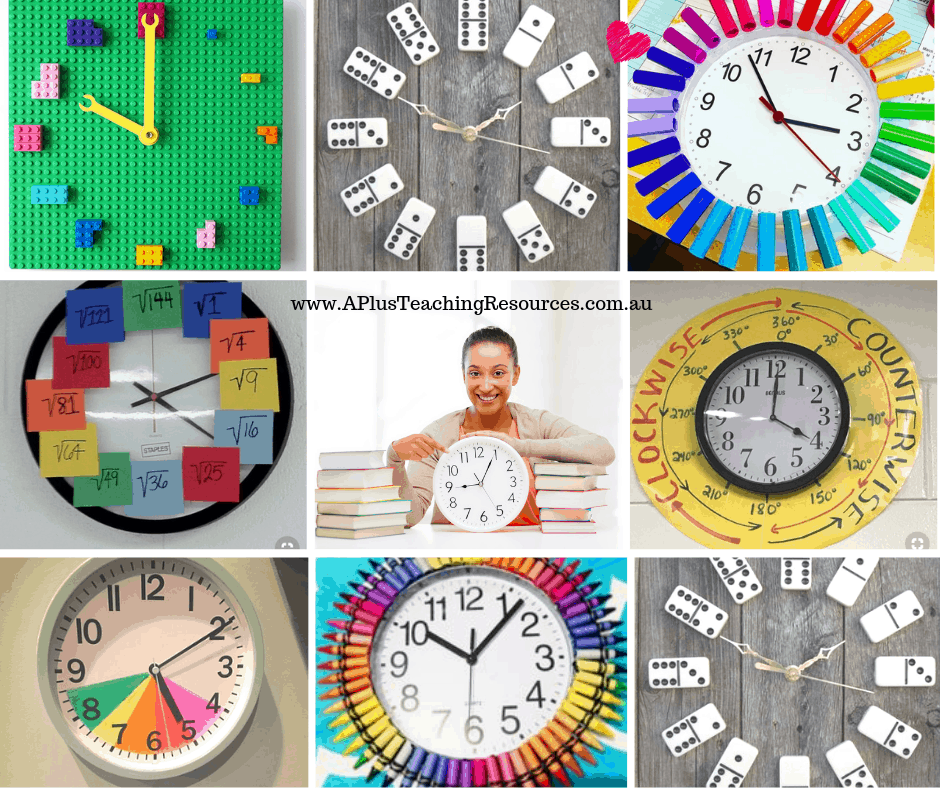 Kmart Classroom Clock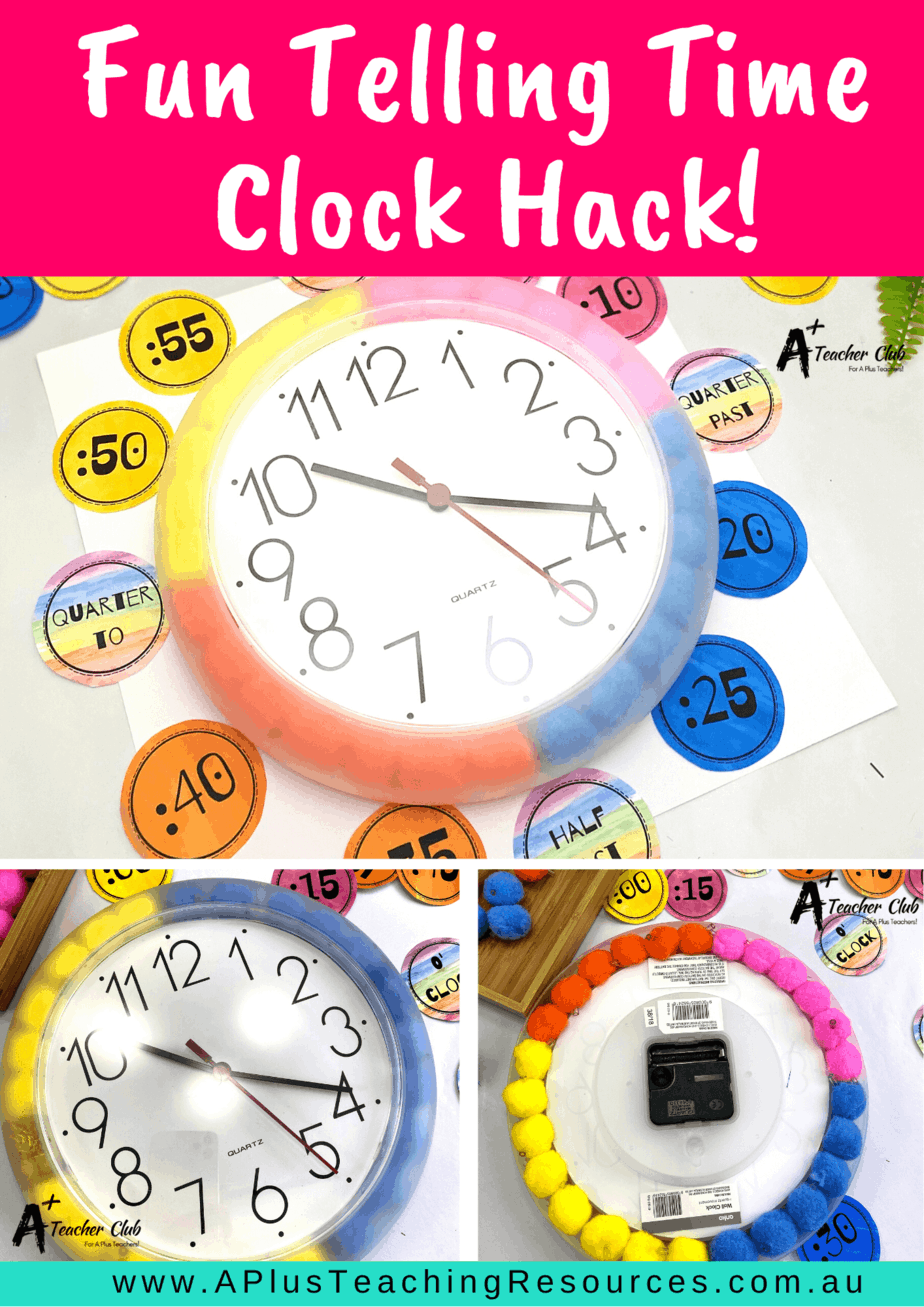 This gorgeous pompom classroom clock idea is super quick and simple to make, the hardest part was hanging it up on the wall!
The added bonus is that the colour coding will really help your students to understand quarter time, O'clock and half past!
Classroom Clock Materials
With just 3 items and not a glue gun in sight you can have this classroom clock up in your classroom in no time at all. Here's what you need:
4 colours of Large pompoms
Plastic Clock From Kmart or similar
Related Post: Wow Factor Bulletin Boards For Back To School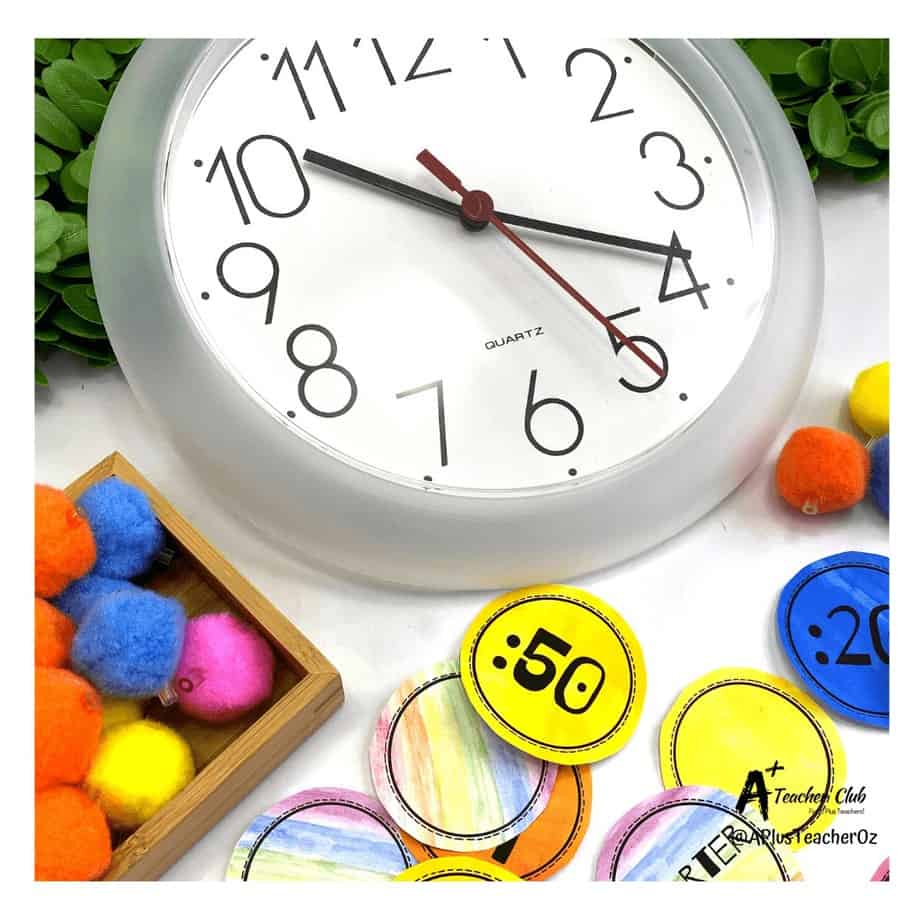 Telling Time With The Kmart Clock Hack
I've seen many variations of Teacher hacks for this Kmart clock that have been purely decorative. When I saw them I instantly started to think how to combine colour coding with the pompoms and learning to tell the time. That's how I came up with the idea for this Kmart clock hack.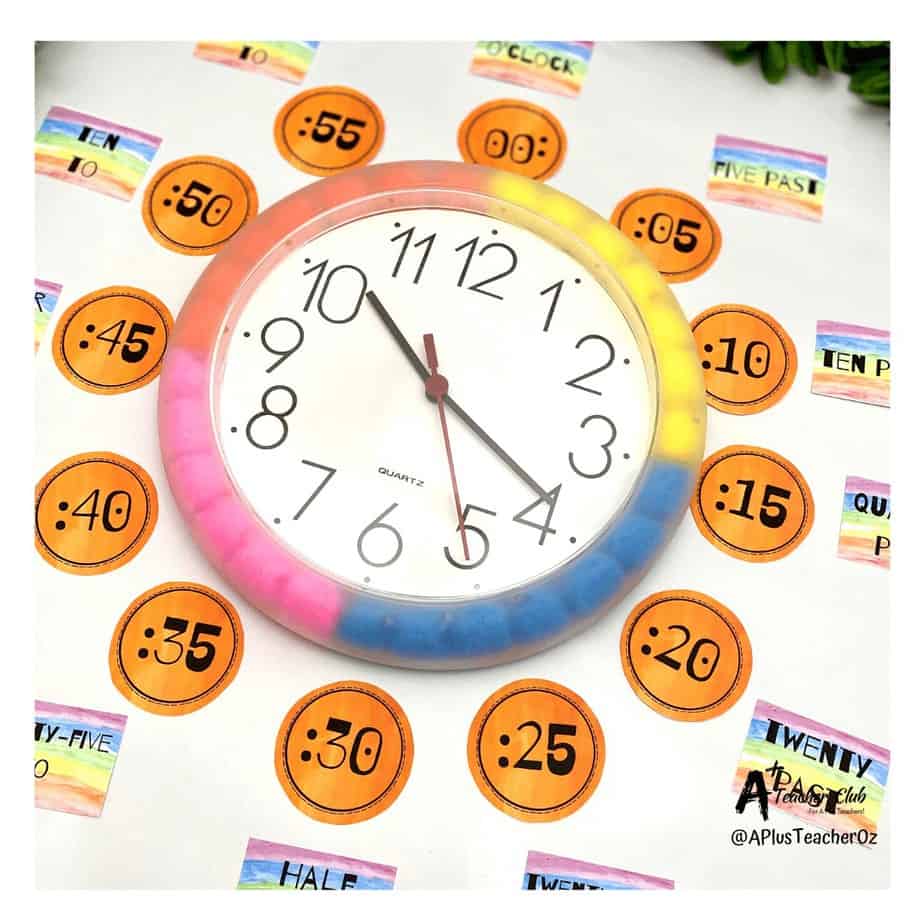 Using the Kmart plastic clock and some pom poms for this hack will not only make your clock look pretty but it will provide your Students with a visual for linking basic fraction knowledge of quarters and halves to learning to tell the time.
Related Post: Using Colour Coding To Teach Place Value
Before you start you need to decide which 'times' you're focussing on. Regardless of your curriculum requirements, it's always a good idea to check for existing understanding about time. Remember that telling time has prerequisite skills. At the very least your kids will need to be able to:
count to twelve
count to sixty by ones for O'clock times
count to 60 by fives to work on quarter time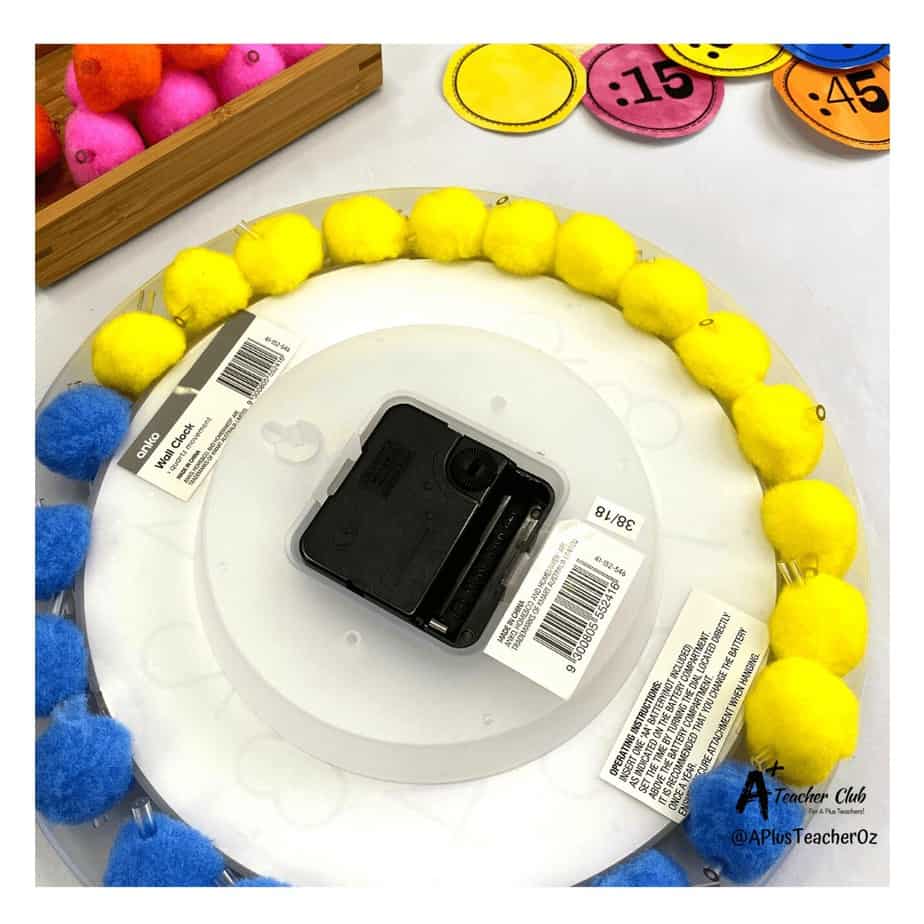 Telling Time Task Cards
Telling O'Clock & Half Past Time
To develop half past and O'clock time use 2 colours of pompoms and simply squash them under the rim of the clock! and that's it, you're Done!
We found that the larger pom poms stayed inside the plastic channel the best, small pompoms kept falling out!
Before displaying the cool clock in your classroom It's a good idea to discuss with your students how the colours of the pom poms relate to telling the time.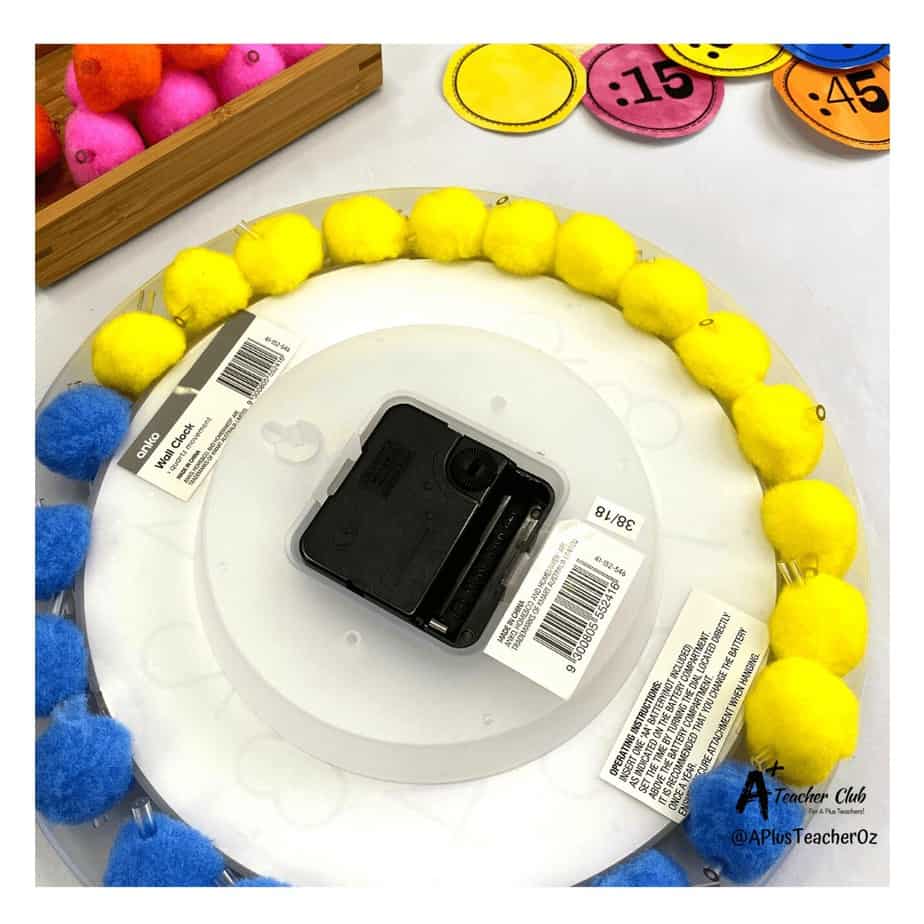 Point out that half the clock is _____ (blue)and the other half _____ (yellow). That the blue pompoms cover half of the clock from 12 to the 6. That's why we say half past. Discuss why we say 30 when there is no number 30 on the clock.
To add in quarter time versions just add in 2 extra colours of pompoms.  Take out half of the existing pompoms and replace them with new colours dividing the half past times in half to make quarter times. Here's how we arranged our four colours of pom poms:
Pink pom poms between 12 and 3 to show quarter past
Blue pom poms between 3 and 6
Yellow between 6 and 9
Orange between 9 and 12
Discuss with your students why there are now four colours of pompoms. Highlighting how they divide the clock into 4 special times:
O'clock at number 12
Quarter past at 3
Half past at 6
Quarter to at 9
You can see why time is so difficult to learn when many of the numbers don't match to how you read time!
This way the kids don't just see your Kmart clock as something that looks pretty!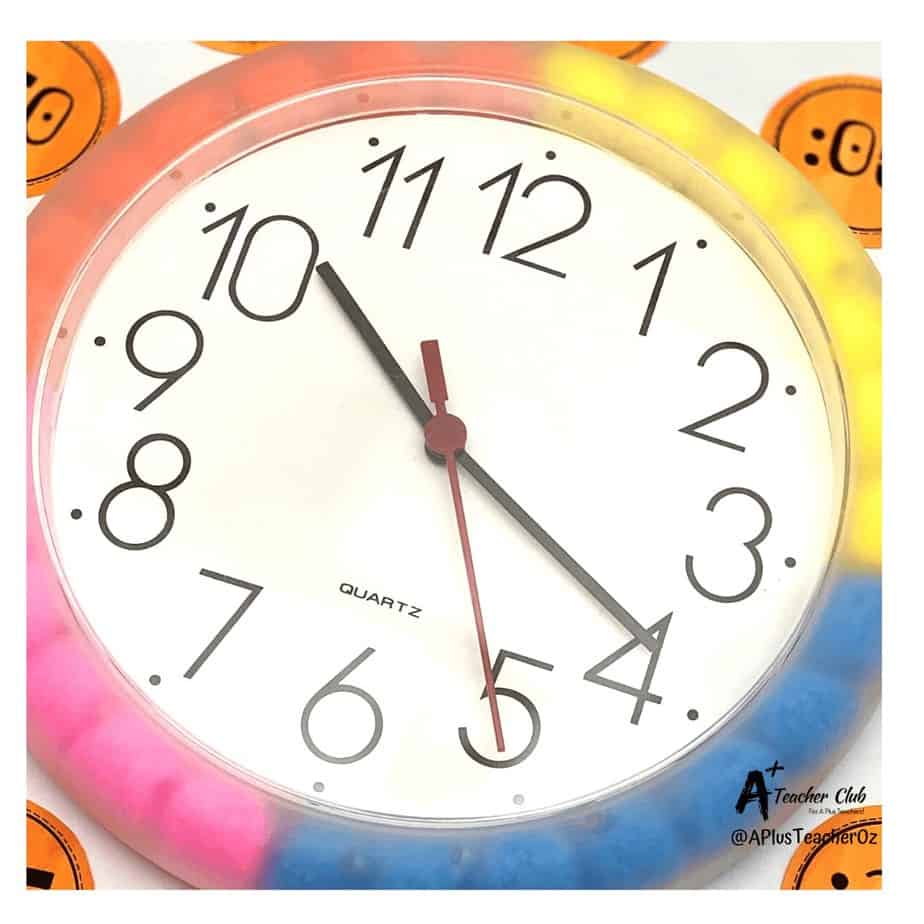 Related Posts Watercolour Classroom Decor For Back To School
Classroom Clock Labels
Our classroom clock labels are the perfect final touch. There's  a range of colours and designs for you to match to your pom pom colour coding and and editable set too so you can use your own fonts!
The labels are a great way to help your students to learn to read the time on an analogue clock. Click the image to get your copy.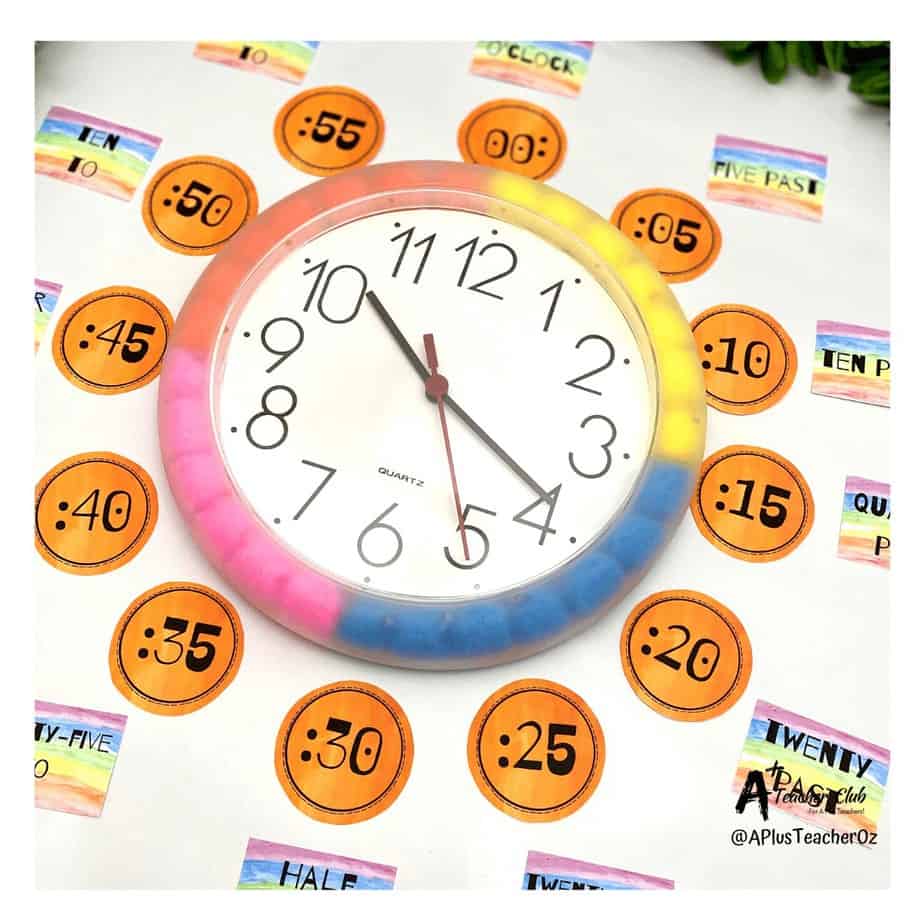 Must Have Teaching Resources