Our Australian Coins Lesson Plans & Activities Kit is JAMMED full of hands-on Activities, Printables and Classroom Visuals. Grab your teaching kit now for For EVERYTHING you need for Teaching, Assessing & Reporting Coin Recognition.
Australian Coins Lesson Plans & Activities Kit
Teaching Money is broken down into 8 areas:
Coin Recognition – Recognise features, describe & order coins
Note Recognition – Recognise features, describe & order notes
Collections – Count and order small collections of notes & coins
Equivalences – Show money values in multiple ways
Change – Give change to nearest 5 cents
Problem Solving -Solve money word problems involving change
Simple Financial Planning – simple budgets
Percentage Discounts
We have used this breakdown to create a range of differentiated activities to meet the needs of the students and not just the Year level requirements.
These coin printables in our Australian Coins Lesson Plans & Activities Kit are focussed on coin recognition and include activities that allow your students to discover:
Coins are different in other countries
The features of coins – colour, size, shape, animals or people featured
Which coins are worth more or less than others
How to sort coins according to criteria – size, shape, colour and more
Different coins represent different amounts
The size of the coin doesn't represent the value of the coin
How to record coin values using, numbers, words & symbols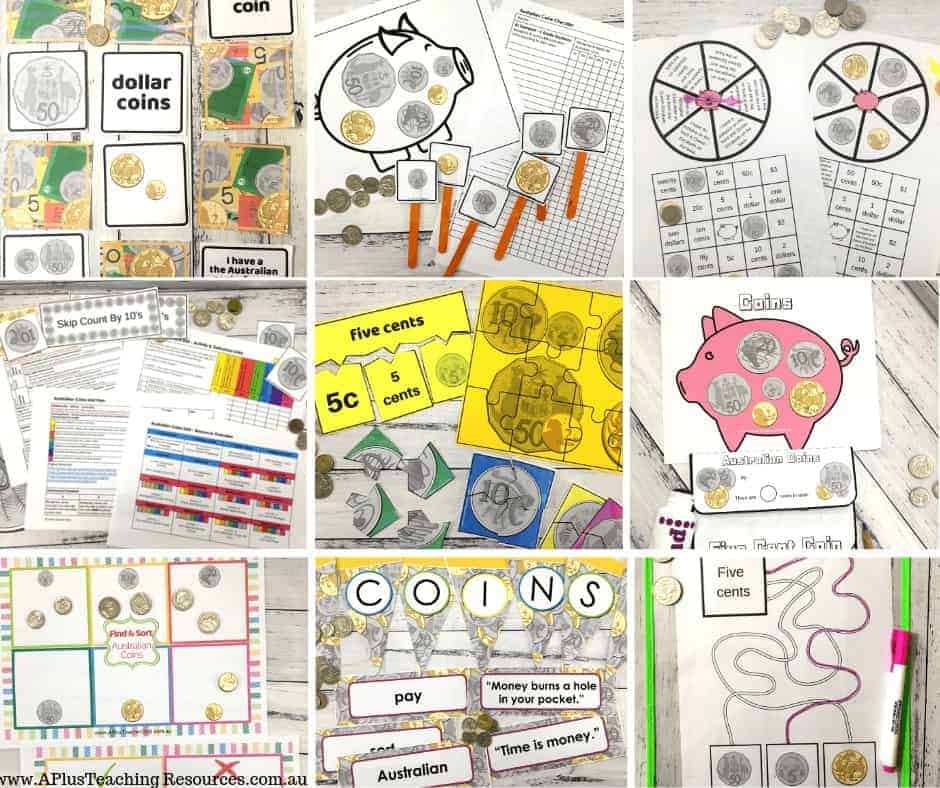 Teaching Australian Money Kit Contents
19 Secured PDF Files (no copy, paste, eatracting, editing or customising of the info in this file). To print correctly you need the latest version of ADOBE Reader DC (FREE)
Teacher Lesson/ Unit Plan – Everything you need to teach the coins unit. The teacher lesson Plan includes teaching focus, Achievement Standard, grade overview, children's books and website suggestions, activities overview.
Pre & Post Assessment Tasks
Teacher Checklists
9 Student Activities Checklist
Teacher Demonstration Visuals
Classroom Visuals
8 Different Coin Frayer Model Thinkboards. Perfect for warm ups, Lesson Closure, centers and Assessment
(Notes Not included)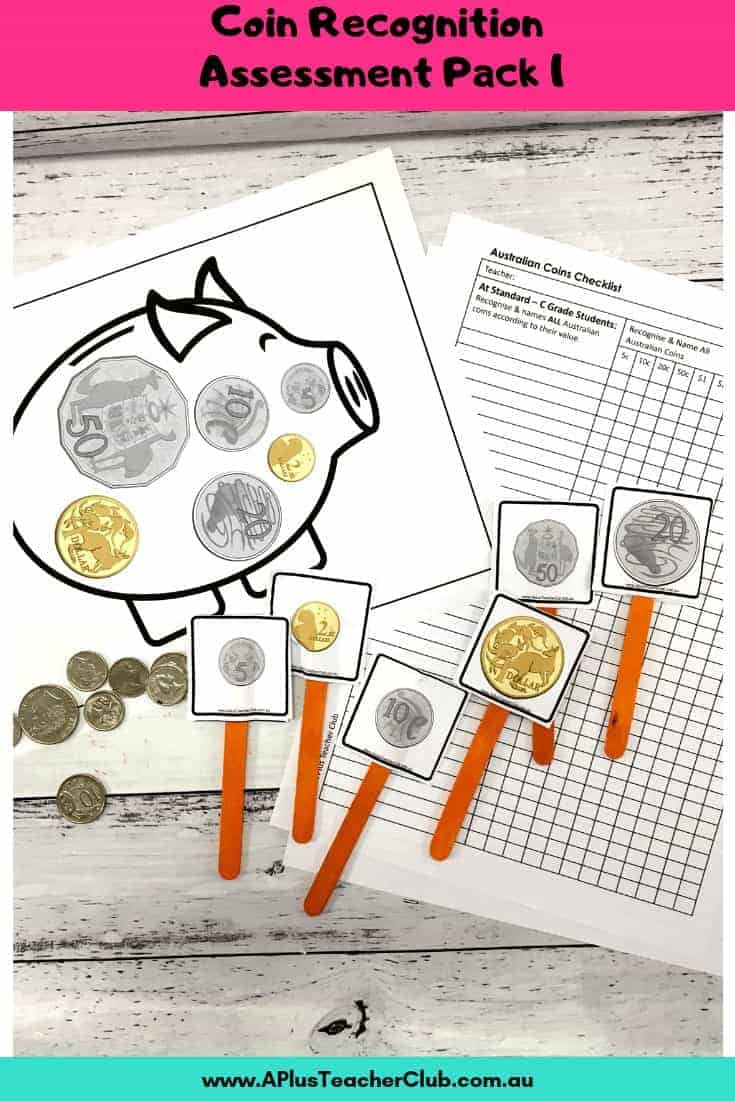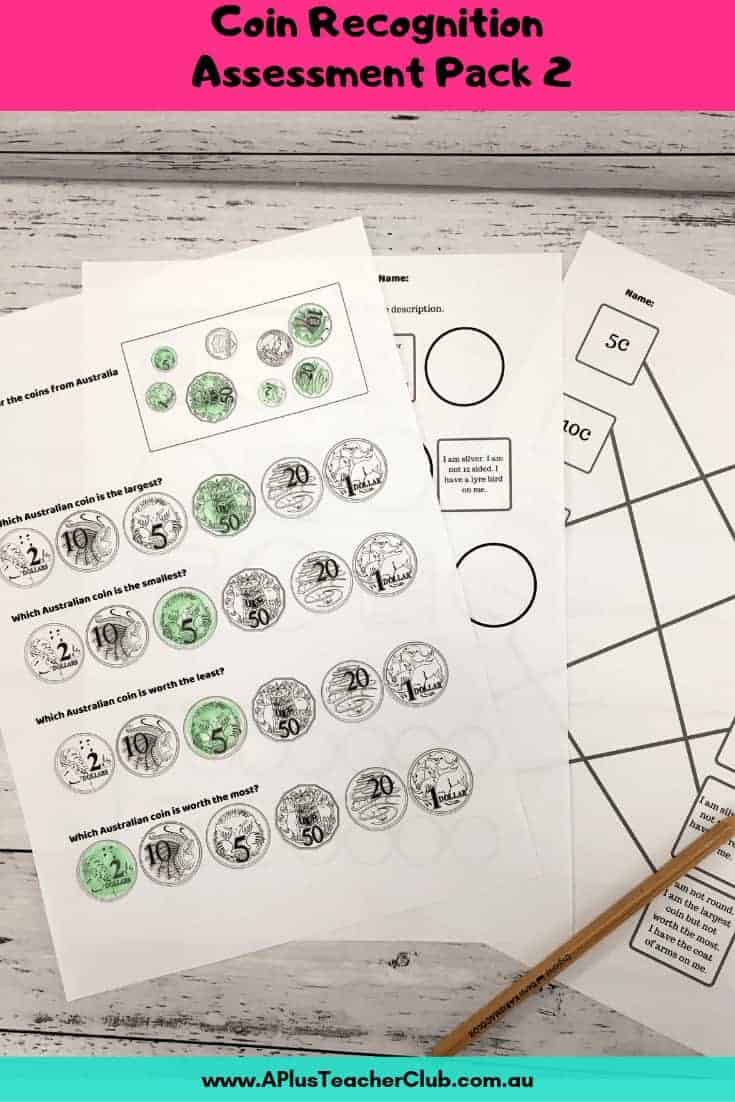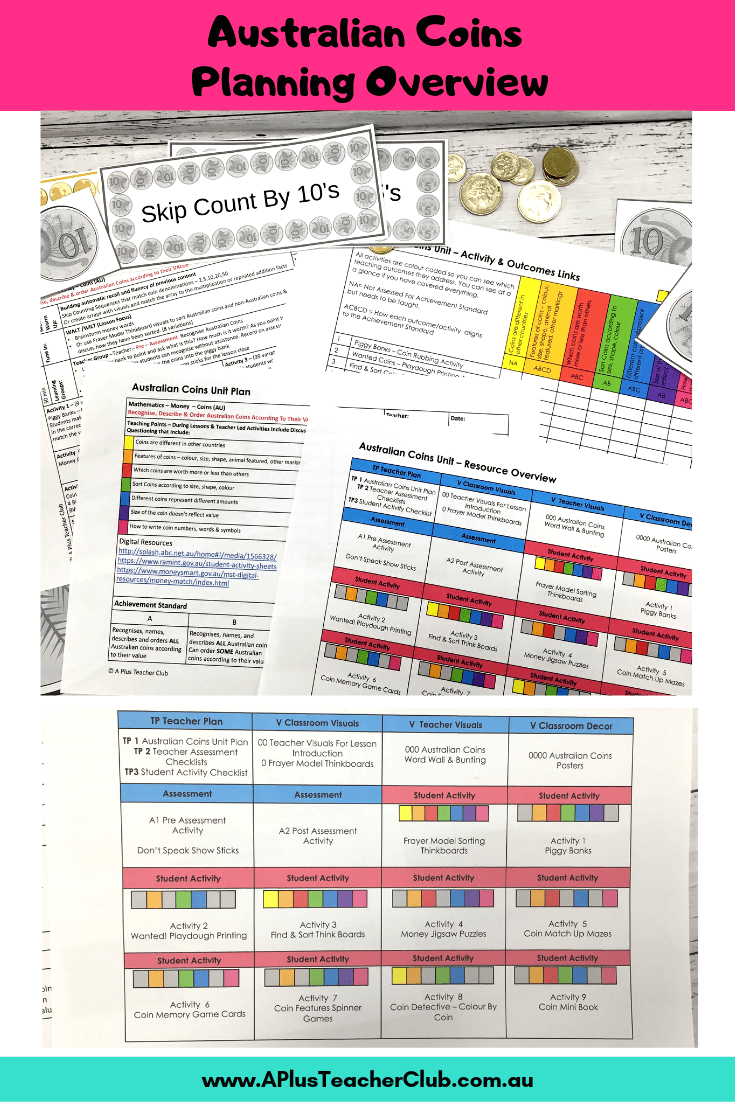 Australian Coins Activities
Piggy Banks – 9 different piggy bank sheets perfect for coin rubbing to help identify the features of Australian coins
Wanted Coins – Kids will love learning about the features of Australian coins with this fun Wanted Coins Activity. Print as A3 or A4 and laminate or as a student coin booklet!
Coin Thinkboards -Sorting Coins Thinkboards are great for centers, assessment and warm up activities. There are 39 different tasks in this download
Jigsaws – 5 different Australian Coin jigsaw puzzles to help kids learn about the features of Australian Coins. Includes colour and B&W versions
Mazes – 36 different variations of these coin tracing mazes. Laminate or use a reusable pocket. Students match images, money words, digits and names
Card Games – These coin recognition cards can be used in so many different ways, snap, war, matching. There's 36 written feature cards and 36 picture cards
Spinner Games – These spinners add a new level to bingo math games. They're much more fun for kids to learn the features of Australian Coins. There are 4 versions available in with a decorative background or a low ink version. You decide!
Colour By Code Coin Detective – There are 3 versions of the Coin detective worksheets  Kids have to find, sort and colour the coins
Make A Mini Coin Book – Kids will love making this mini coin booklet. Each coin has it's own page and kids have to colour in the true statement about each coin. It's such a fun way to learn all the features of Australian coins.
Teaching Math? You should check these ideas out on our BLOG!
PSST! If you want to Save time and $$$ on Teaching Resources Join Our VIP Club! Get Instant Access To ALL our PAID & FREE Resources Plus 20+ New Activities Every Week! Click The Image Below To Find Out More…