This FREE set of 2D shapes task cards is a sample of our 2d shapes task cards set. This pack has been created to allow students to build their STEM and Engineering skills whilst learning to name and identify seven 2-dimensional shapes, including:
circle
hexagon
triangle
kite
octagon
pentagon
rectangle
square
The Easter STEM 2D shapes pack contains 2 versions of the STEM task cards, to help you differentiate the activity for your students. It is a full-colour pack with 2 task cards per A4 page.
Version one includes:
7 colour cards (half A4 sized)
2D Shape name
Image of the shape made using playdough and sticks.
This set helps students to connect the shape with the number of sides and corners. Perfect for introducing early learners to 2d shapes and designed for them to copy.
Version two includes:
7 colour cards (half A4 size)
List of materials to create a shape e.g.

4 playdough balls
4 toothpicks
This set is more advanced and open-ended as the students can create as many shapes as they can using the materials suggested. This set of cards can be used alongside set 1 to help extend students problem-solving skills. To read more about how we use these cards read our blog post… Free STEM Easter Maths Printable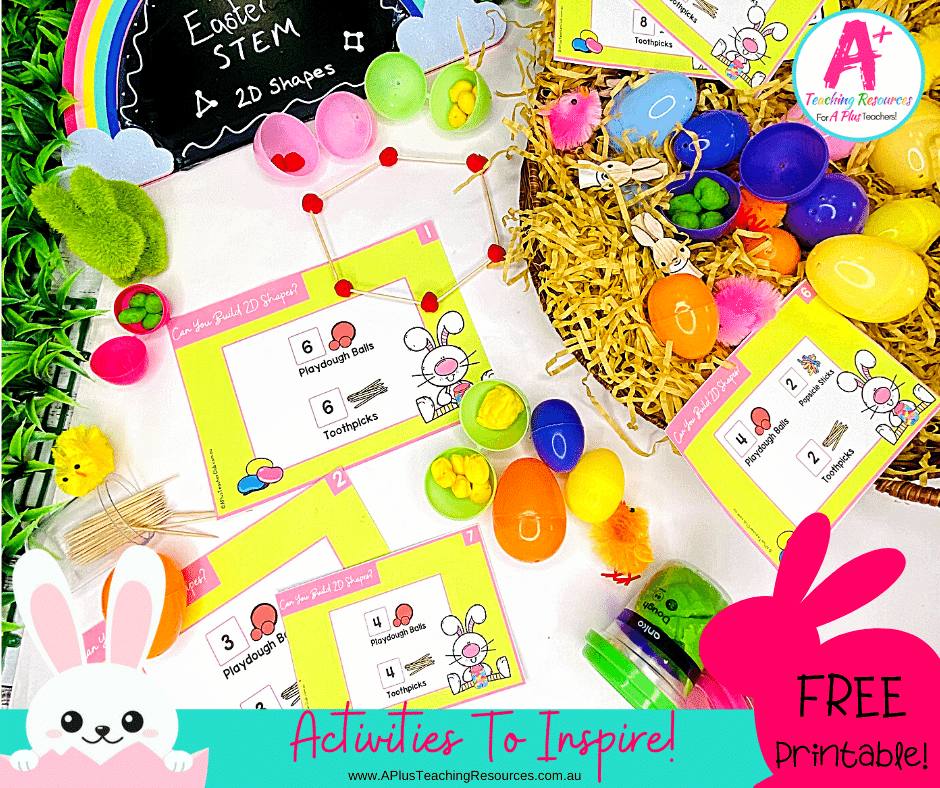 PSST! If you want to Save time and $$$ on Teaching Resources Join Our VIP Club! Get Instant Access To ALL our PAID & FREE Resources Plus 20+ New Activities Every Week! Click The Image Below To Find Out More…