How cute are these Free Christmas Resources For teaching Patterning? Pretty darn cute we say! And we know your kids will love learning to copy, continue, describe and create AB patterns with this kit and Kmart mini erasers too!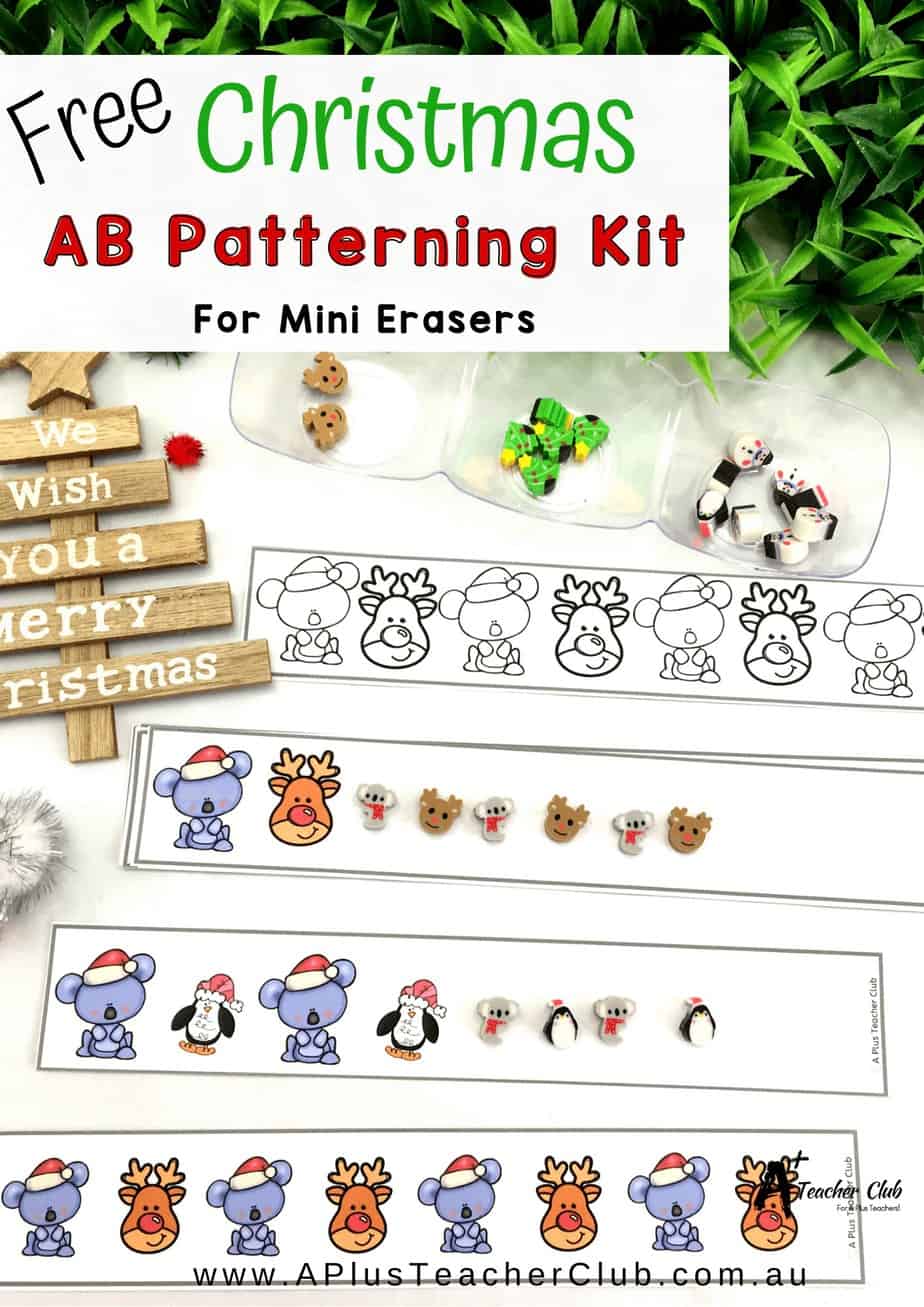 Try these Free Christmas Resources For teaching Patterning in the run-up to Christmas. They're an engaging and motivating pack, perfect for math warm-ups, a sensory play tray or math centre. Take a look at ALL our FREE Christmas Resources For Teaching here.
With this MEGA 78 page pack, your kiddos will build a solid understanding of everything AB Patterning. They will learn how to:
Identify AB patterns and develop strong visual discrimination skills with the strips being in colour and black lined
Name AB patterns
Copy AB patterns
Continue AB patterns
Create AB Patterns
This super cute patterning Christmas Math Games Printable will keep your kids on task, engaged and building number sense skills this December! Use it with your Kmart mini erasers or with the pieces we have created in the pack!
Free Christmas Resources For teaching Patterning
The pack contains so many activities, that we have differentiated for the range of abilities. It also includes a colour and a black-lined version of each patterning strip.
Now this will save ink, but we didn't make them for just that reason. We know that kids can get things right for the wrong reasons, especially when it comes to patterning.
They are great at memorizing, parroting and continuing an oral pattern, "red, blue. red, blue, red, blue…" but kids don't necessarily understand that there is a repeating pattern of red, blue.
So to stop this from happening we have made the blackline versions of the strips so you know that the kiddos are using their visual discrimination skills to identify, copy and continue AB patterns, and not just seeing the pretty colours!
Here's what's included:
1 secured PDF 78 pages (no copy, paste, customising) Digital Download
Create a pattern Prompt strips – create an Ab, ABB, AAB, ABC pattern with no images
Create a pattern Prompt strips – create an Ab, ABB, AAB, ABC pattern 4 different images – Students colour the images to create the correct pattern
Student board and recording sheet for math workbooks – Place (or glue) the pattern strip onto the board. Copy the pattern underneath using materials, like the Kmart mini erasers

Describe the pattern & teacher scribes
Continue the pattern
Create your own pattern

4 pages of pieces to use if you don't have mini erasers. We have included some images that are similar but not the right image to encourage the kiddos to look for the correct pattern attributes
3 versions of each pattern strip – full pattern stip (AB, AB, AB, AB, AB, AB), single AB pattern strip, one repeat strip (AB AB)
6 versions per Christmas character found in the mini eraser pack – snowman, penguin, reindeer, Christmas tree, Santa & Koala
AB strips and 1 2 strips
Check out more Christmas patterning strips for AAB, ABB, ABC, ABCD
Become a VIP on our NEW Membership Website and get access to this and all our Resources Plus 20 NEW resources every month, for just $37 a year! Click the image to find out more…
Related Post: Festive Fun Christmas Printables For Kids!
PSST! If you want to Save time and $$$ on Teaching Resources Join Our VIP Club! Get Instant Access To ALL our PAID & FREE Resources Plus 20+ New Activities Every Week! Click The Image Below To Find Out More…