Use this NSW Stage 3 Maths Teacher Planner to make your report writing easy! For teachers who want to track student achievement and know what to teach next! Perfect for teachers or homes school planning.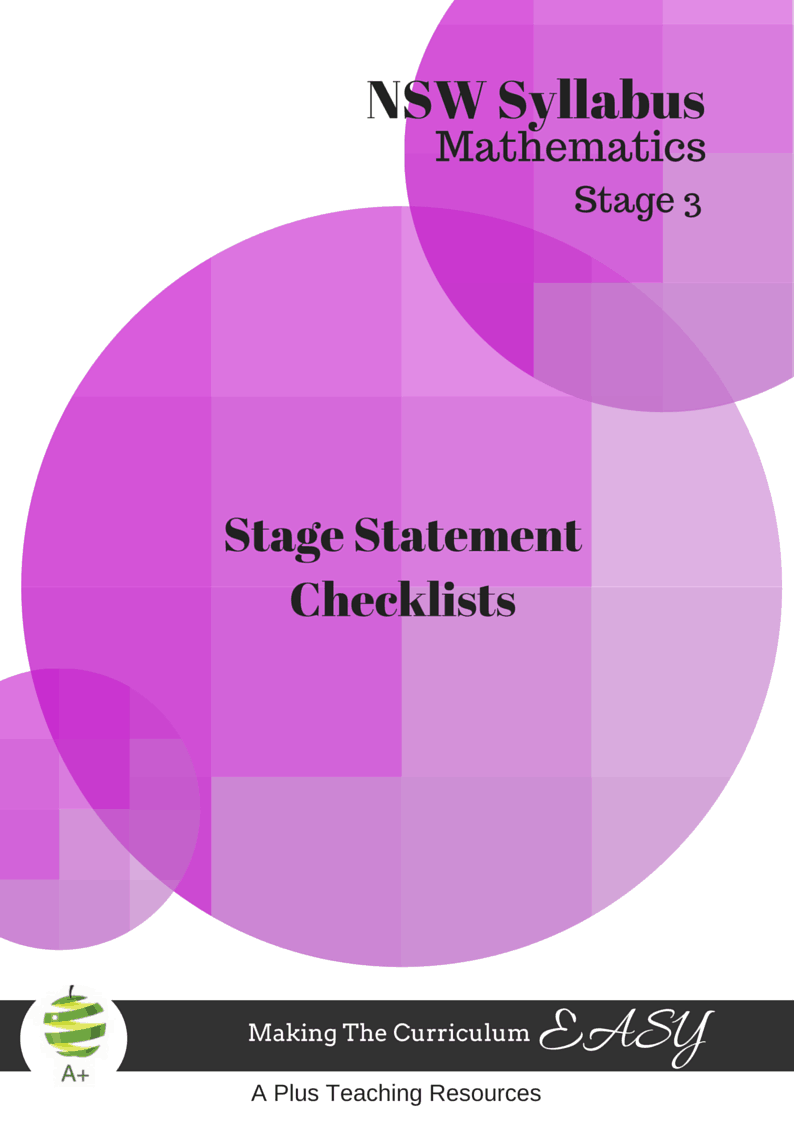 With our Editable Checklists NSW Stage 3 Maths you can make an holistic professional judgement of a student's level of achievement against the NSW – Stage Statements (Australian Curriculum Aligned) based on the knowledge, understandings & skills that have been demonstrated during the reporting period.
Use these Teacher Planners Australia Checklists to:
Track students against the Stage Statement
Implement The Australian Curriculum & NSW Syllabus Stage Statement
Set Achievement Targets
Inform Planning
Identify student needs & develop IEP & GEP plan
Provide details for a comprehensive handover
NSW Stage 3 Maths Preview Video
Watch the PREVIEW of this editable planner to see if this product is right for you…
Editable Stage Statement Student Trackers & Checklists For Mathematics Stage 3 NSW (Sold Separately). Read details below for what can be edited.
Suitable For NSW ONLY
Digital Download –  Secured PDF – 35 Students –  Editable*
No copy, cut, paste, customising or extracting of the information in this document) *Editable on Laptops & PC. Read only on Tablets full details below.
This kit contains 2 PDF Files which are Form Fillable you can Edit:
PDF 1 – Whole Class Kit – You can Edit:
Cover Page – Your Name, Date, Class
Grading Key/Legend – Create  your own Key/Legend which will automatically appear on all the checklists for you so you only type it once
Class List – Type your class list of up to 35 students which will also automatically appear on all the checklists
Anecdotal Observation – I have included spaces at the end for you to enter comments & observations about each individual student. Use this section to build up a picture of each student for reporting comments, general comments & parent /Teacher interactions
Grade Allocation – The Stage Statement has been broken down into separate teachable criteria for you so you can enter a separate grade for each part of the Statement. This will help you see your students performance against the whole Learning Area which will help you allocate a final reporting grade
PDF 2 – Individual Student Kit – You can Edit:
Cover Page – Your Name, Date, Class
Stage Statement Annotation- Enter Student Name, Date, Teacher & Grade allocation. You can also include comments & feedback. The text will automatically be resized to fit the space provided
Stage Statement Checklist-Enter Student Name, Date, Teacher. The Stage Statement has been broken down into teachable criteria. Click a tick box against the appropriate A-E grade of each of the criteria to identify & allocate a final grade for reporting.
Click for More NSW Teacher Planning Documents