---
All products are digital downloads. They are not physically mailed to your home.  There are 2 ways you can download them.
---
'On- Screen' Product Download
After your payment has been processed you will be shown a 'Order Received' page. It shows your order number, date, total spent and customer details.
Your 'Order Details' are also shown, including the products you have purchased.
If you want to download them immediately just click the green text 'DOWNLOAD' (not the title of the product… this will take you back to the shop ) and save your download onto your computer.

Your product links are also emailed out to you using the email address you provided at the checkout. So if you are not at your computer at the time of your purchase, don't worry you can download them later at a more convenient time!
Email Product Download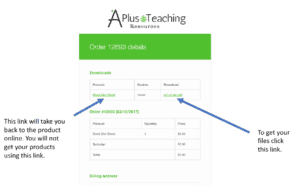 After payment is finalised you will be emailed a 'Your order is complete-download files' email. This email also contains your download links to your products.
Download your products by clicking the Green underlined text under the word "Download" not "Product". If you click the word product you will be taken back to the web page where you bought it from.  If you have purchased more than one product you will need to click all links.
Once you have clicked the link your computer will put out a dialogue box asking you where you want to save the files. Please take not that your default setting will automatically save your products to your 'Downloads Folder' on your computer.  You can also select your own destination before clicking save, we suggest you 'SAVE' to  your 'Desktop' then move them to a folder of your choice.
How to Download products immediately 'on-screen'
Categories: Downloading Products, Emails, My Purchases