Teaching Kids About Parts Of Speech can be a bit MEH! So we have found some really wonderful picture books. Here's a great list of engaging Kids Books To Teach Adjectives. They make learning parts of speech a blast!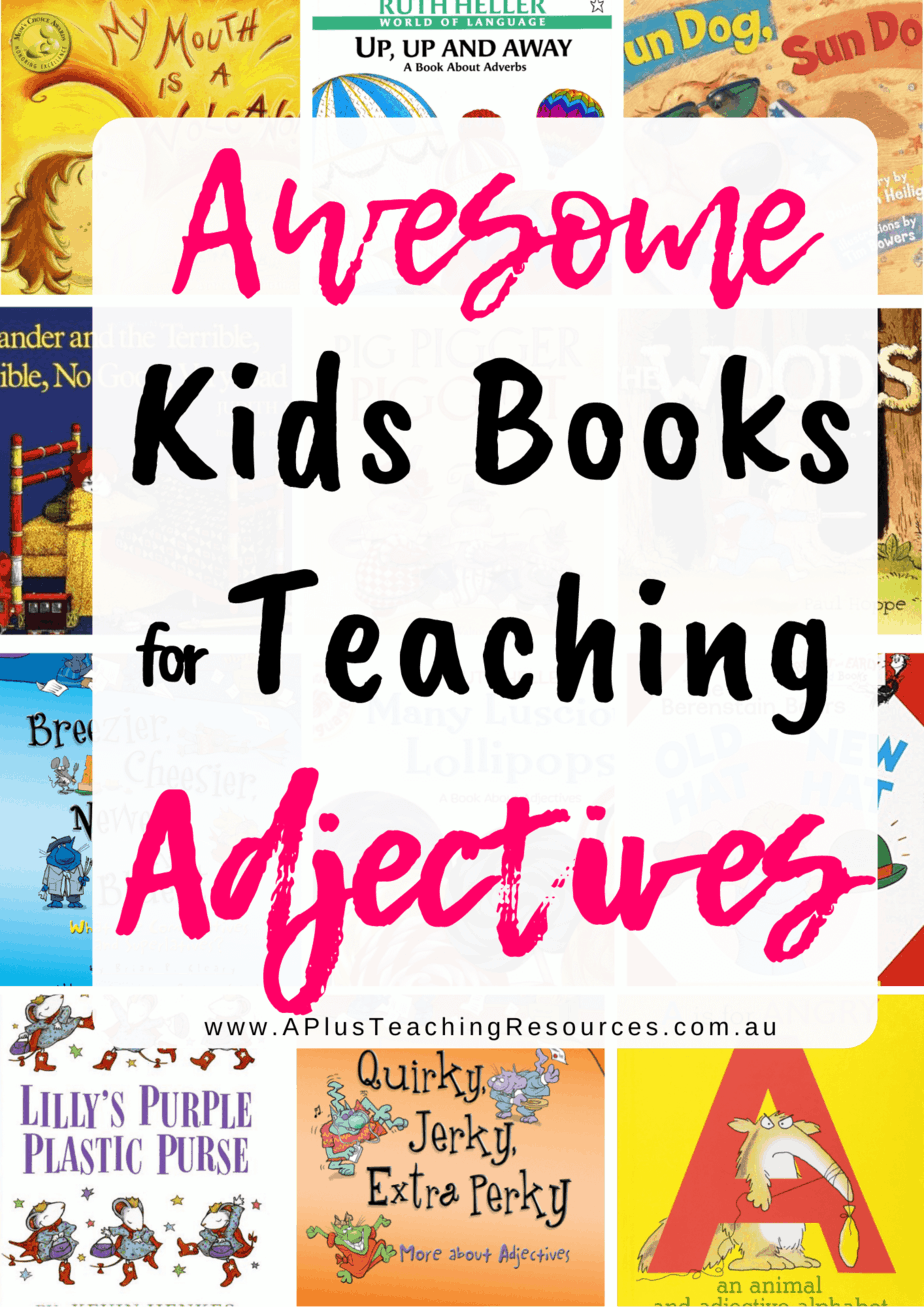 These are some of our favorite kids books that have lots of adjectives in them which makes teaching easier and learning more fun! Check out this list of the best we can find for teaching, but are also the perfect addition to any classroom library.
Related Post: Awesome Children's Books For Your Classroom
These kids books about adjectives include simple everyday explanations that will help your kids to  understand how adjectives work and how they can use them too.
This list of books with adjectives are not just for teaching! They are packed full of rhyme, humor, and repetition which make them perfect as an everyday read aloud too!
So if you're wondering how to teach adjectives to kids, wonder no more and give these kids picture books a go!
We have included affiliate links to each picture book in our Amazon Store for your convenience. Read more about our partnership with Amazon here.
Kids Books To Teach Adjectives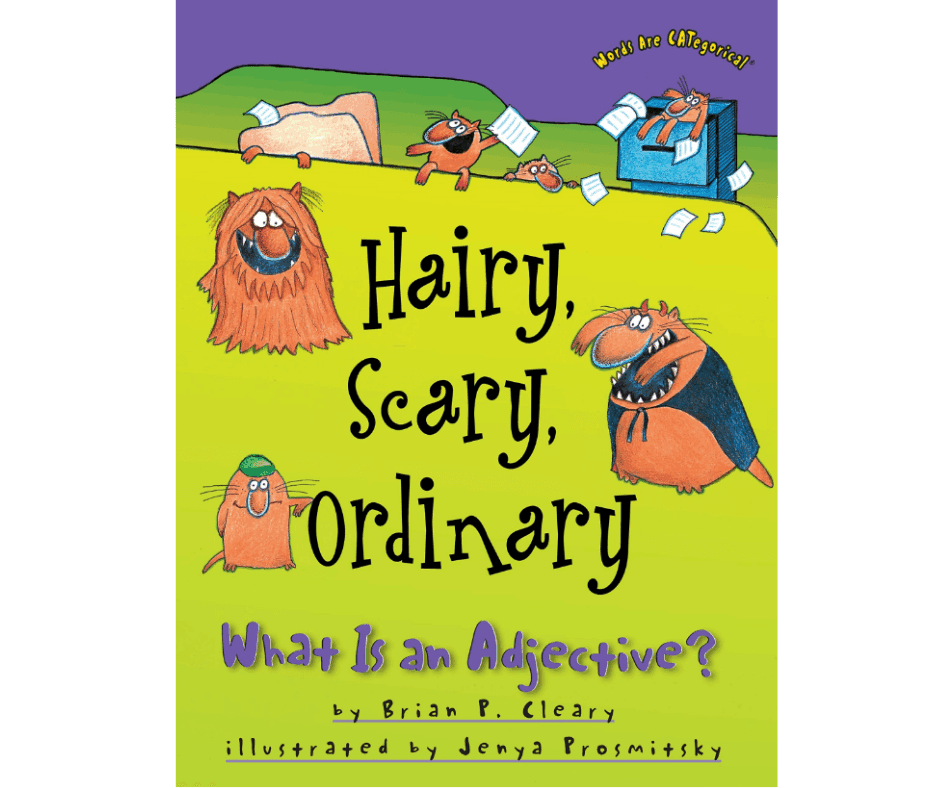 Hairy, Scary, Ordinary – Simple, rhyming text and colorful cartoon cats help children expand their vocabularies. This picture book with adjectives will help build and gain an appreciation for the rhythm of language using light hearted rhyming verse. Adjectives like frilly, silly, polka-dotted, fizzy, and spunky are printed in color, and all the words will tickle you pink!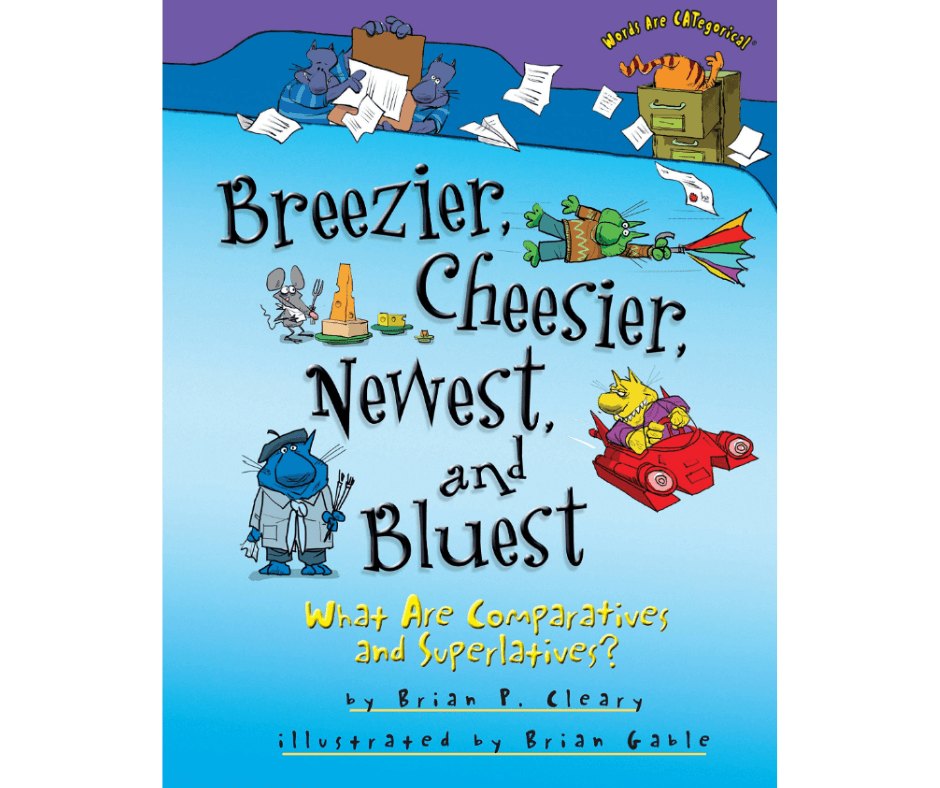 Breezier, Cheesier, Newest, and Bluest: What Are Comparatives and Superlatives? – What are comparatives and superlatives? After reading this book, you'll have a much clearer idea and will be the best at forming these descriptive words! Brian P. Cleary and Brian Gable explain how these forms of adjectives compare nouns, through the cleverest rhymes and illustrations that are sillier than ever. Each comparative or superlative word is printed in color for easier identification.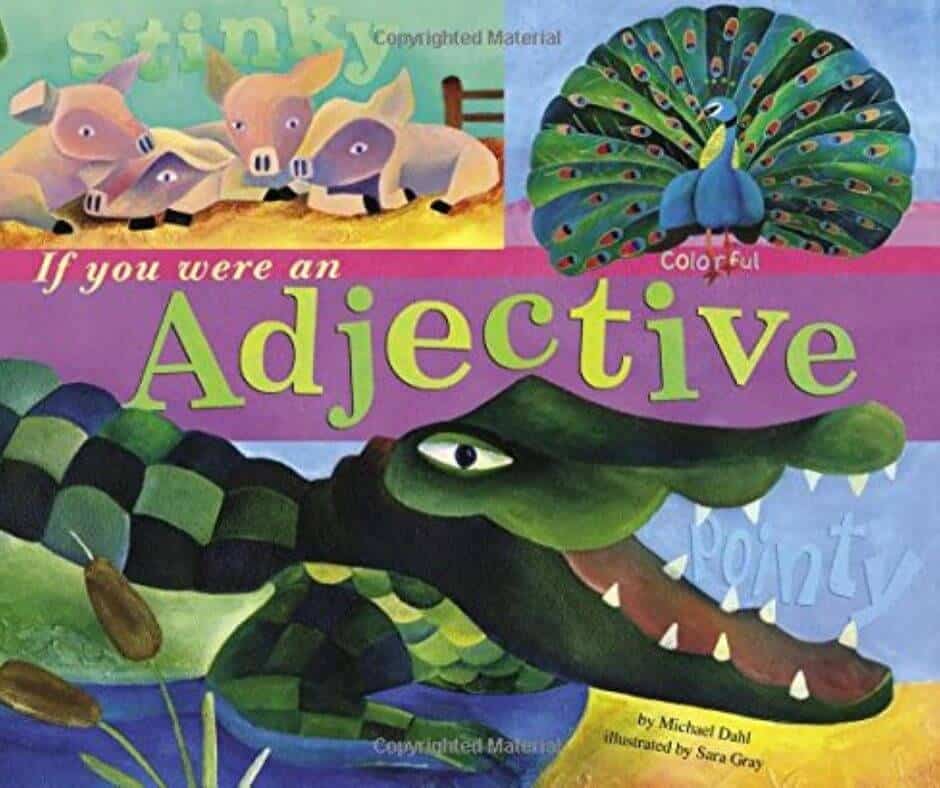 If You Were An Adjective – Discover the colorful, brilliant, dazzling life of an adjective! In this imaginative picture book, young grammarians are introduced to these busy words that describe nouns. Along with bright illustrations and colorful fonts, bestselling author Michael Dahl (If You Were a Verb and If You Were a Noun) delivers an imaginative read-aloud for your littlest grammarians.  Also available If You Were A Noun – If You Were A Verb –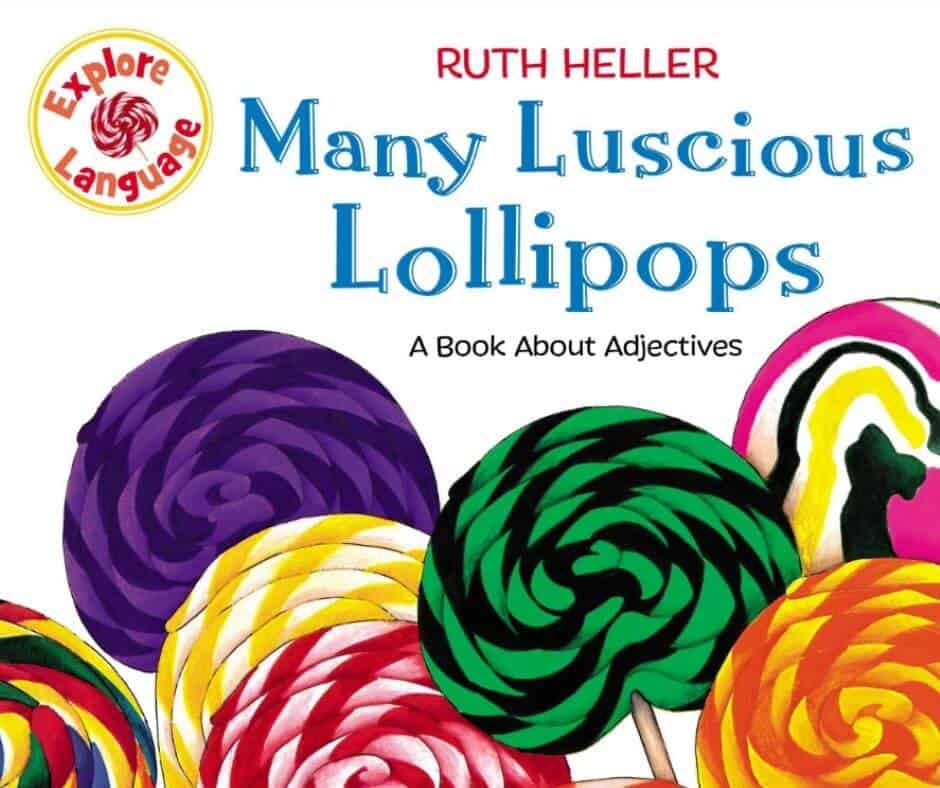 Many Luscious Lollipops -Perfect for introductory grammar lessons! What is an adjective?
Explore language and discover how to identify and create many different types of adjectives, from demonstratives to articles to proper adjectives.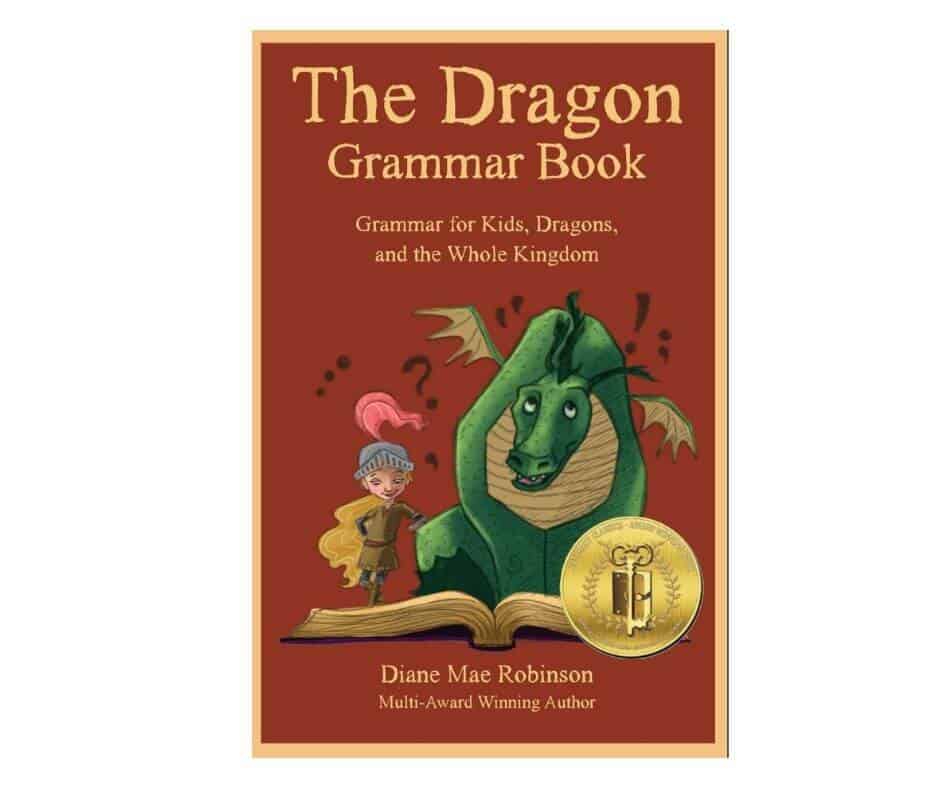 The Dragon Grammar Book –The Dragon Grammar Book is the perfect grammar study guide to help readers learn the rules of grammar and improve language art skill. Finally! An easy-to-understand English grammar book with fun grammar lessons for middle grades and up. An excellent education reference for classroom and homeschool grammar lessons.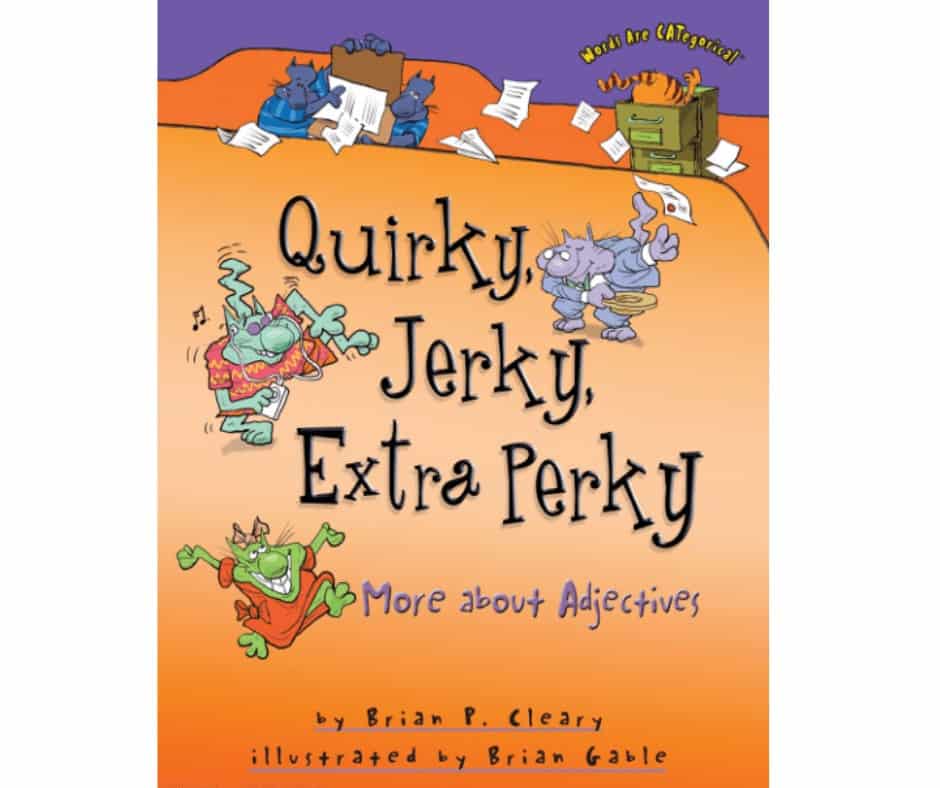 Quirky, Jerky and Extra Perky -One book is never enough to explore the wide range of amazing adjectives! The crazy cats deliver loads of additional examples to illustrate the potent power of adjectives to describe the wonderful world around us―and our incredible imaginations. Brian P. Cleary's playful verse and Brian Gable's comical cats turn traditional grammar lessons on end. Each adjective is printed in color for easy identification. Read this book aloud and share the delight of the sense―and nonsense―of words.
Related Post: Children's Books To Help Teach kids Measurement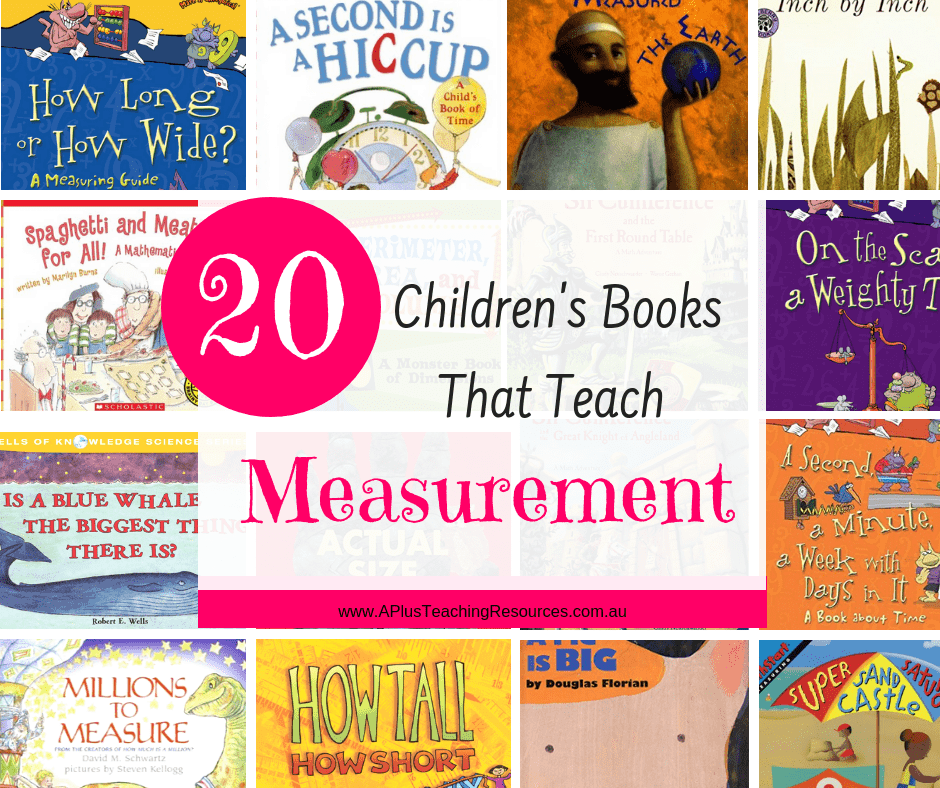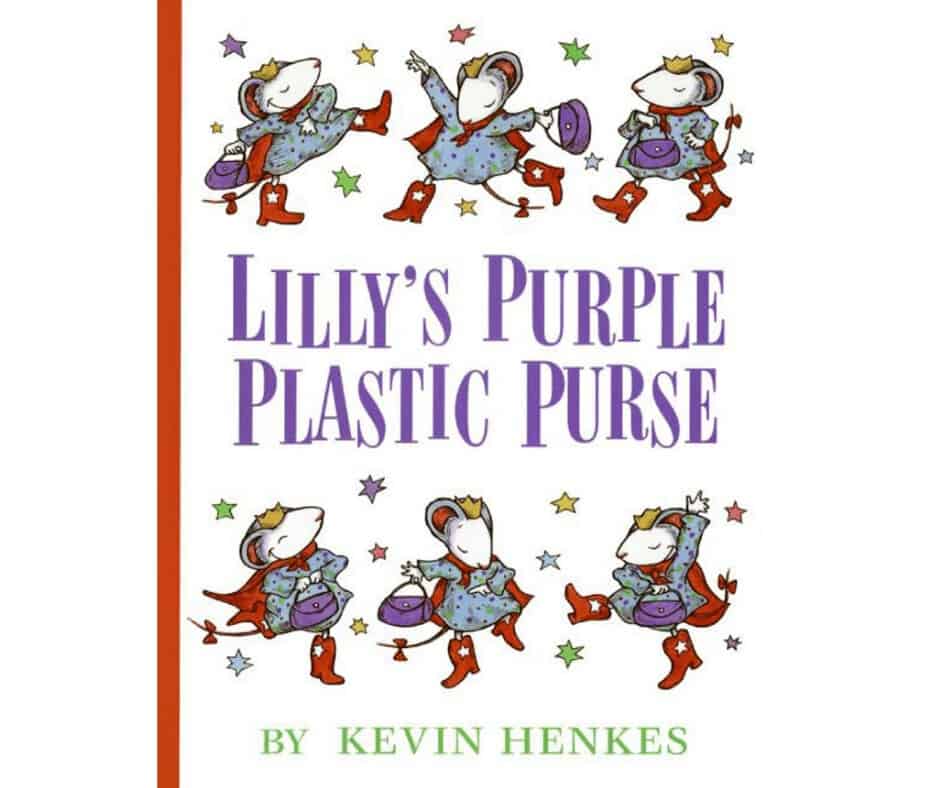 Lilly's Plastic purple Purse – Lilly loves everything about school, especially her cool teacher, Mr. Slinger. But when Lilly brings her purple plastic purse and its treasures to school and can't wait until sharing time, Mr. Slinger confiscates her prized possessions. Lilly's fury leads to revenge and then to remorse and she sets out to make amends.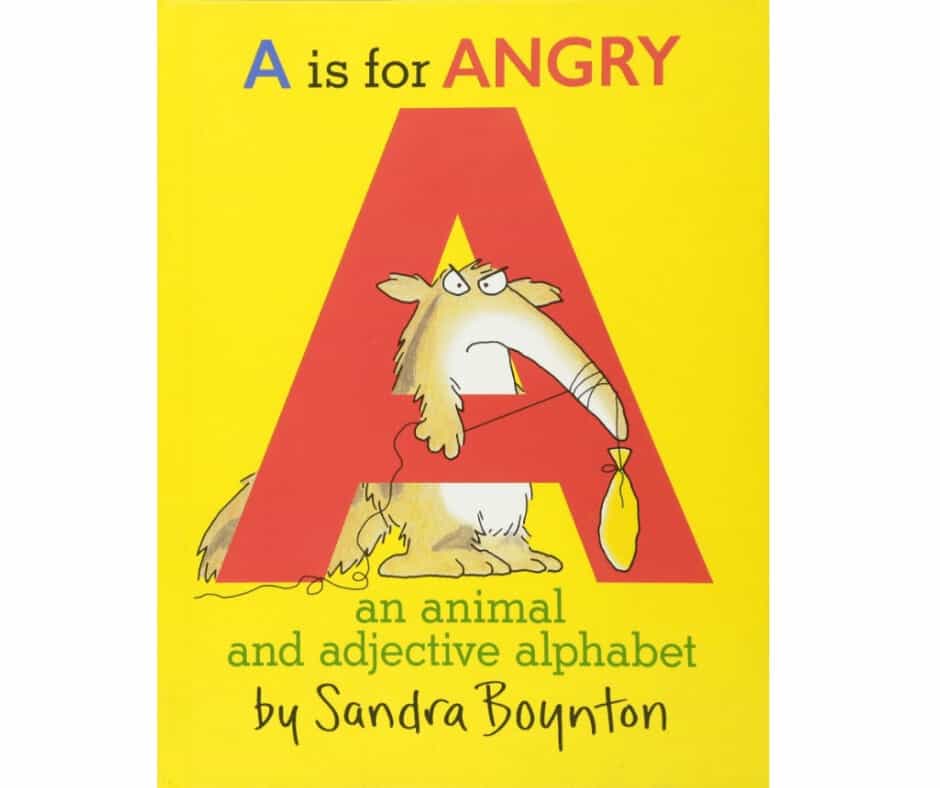 A is For Angry – The kids love the silly animals doing silly things, Sandra Boynton's trademark. There is an animal and an adjective beginning with each letter. … Sandra Boynton is one of my all-time favorite children's authors, and this is one of my favorite among her books.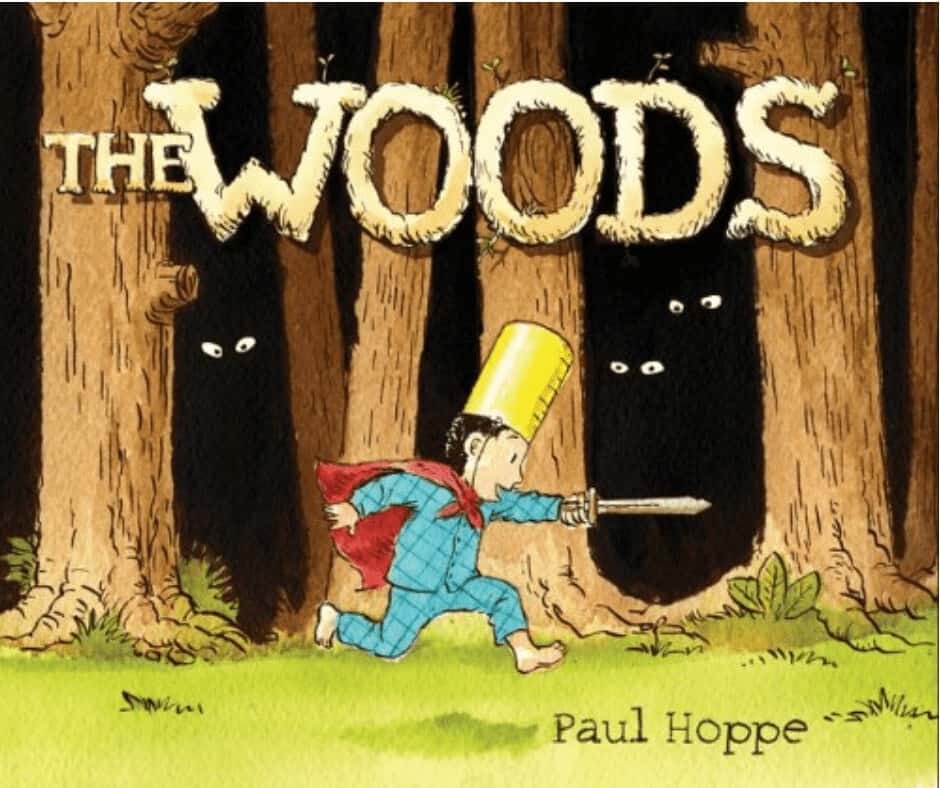 The Woods -Being afraid of the dark doesn't mean being afraid alone. When a boy can't find his favorite stuffed bunny, he bravely heads into the woods to look for it. Instead, he finds a big, scary brown bear! But the bear is just lonely, so the boy shares his night light and forges ahead with his new companion, until…they run into two frightening giants! As the boy continues on, he comes across other seemingly menacing creatures, but finds that—like him—they're just looking for some comfort and security before bedtime. Simple text and classic European style meet a fresh, modern twist in this delightful picture book.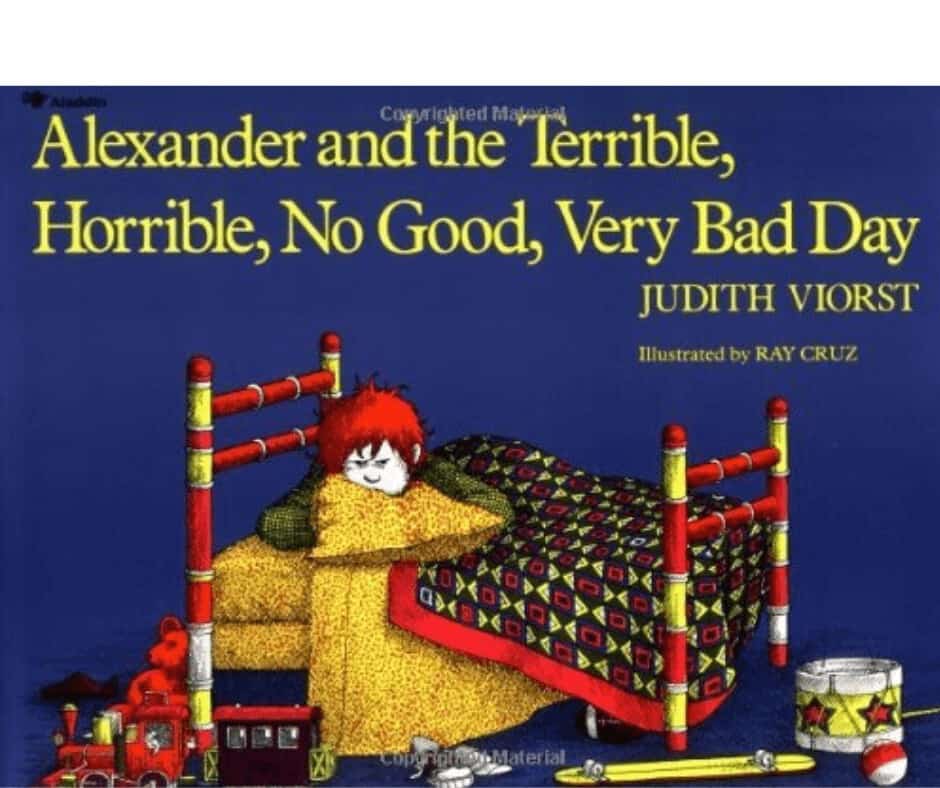 Alexander and the Terrible, Horrible, No Good, Very Bad Day -Alexander knew it was going to be a terrible day when he woke up with gum in his hair. His best friend deserted him. There was no dessert in his lunch bag. And, on top of all that, there were lima beans for dinner and kissing on TV!  Great Book filled with lots of adjectives.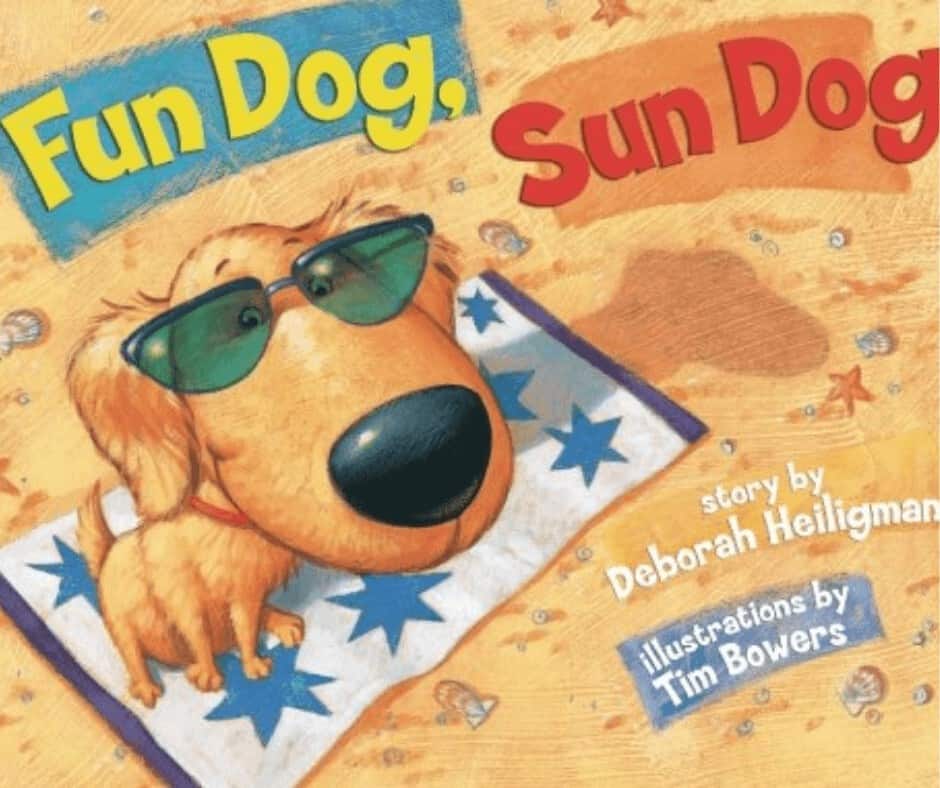 Fun Dog Sun Dog -Tinka is a sweet dog, a treat dog, a jumping-up-to-greet dog. A fun dog, a sun dog, a run-and-run-and-run dog. Meet Tinka, a dandy, sandy golden retriever, and the boy who loves her as they spend a busy, dizzy day at the beach. Sunny watercolors and a lighthearted rhyming text, with lots of adjectives, will make this rhythmic read-aloud a winner with dog lovers of all ages.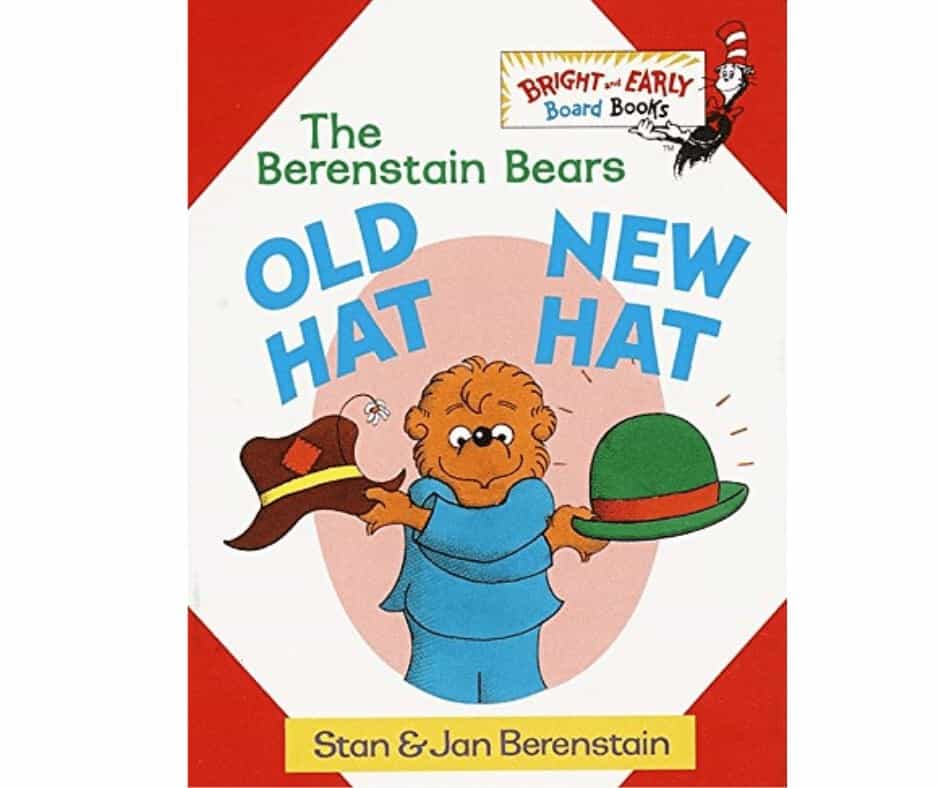 Old Hat, New Hat – Brother Bear explores the concepts of size and shape as he shops for a new hat. He tries on frilly hats and silly hats, bumpy hats and lumpy hats, until he finds the most perfect hat of all–his own!  Perfect book for teaching adjectives.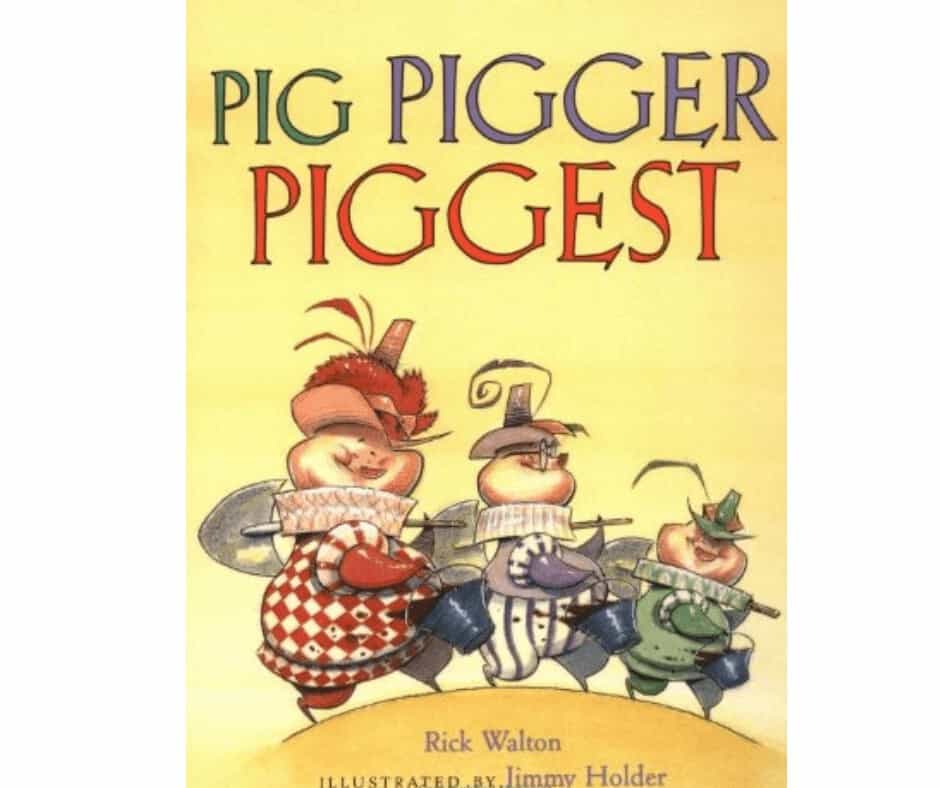 Pig, Pigger, Piggest -"Perhaps not the funniest, it's funnier than many; and definitely a funny book." – Publisher's Weekly A Rick Walton classic (and one of his most popular children's books) returns in paperback! It's the three little pigs with a whole new twist! When three brothers (Pig, Pigger, and Piggest) meet three sisters (Witch, Witcher, and Witchest) the results are a muddy mess in which they all live sloppily ever after. Full of superlatives!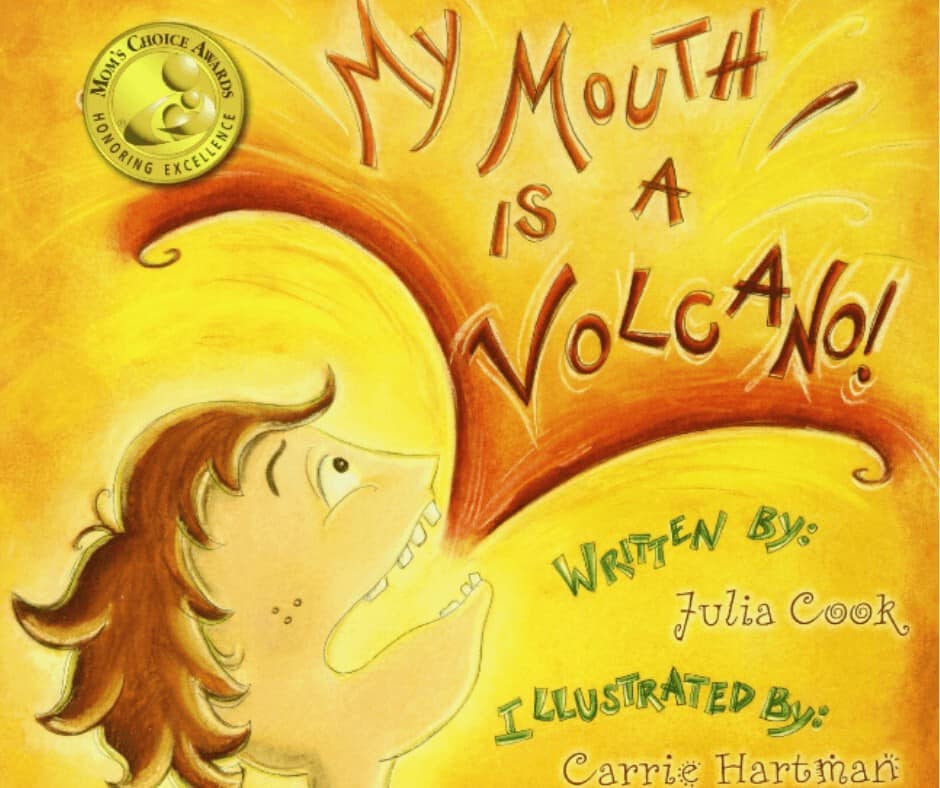 My Mouth is a Volcano -Louis always interrupts! All of his thoughts are very important to him, and when he has something to say, his words rumble and grumble in his tummy, they wiggle and jiggle on his tongue and then they push on his teeth, right before he ERUPTS (or interrupts). His mouth is a volcano! But when others begin to interrupt Louis, he learns how to respectfully wait for his turn to talk.
Related Post: Parts Of Speech Activities For Kids {Nouns-Verbs-Adjectives etc..!}
Literacy Printables For A Plus Teachers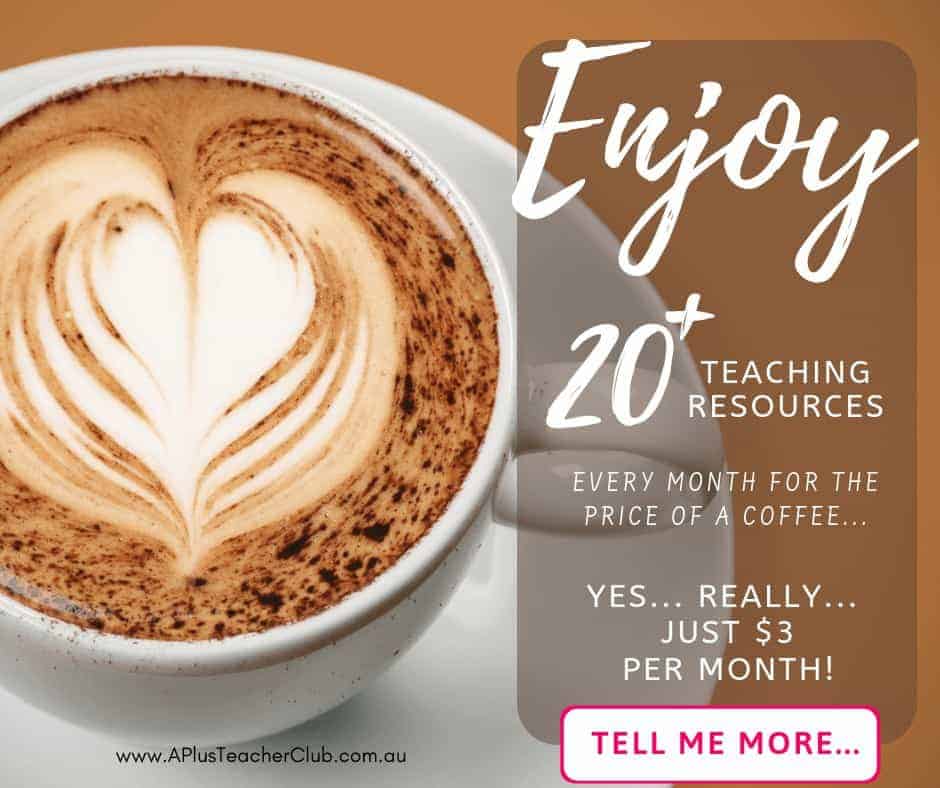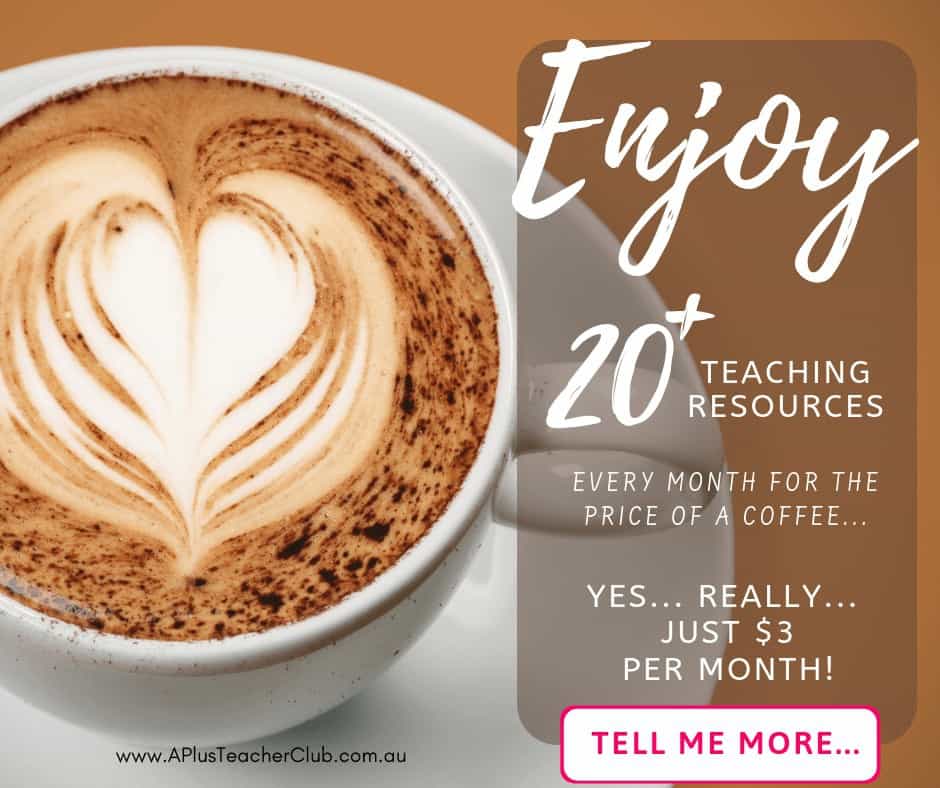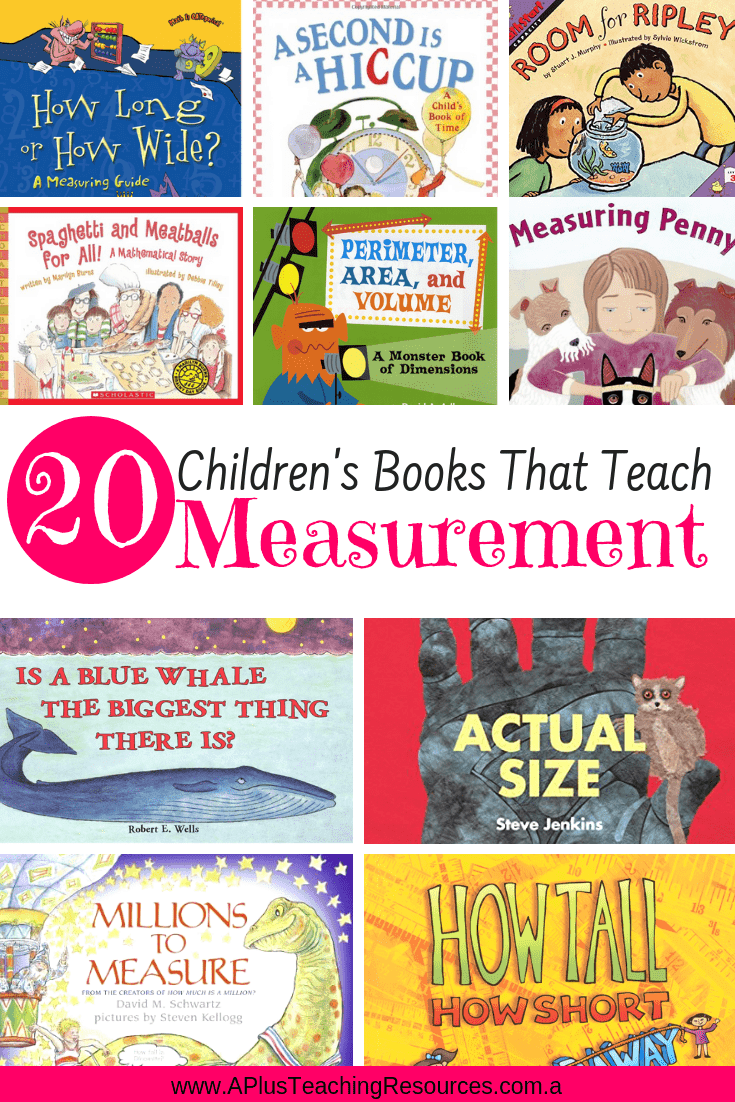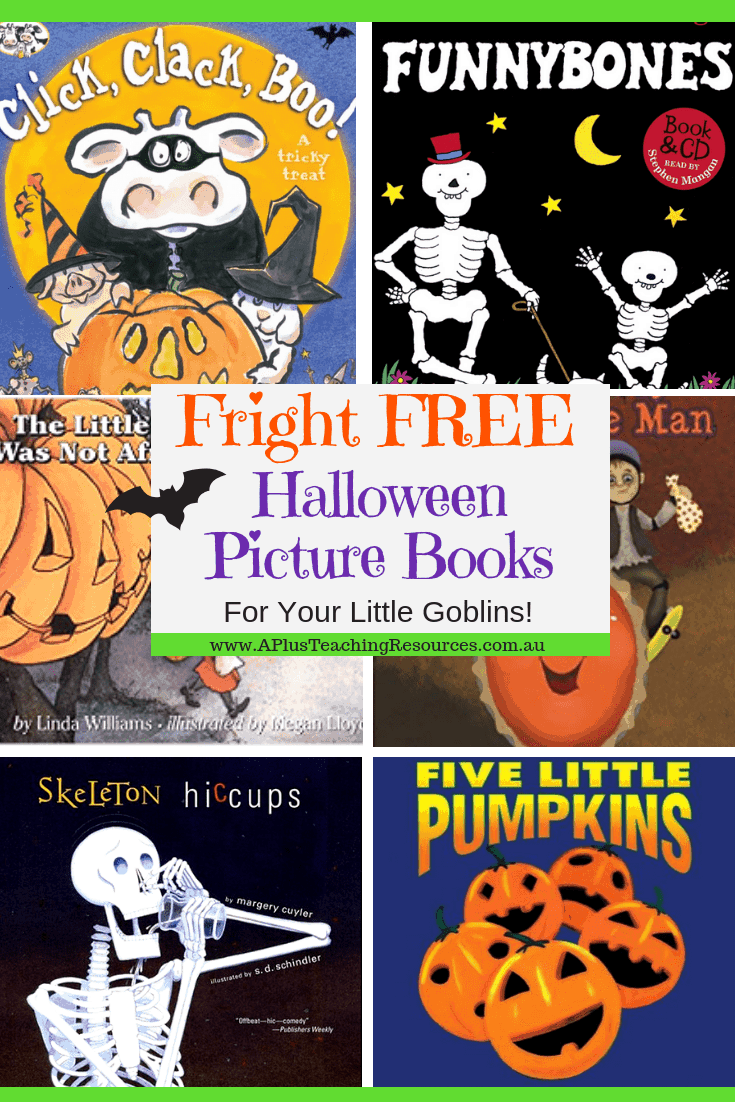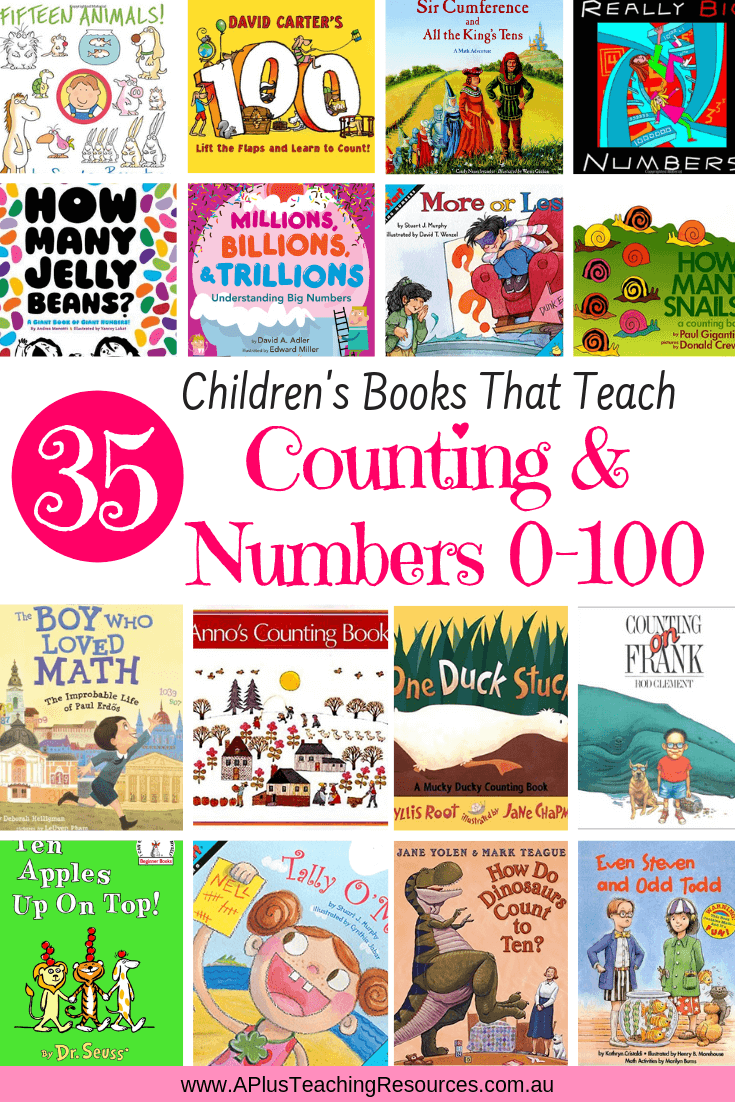 PSST! If you want to Save time and $$$ on Teaching Resources Join Our VIP Club! Get instant access
To ALL our PAID & FREE Resources Plus 20+ New Activities Every Week! Click The Image Below To Find Out More…