Teachers if you need an Easy Father's Day Gift For kids to make at School then look no further! Download these FREE Quick & Ever so Cute Superhero Dad Templates. They'll help make Father's Day in the Classroom A Breeze!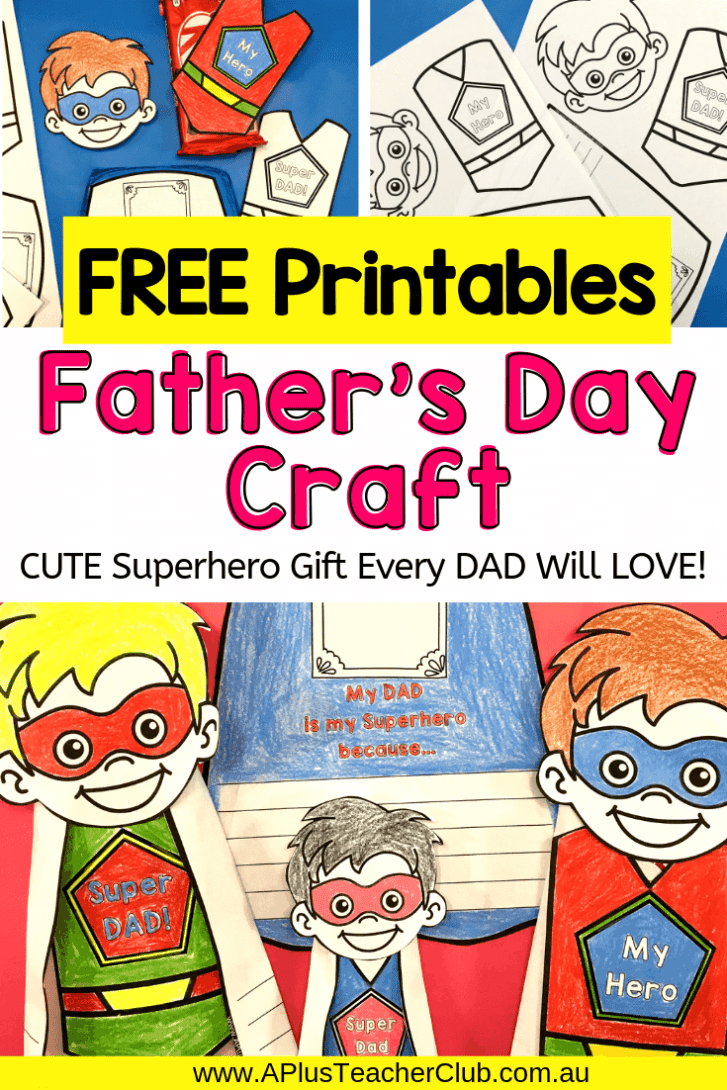 Teachers, Father's Day is just around the corner, but we have made it super easy for you to get organised this year! We know how expensive, messy and time consuming some craft activities can be in the classroom, so we have created this SUPER cute Father's Day Card & Gift in one, especially for the classroom.
Our Father's Day card template is super quick to make, low prep and includes a low cost chocolate bar! WINNING!
What's more we have made the Father's Day Template absolutely FREE and included three template versions for you.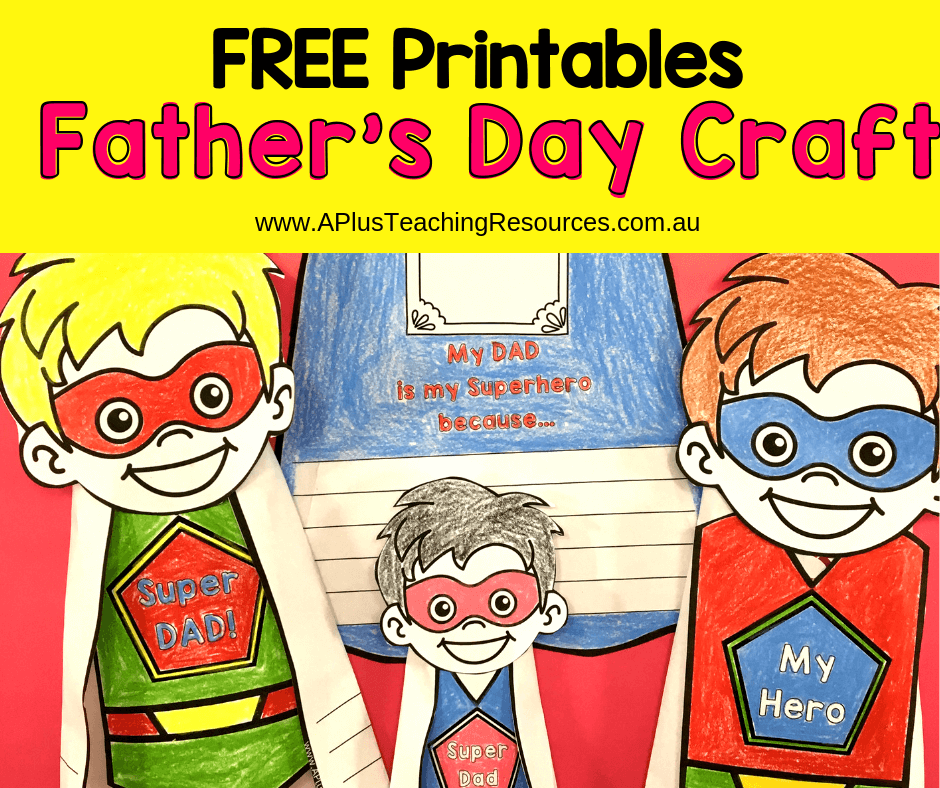 This post may contain affiliate links find out more in our privacy policy
Related Post  Free & Gorgeous Mother's Day Teapot Craft
Father's Day Card Template
This PDF Father's Day Card Template includes 3 versions for you:
A template with the text "Super DAD"  and the writing prompt " My Dad is my Superhero Because…
"My Hero" template with the writing prompt " ________ is my Superhero because…
These Father's Day templates will fit regular sized chocolate bars.
But if money is tight, and we know you foot the bill for way too many supplies in the classroom,
3. Try both templates to fit a Fun Sized Chocolate bar
Please Scroll to the end of the post, after the instructions to get the FREE versions of this neat Superhero Father's Day Card. Don't forget to share , Pin or leave us a comment!
Super Hero Father's Day Card Equipment
You really don't need much to make this SUPER Father's Day craft with your kids, which make it perfect for a last minute classroom craft activity. Here's what you'll need:
85g sized Kit Kat or similar chocolate bars or a bag of 17g Treat wise Kit Kat bars, depending on how far your budget will stretch
Double sided tape
Father's Day Superhero Template (At the bottom of the post!)
Scissors and color pencils
Father's Day Craft Instructions
Print off the Black & White Father's Day Superhero template.
We have 2 to choose from:
One A4 page 'My Hero' version in black & white
One page A4 my 'Super Dad' version in black and white
There are also 2 different sizes of template to choose from. There's an A4 sized template that has been measured and tested to fit an 85g sized Kit Kat bar or similar. Or, if your on a tight budget, there's a template that works with the Fun sized 17g bars too.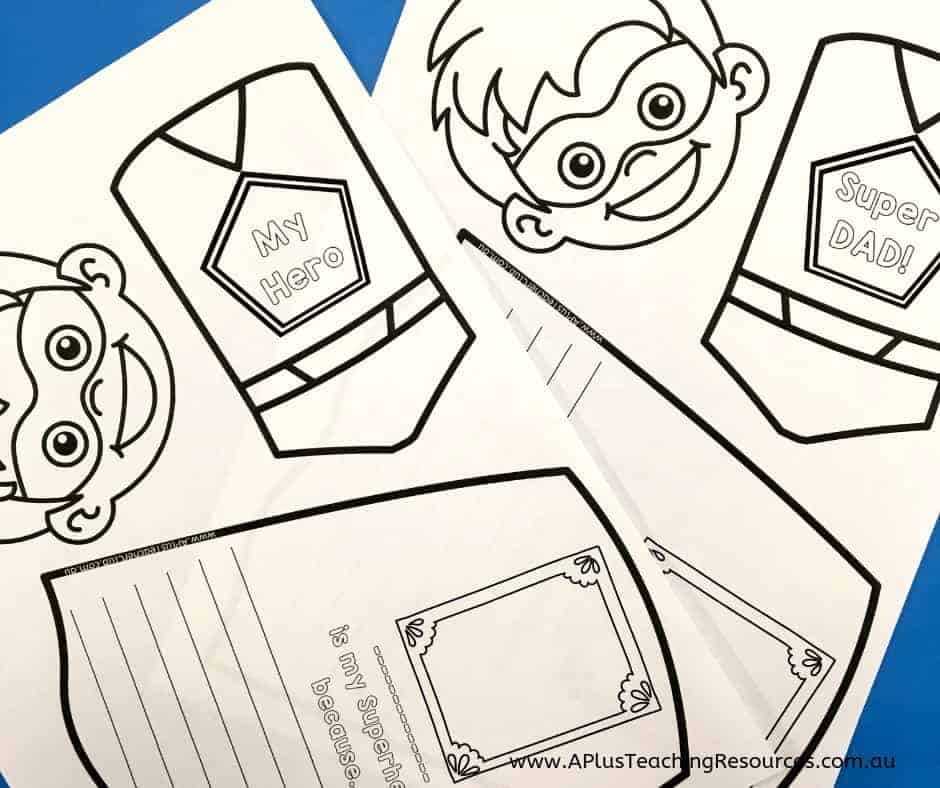 Related Post: Thematic Crafts & Printables
Next get the student to color the template before they cut it out, it's just easier to manipulate and there's less chance of pieces getting lost if it's done in this order.
We have made a space on the Father's Day Superhero cape for the student to write something that makes their Dad a Superhero to them, like playing in the park, reading stories or watching TV together.
You may need to scribe for younger students. There's also a space for the student to draw a picture of them and their dad.
As an alternative you can cut out the white pieces and stick them onto color card or if you're up for a bit of a challenge the template can be painted or collaged. Then cut out the pieces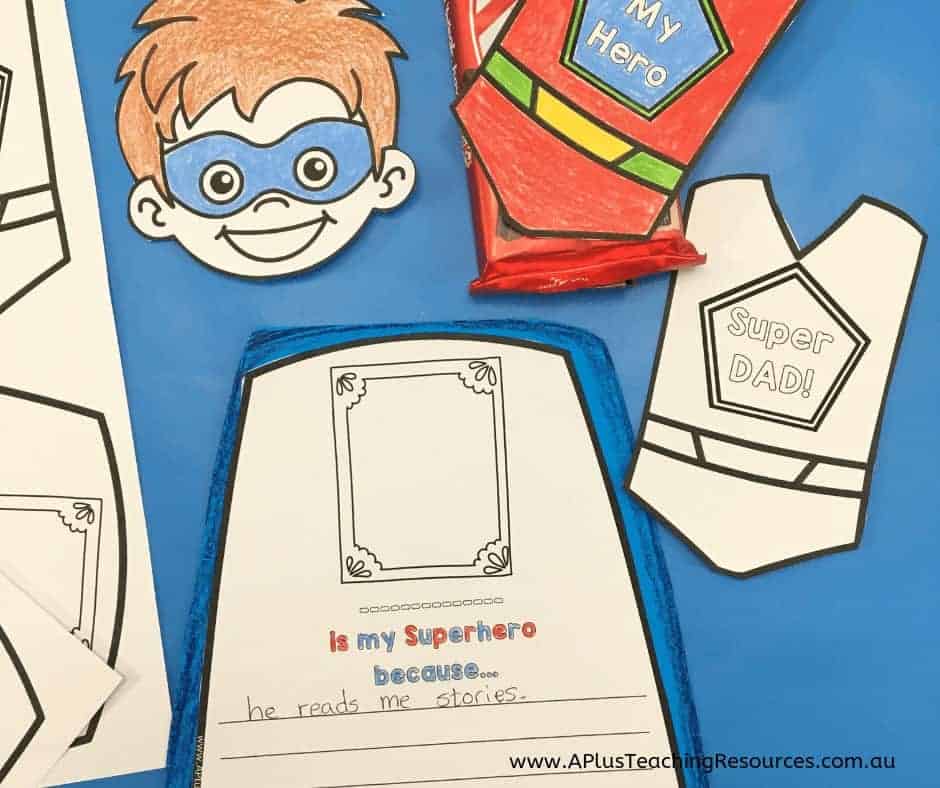 Next assemble the cape around the chocolate bar. Make sure the writing is face down on the table. Fold over  the top right & left corners of the cape to wrap around the chocolate bar. Make a crease and attach double sided tape.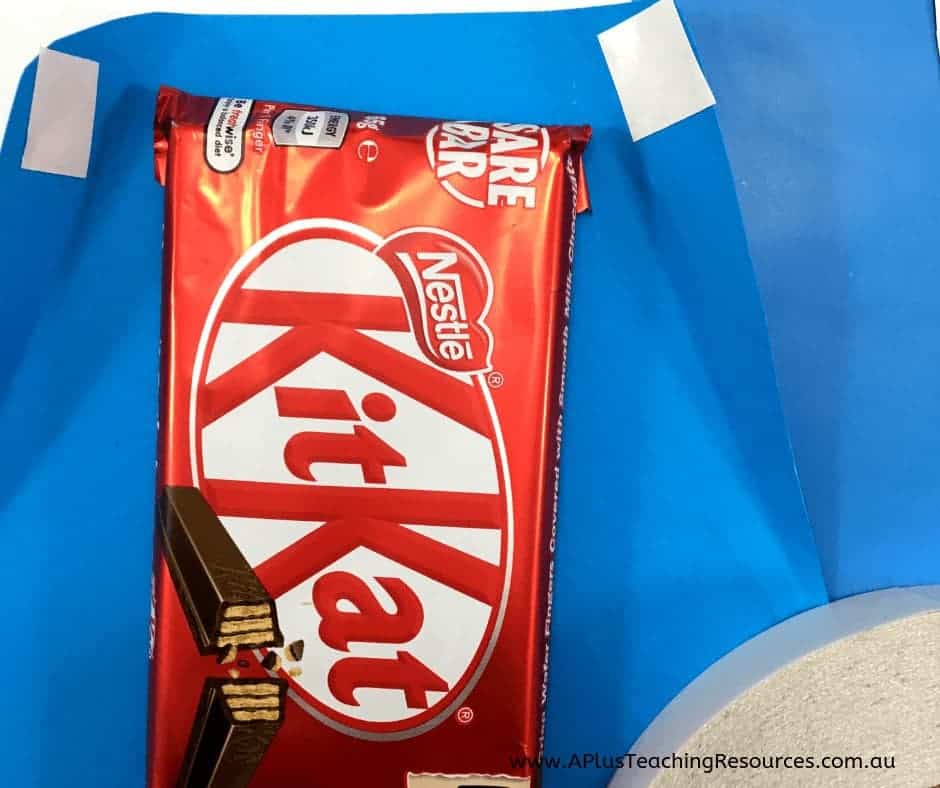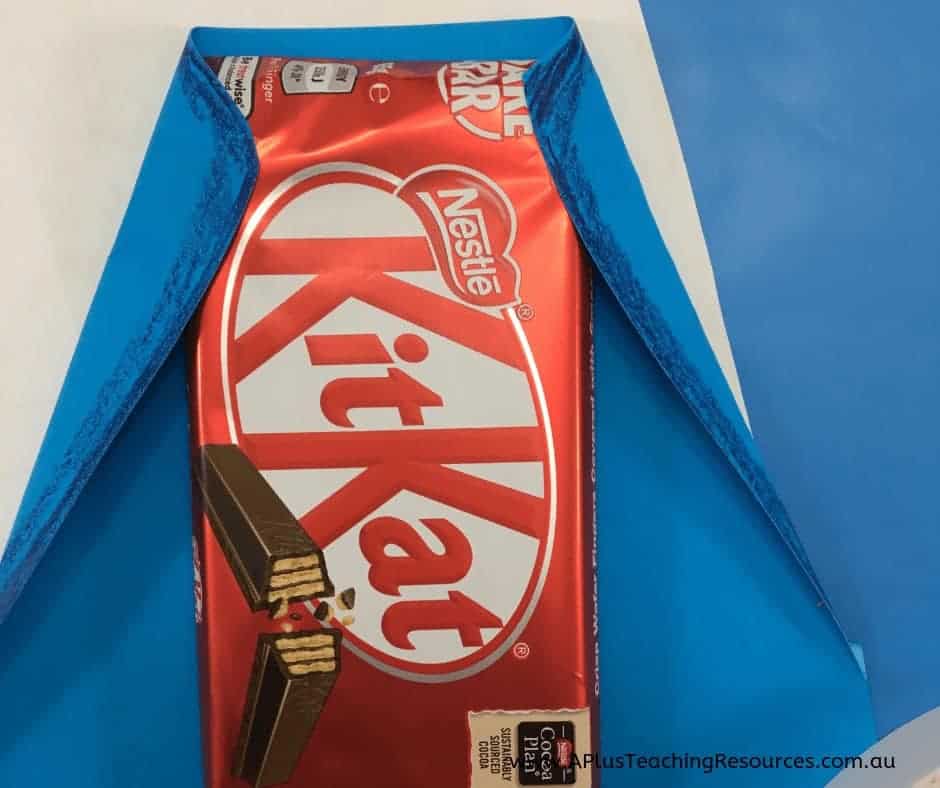 Attach the Superhero body to the front to the chocolate bar using double sided tape. Or you can do this step first then add the cape.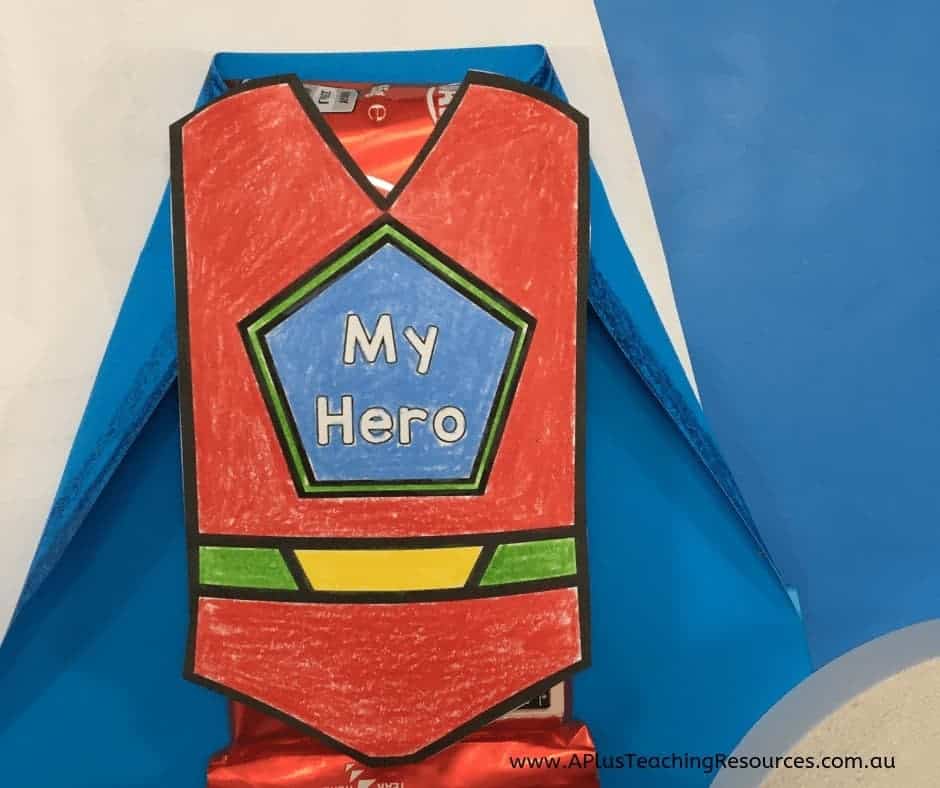 Finally add the head to your Superhero Father's Day Gift!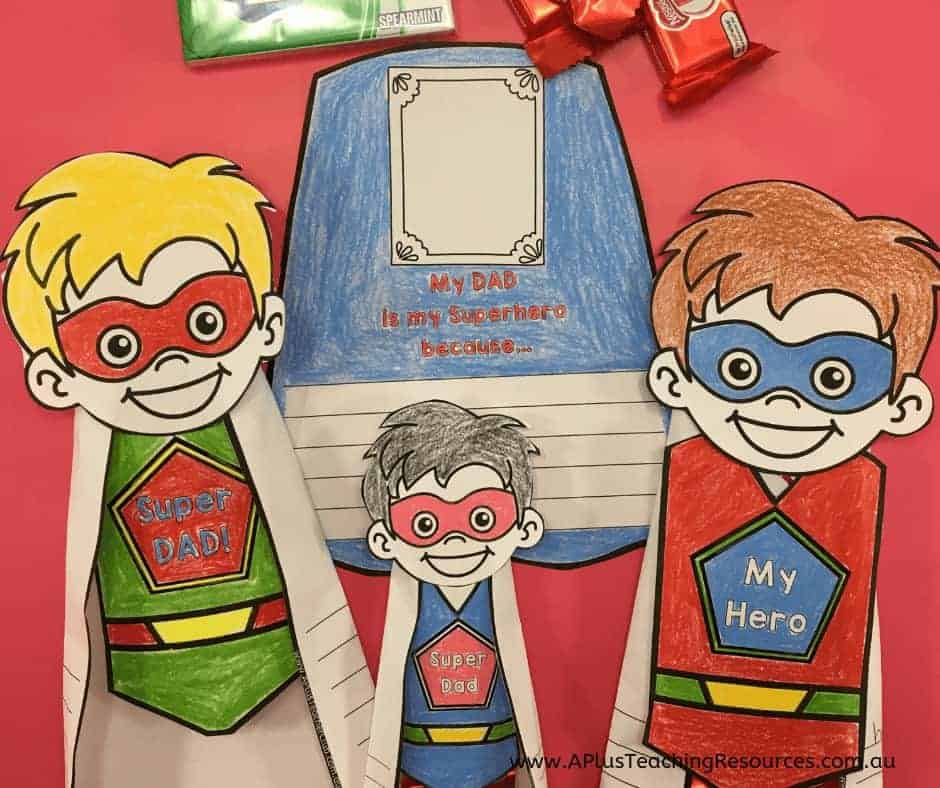 And then you're done! It's so easy to make but such a lovely keepsake idea!
Father's Day Card Template Download
Click The Image To Download Your FREE Father's Day Card and Gift Template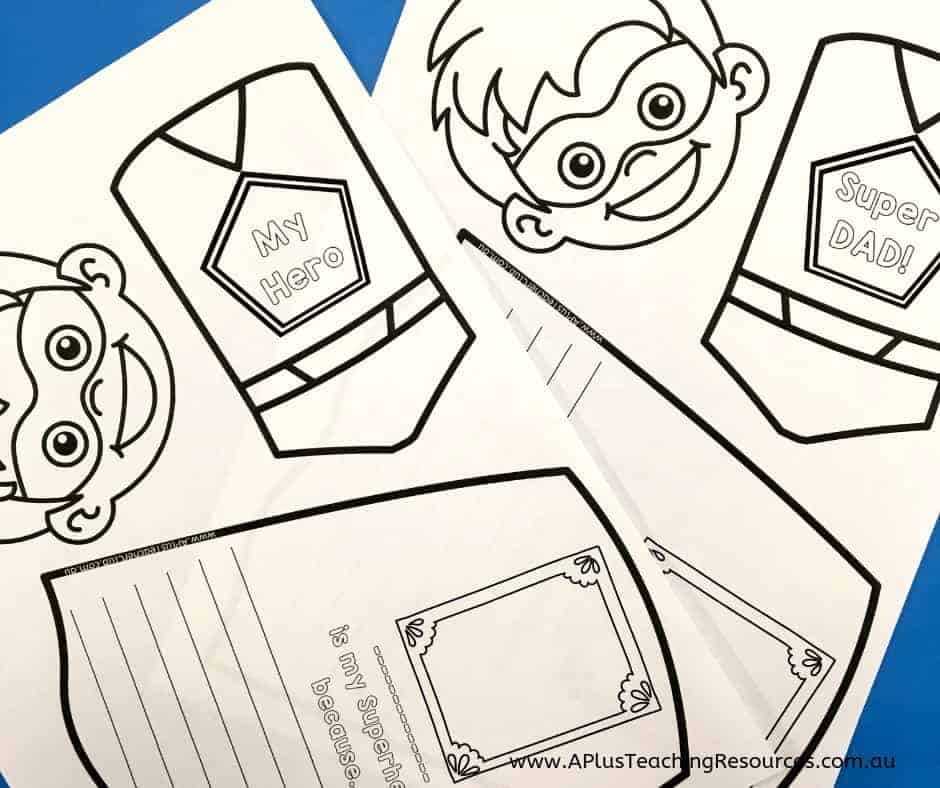 More Free Teacher Resources Printables
More Thematic Craft Ideas