What better way to introduce number concepts to Kids than with Children's books For Teaching Numbers & Counting of course! Take a look at this MEGA List there's plenty for kids of all ages!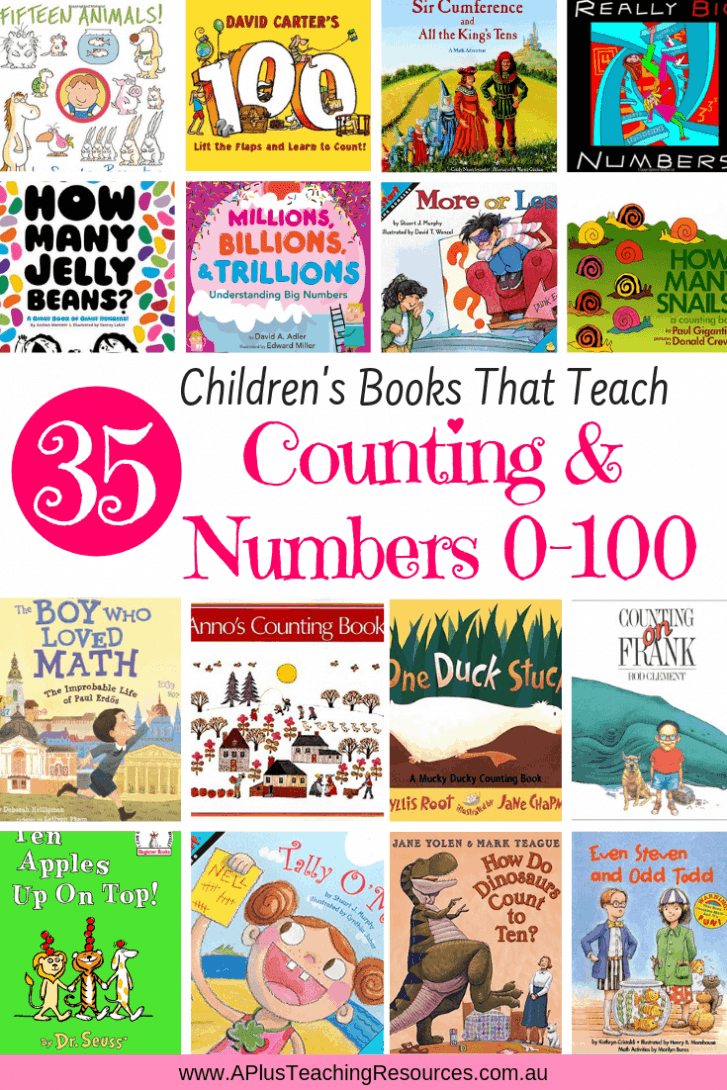 Children's Books are a great teaching resource to help teachers teach many concepts. I really love using Picture books for teaching numeracy and the kids love it too! Grab these children's books for your classroom library today!
A carefully chosen kids book  has the power to help explain math concepts to kids in a way that is easier to understand. They can also help kids see math in real life, which will help them make connections to maths in the environment.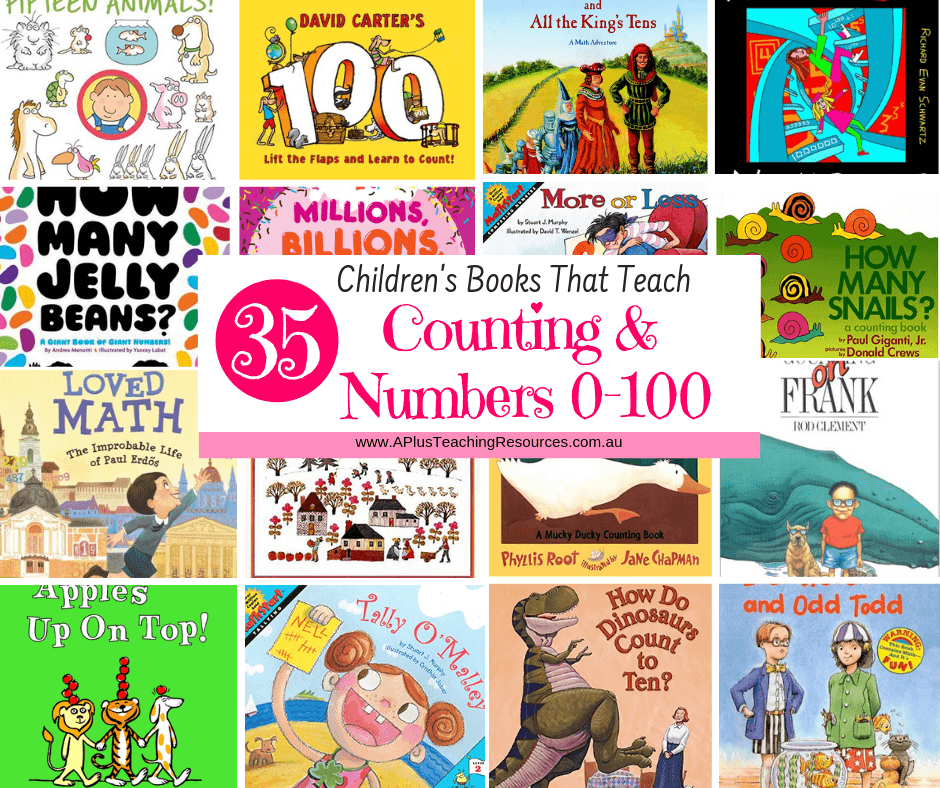 Using books to help teach math is also a great opportunity to integrate literacy into the maths learning area and a great way to build reading and literacy skills for kids. Children's books are not just for Preschoolers or Kindergarten Kids, older kids love them too!
In this post I have collected 30 Books to introduce numbers o-100. There's books for young and old about counting, subitizing, big numbers, zero and even millions, trillions and billions! So Dive in!
This post contains affiliate links. Details in our Privacy Policy
Related Posts: Children's Books For Teaching Measurement
Children's books For Teaching Numbers & Counting
Preschool & Kindergarten Kids Books For Teaching Numbers & Counting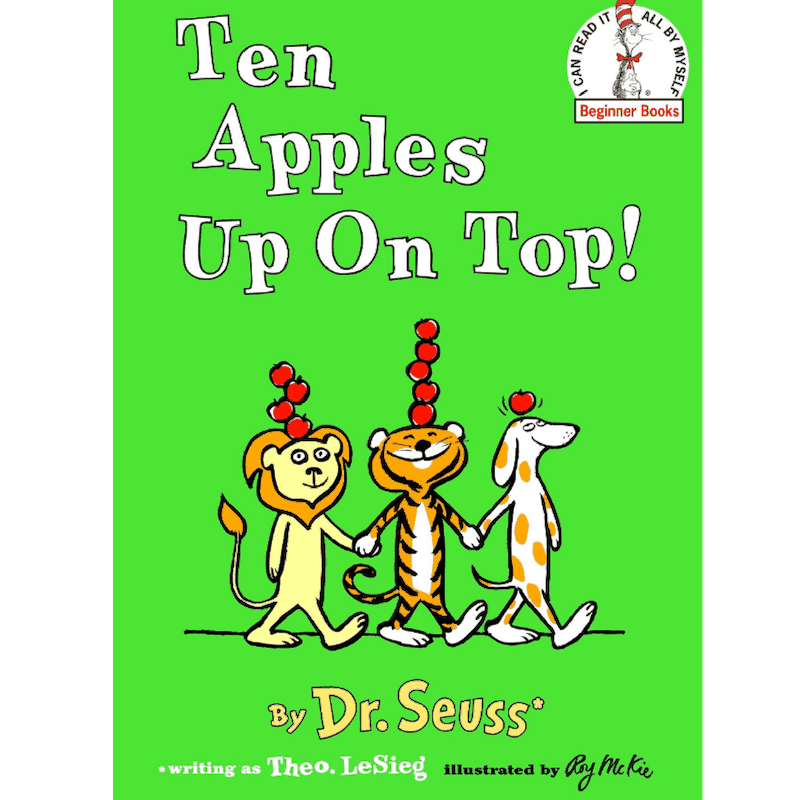 Three friends balance counting and fun in this silly Beginner Book by Dr. Seuss and illustrated by Roy McKie. When a lion, a dog, and a tiger meet up, they soon discover that they can each do different things while balancing apples on their heads. Whether drinking milk, jumping rope, or roller-skating, they can do a lot with ten apples up on top! But watch out, she has a mop! She'll knock those apples from up on top. Seuss's apple-balancing characters will have youngsters reading, counting, and giggling!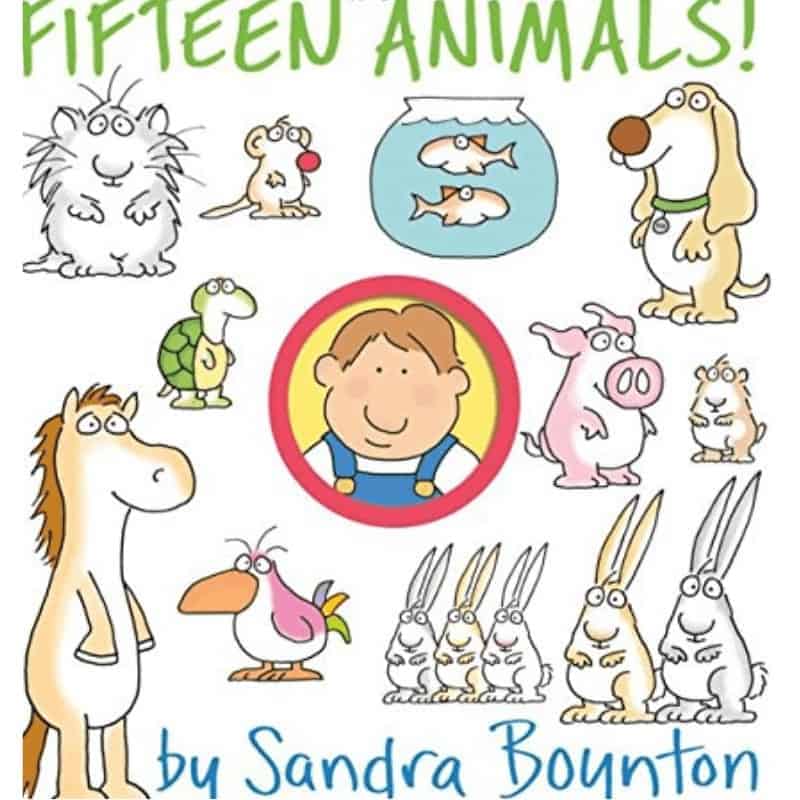 Fifteen Animals! is a unique counting book—count the Bobs, count the pets, count the bunnies, count the fish. Fifteen Animals! also comes with a free song available via download. It's all the energy and appeal of Boynton: the lively language, distinctive illustrations, and inimitable characters. And music. And counting. And, for the first time, a person character, an earnest little boy who loves animals and happily sings:

A series of simple questions directs young readers to determine the differences between seemingly similar objects, encouraging them to develop powers of observation, discrimination, and visual analysis. There's plenty of opportunity to practice counting, too (but that's just the beginning!)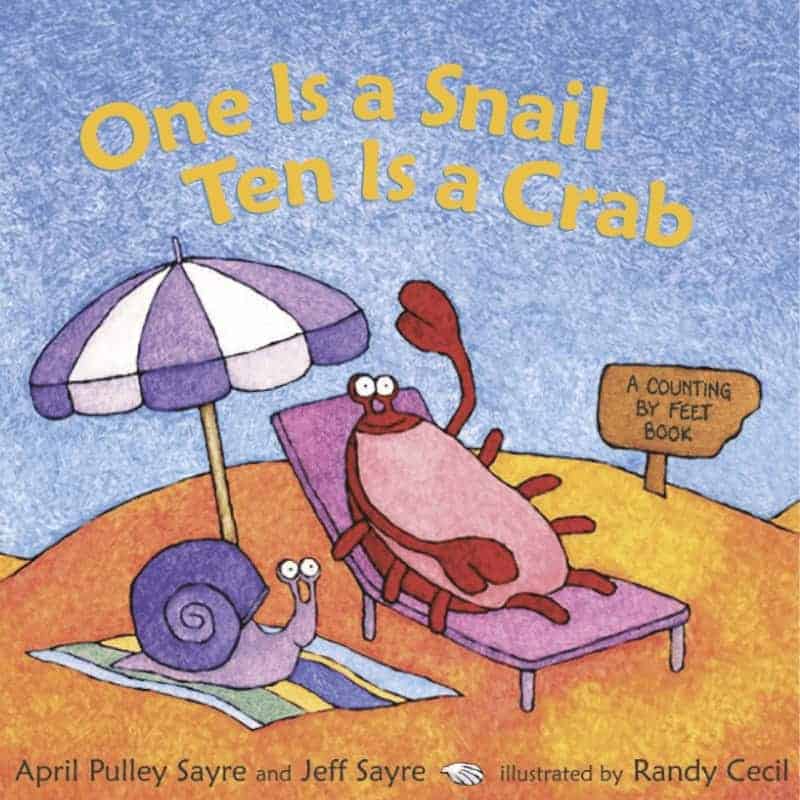 If one is a snail and two is a person, we must be counting by feet! Just follow the sign to the beach, where a bunch of fun-loving crabs, lounging dogs, gleeful insects, and bewildered-looking snails obligingly offer their feet for counting in a number of silly, surprising combinations – from one to one hundred. Lesson Ideas Here.
Related Post: Activities, Ideas & Free Printables For Teaching Number Recognition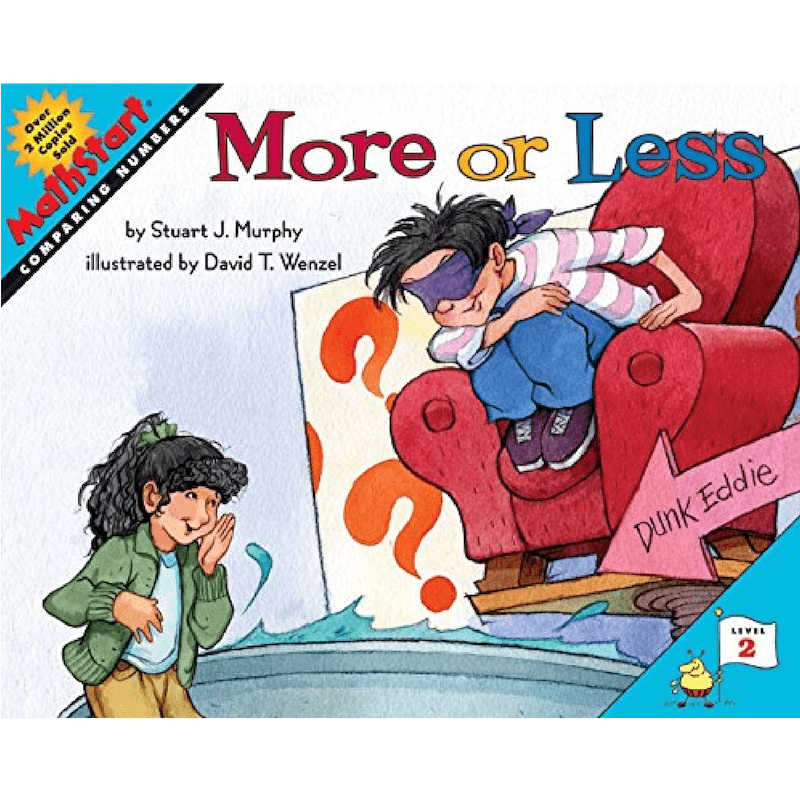 Is your age more than 5?
Is it less than 10? Eddie's got to guess. And he doesn't want to be wrong! Eddie has a booth at the school fair, guessing people's ages. He hasn't guessed wrong yet, but if he does, he gets dunked. Can Eddie keep guessing right — and keep from getting wet? Comparing whole numbers and understanding what's more and what's less are a big part of Eddie's strategy, and an important math skill for young readers to learn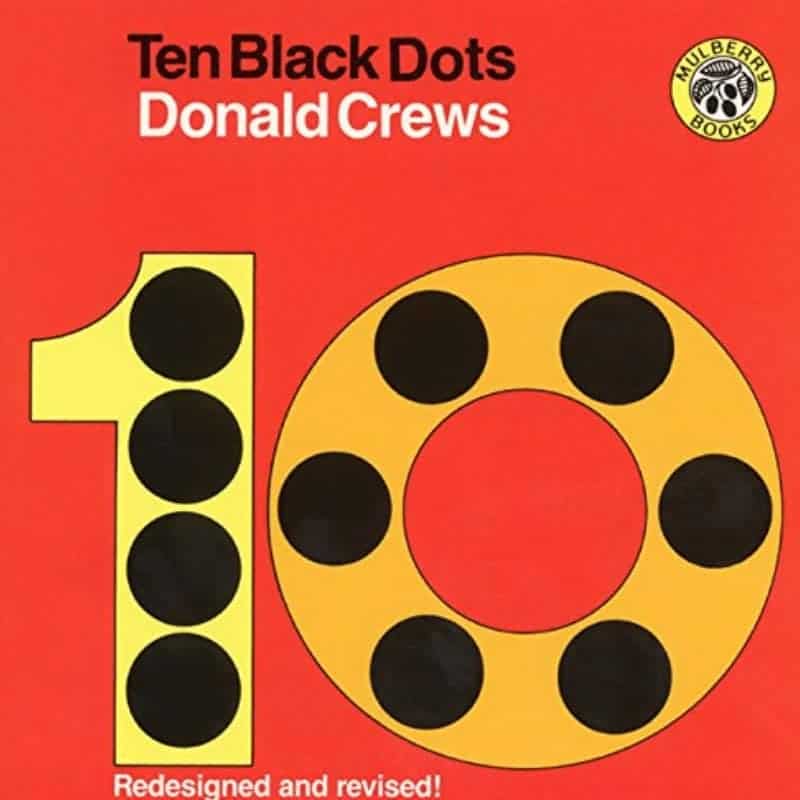 What can you do with ten black dots? One dot can make a sun, two dots can make the eyes of a fox, and three dots can make a snowman's face. And that's just the beginning in this unique counting book!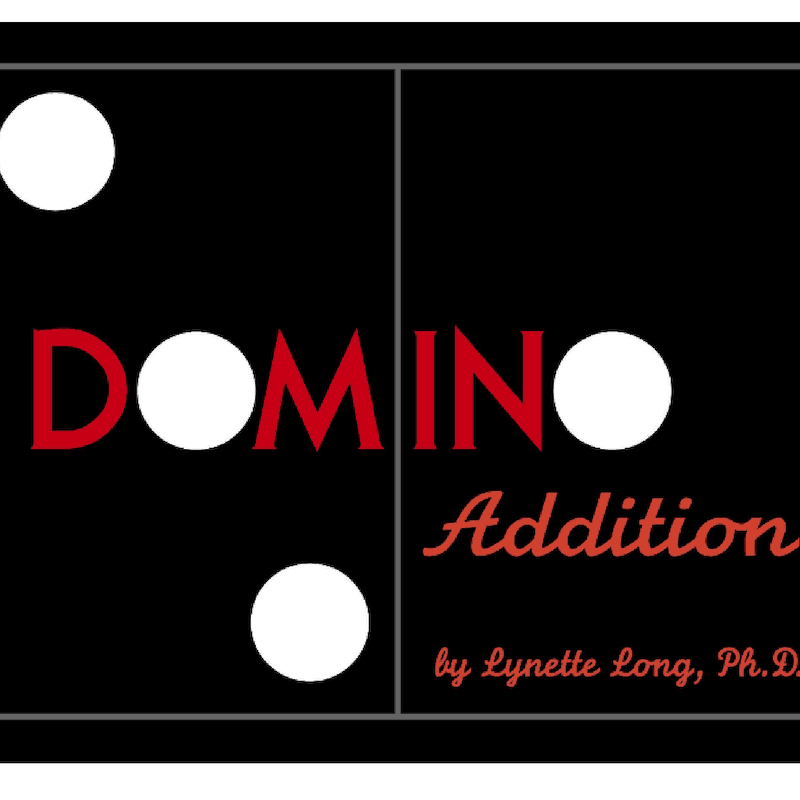 This bold and colorful counting book shows young readers that math and addition can be fun and easy (when you use dominos). Black and white dominos make up each number on various bold backgrounds and each page gives the various properties of numbers zero to twelve. With a simple but imaginative approach, Lynette Long, has created a perfect classroom resource that teaches kids how to add up each dot on an individual domino as well as how to spot different number combinations. This bright and fun-filled introduction to basic addition will appeal to both eager and reluctant math students.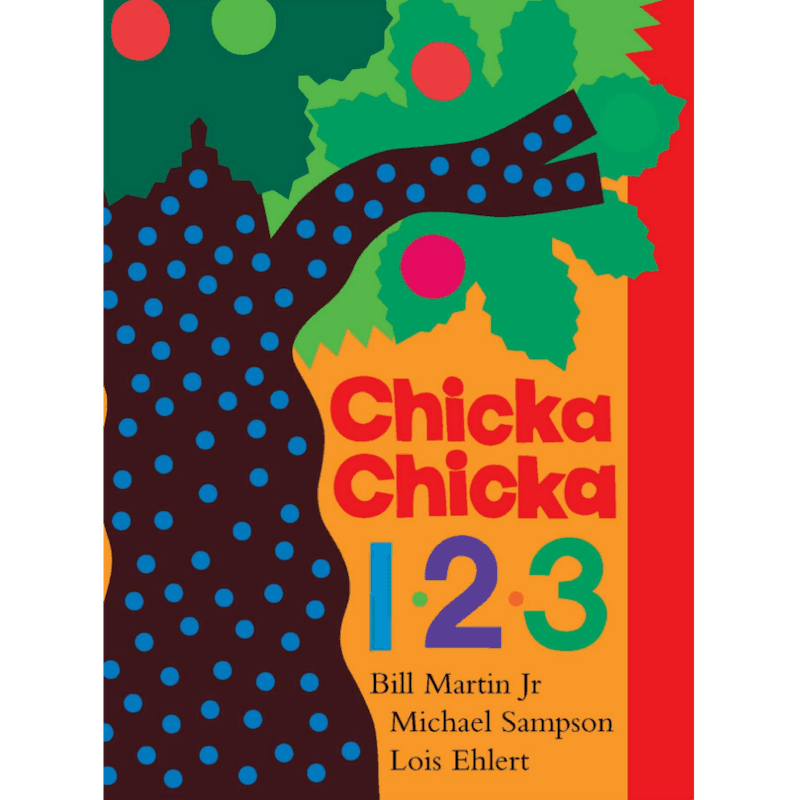 One hundred and one numbers climb the apple tree in this bright, rollicking, joyous rhyme, now available as a Classic Book. As the numerals pile up and bumblebees threaten, what's the number that saves the day? (Hint: It rhymes with "hero.") Young children can read and count and play and laugh to learn the surprising answer.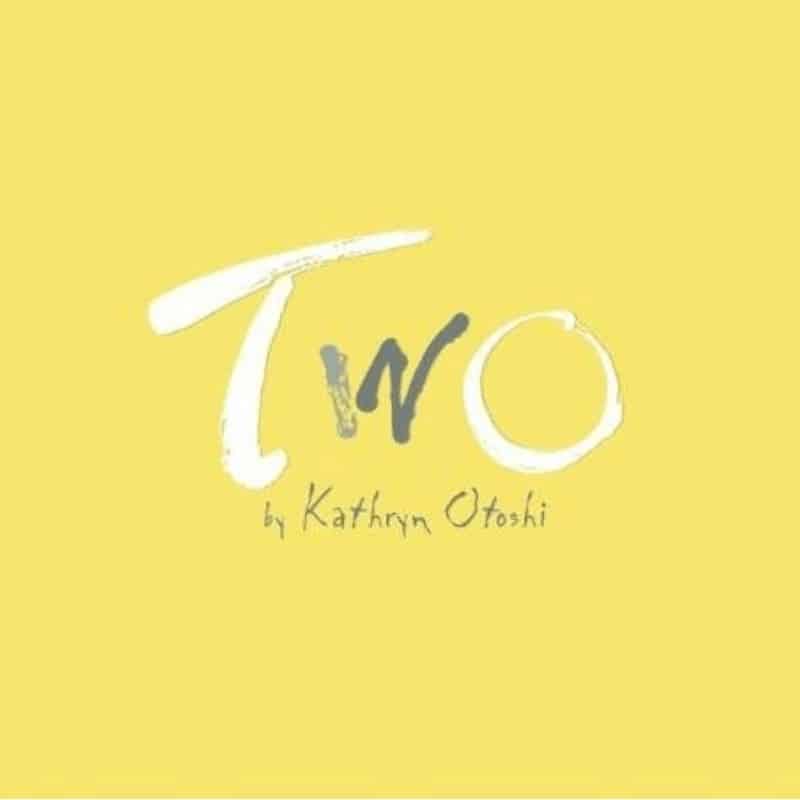 Two is best friends with One. Whenever they'd get the chance, they'd dance! She'd sing and snap. He'd tappity-tap. What a pair they made! At the end of each day, they'd always say, "ONE, TWO, I'll count on you, 'til the end, we'll be best friends." Until Three jumps in between them . . . Suddenly One only wants to play with Three. "ONE, THREE, odds we'll be!" they chant. Two feels left out. But what can she do? Another character-building counting book by award-winning author Kathryn Otoshi, Two is a powerful story of friendship, loss, letting go, and self-discovery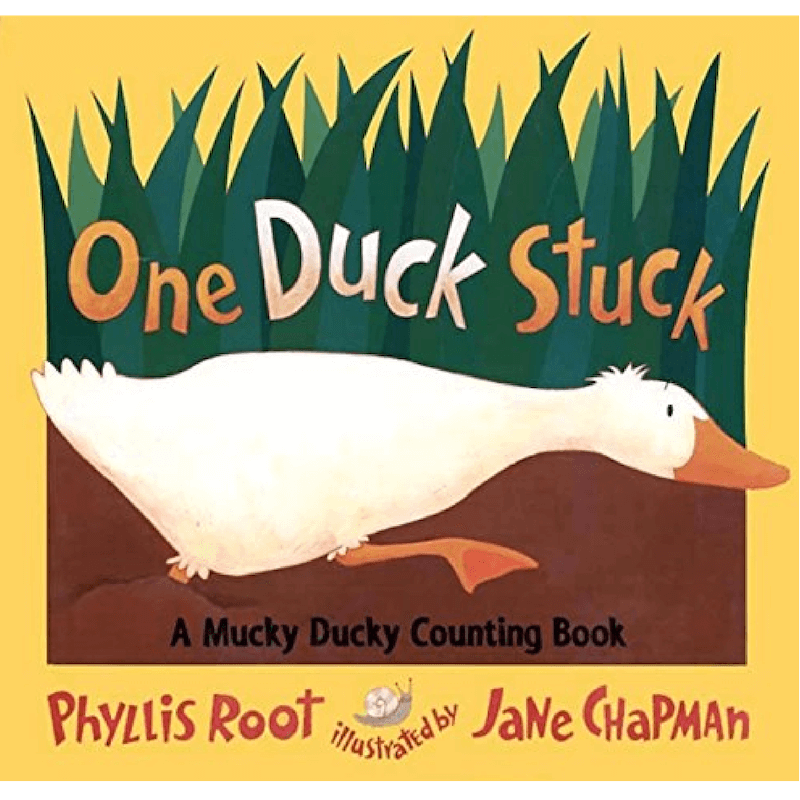 Can two fish, tails going swish, help? What about three moose, munching on spruce? Bright, spirited illustrations by Jane Chapman enhance this one-of-a-kind counting tale by Phyllis Root – a feast of sounds and numbers that will have listeners scrambling to join in the slippy, sloppy fun!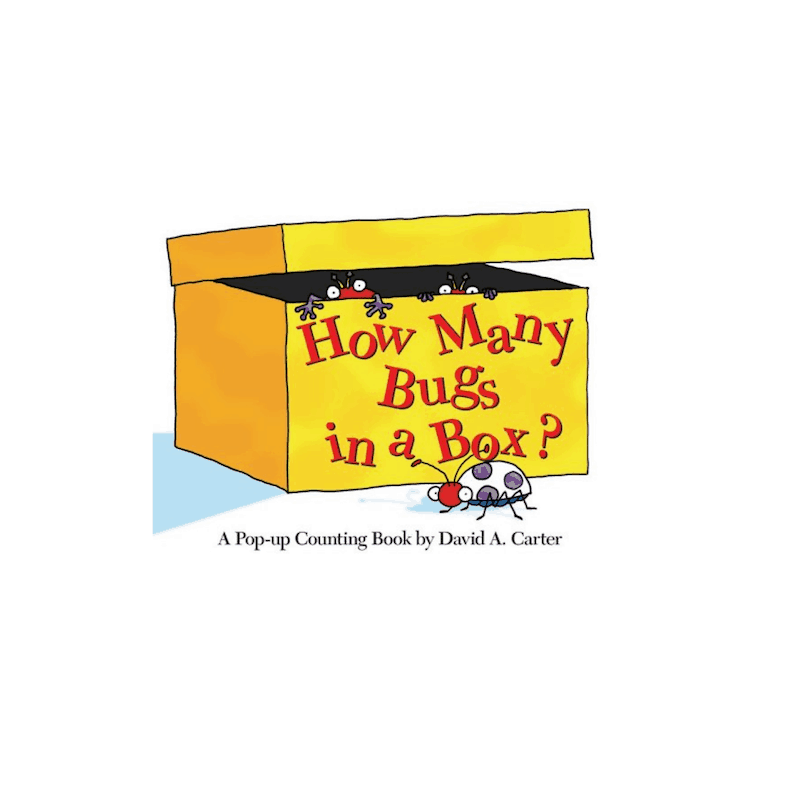 Here is the book that started the Bugs phenomenon! Inside each bright box are bugs to count from one to ten. Bugs fans will laugh and learn as they lift open the boxes and find colorful, comical bugs that pop out, run, eat — and even swim! How Many Bugs in a Box? will keep children counting over and over again.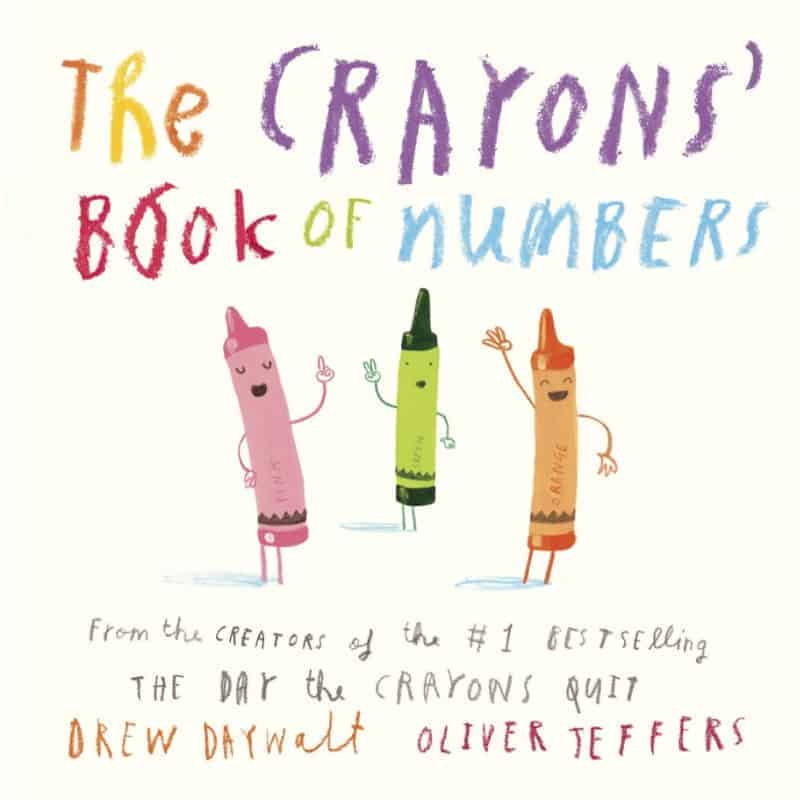 Counting is as easy as 1… 2… purple?… in this charming book of numbers from the creators of the #1 New York Times Best Sellers, The Day the Crayons Quit and The Day the Crayons Came Home. Poor Duncan can't catch a break! First, his crayons go on strike. Then, they come back home. Now his favorite colors are missing once again! Can you count up all the crayons that are missing from his box? From the creative minds behind the The Day the Crayons Quit and The Day the Crayons Came Home comes a colorful board book introducing young readers to numbers.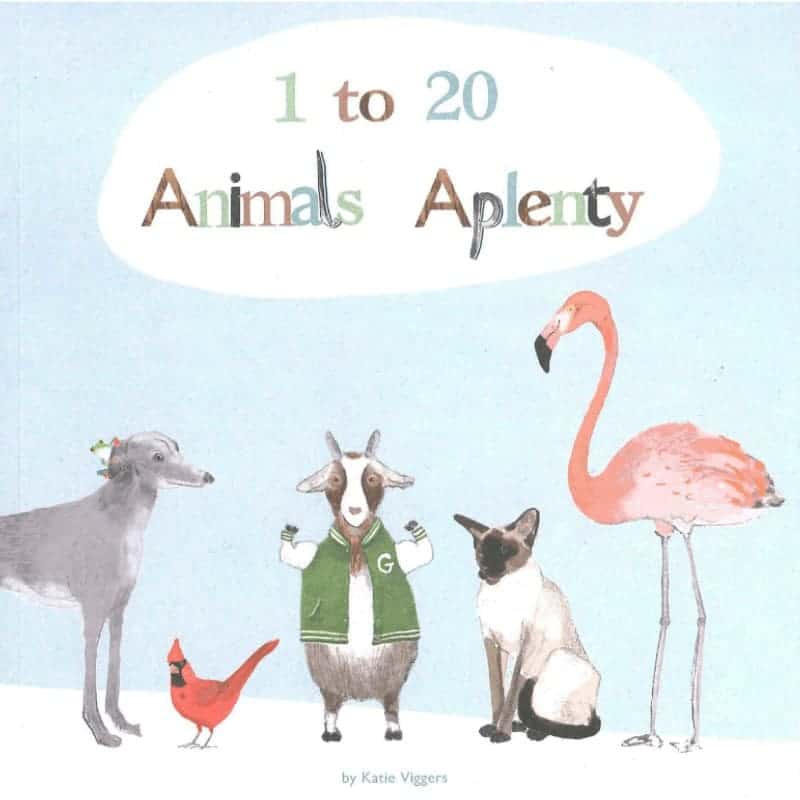 At once fun to read and educational, 1 to 20, Animals Aplenty shows each number both numerically and as a quantity, which is the key to teaching children not only to count but also the building blocks of mathematical skills.Each number is depicted in animals, so kids learn the number and also instantly see how many. All this education is disguised by Katie's adorable, detailed creatures, who romp through the numbers with unexpected and frequently silly props—and it all rhymes!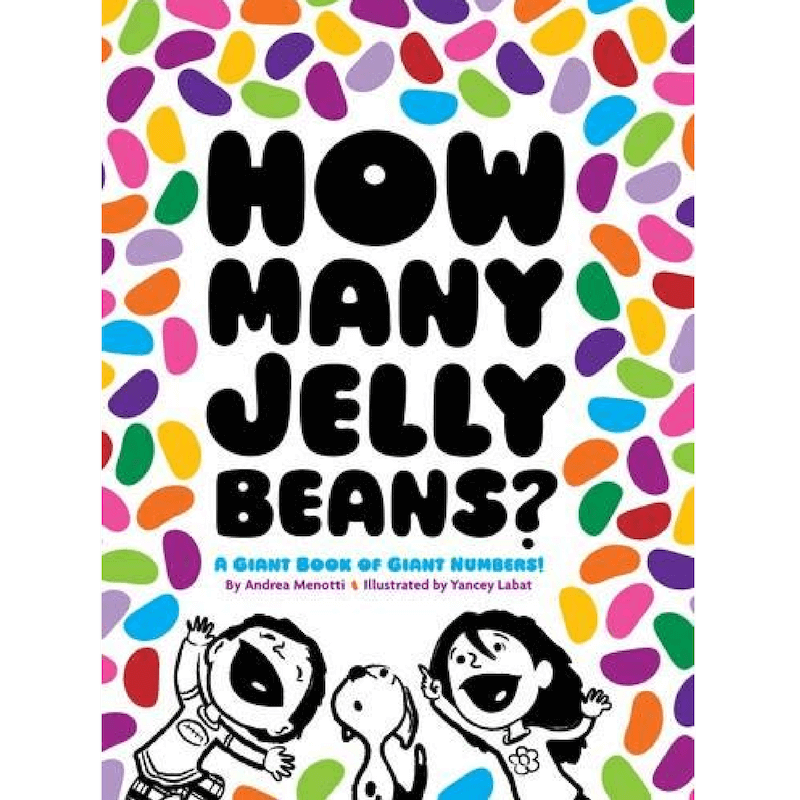 How many jelly beans are enough? How many are too many? Aiden and Emma can't decide. Is 10 enough? How about 1,000? That's a lot of jelly beans. But eaten over a whole year, it's only two or three a day. This giant picture book offers kids a fun and easy way to understand large numbers. Starting with 10, each page shows more and more colorful candies, leading up to a giant fold-out surprise—ONE MILLION JELLY BEANS! With bright illustrations and an irresistible extra-large format, How Many Jelly Beans? makes learning about big numbers absolutely scrumptious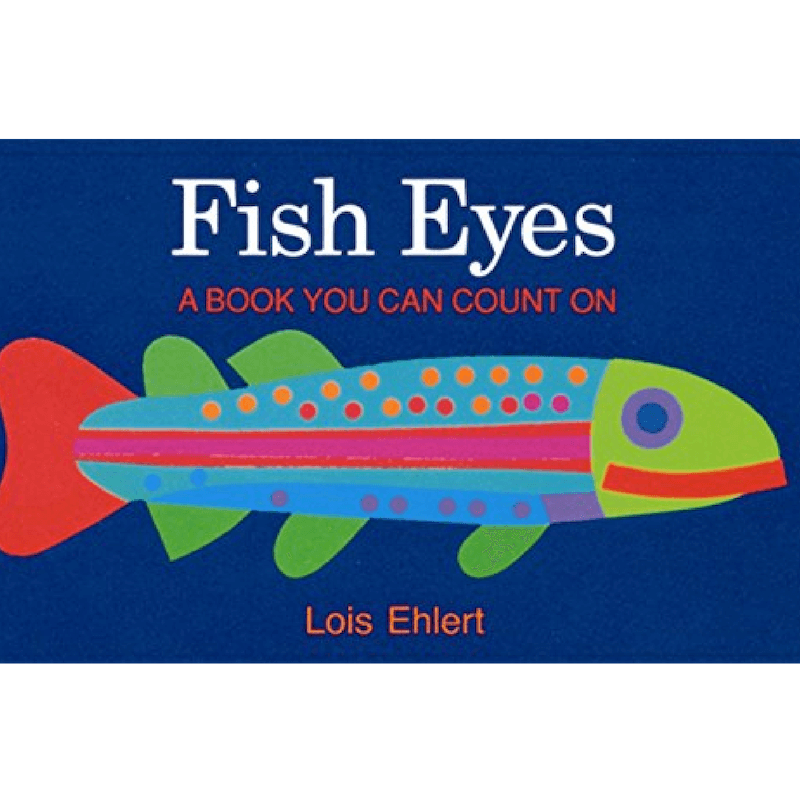 Brightly colored fish introduce young children to counting and basic addition in this fun and simple concept book. "A visual treat from start to finish."–Booklist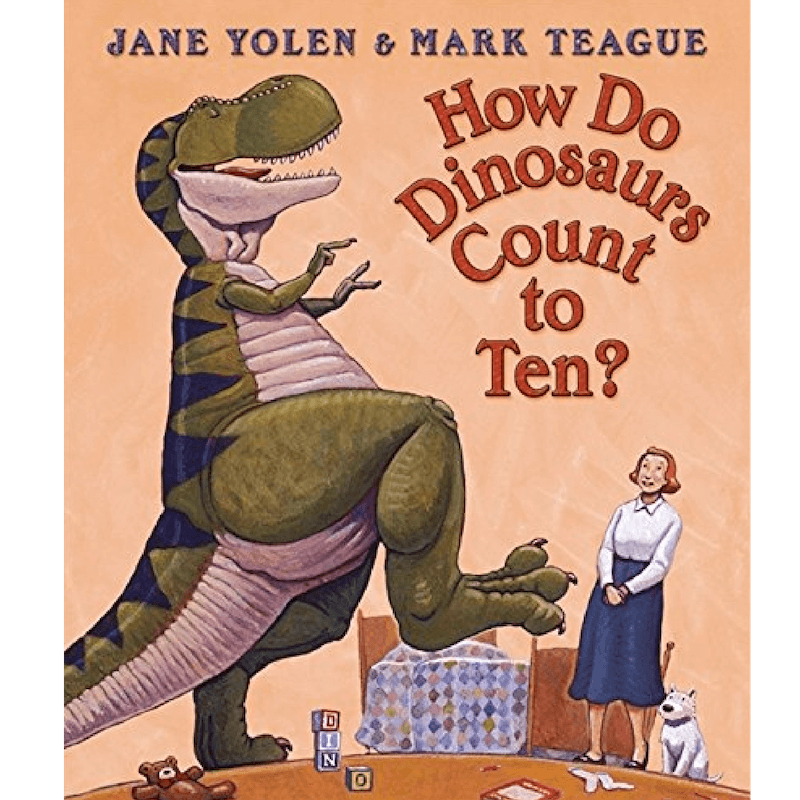 This brand new book format brings the gigantic humour of bestselling, award-winning team Jane Yolen and Mark Teague to the youngest readers, helping them learn to count from one to ten with a simple, rhyming text and laugh-out-loud illustrations! A perfect companion book to the How Do Dinosaurs! story books.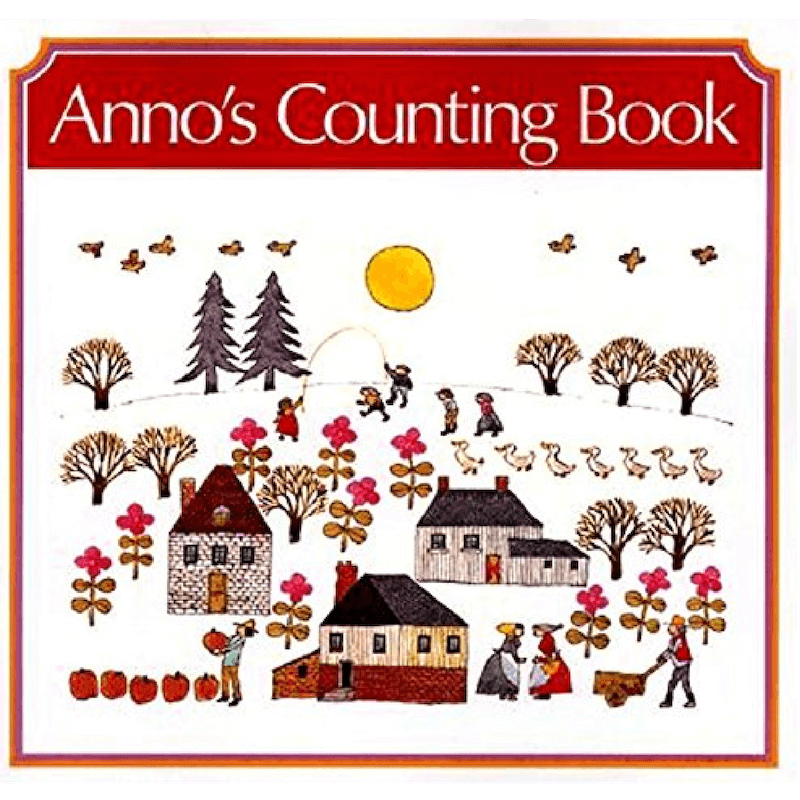 Every child is a natural mathematician, according to Mitsumasa Anno. Children are constantly comparing and classifying things and events they observe around them. As they try to bring sense and order into what they observe, they are actually performing basic mathematical feats. Gentle watercolor pictures show a landscape changing through the various times of day and the turning seasons, months and years, and the activities of the people and animals who come to live there. But the seemingly simple plan of the book is deceptive: look more carefully and you will see one-to-one correspondences; groups and sets; scales and tabulations; changes over time periods; and many other mathematical relationships as they occur in natural, everyday living.
Kids Books About Big Numbers & Zero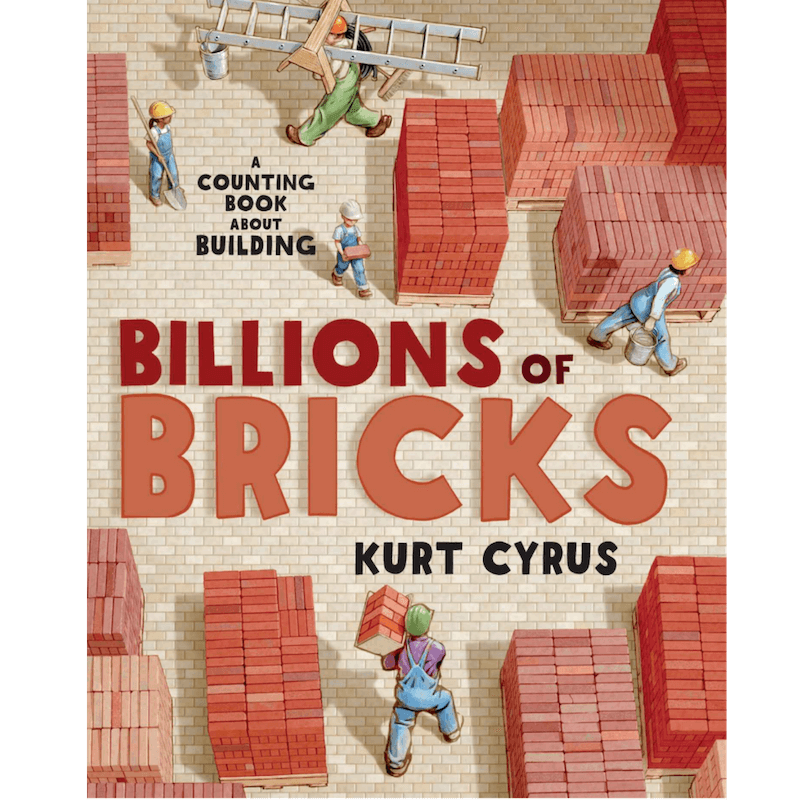 Billions of Bricks – Skip Counting and Ty numbers
Grab a hard hat and all your tools, and get ready for a construction adventure in counting! This clever, rhyming picture book leads readers through a day in the life of a construction crew building with bricks. A brick may seem like just a simple block, but in groupings of ten, twenty, and more, it can create many impressive structures, from hotels to schools to skyscrapers. Billions of Bricks from Kurt Cyrus is a terrific introduction to counting in quantities for children. Click for a free lesson plan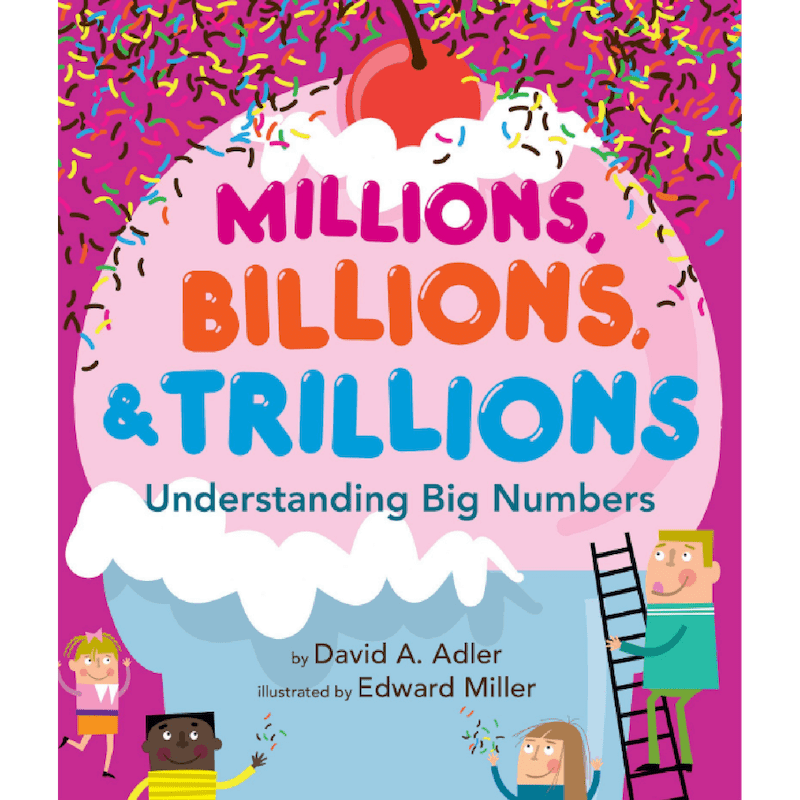 Millions Billions and Trillions
What does a million look like? A billion? A trillion? These huge numbers are hard to visualize. This book explains quantities in terms children can understand. For example, one million dollars could buy two full pizzas a day for more than sixty-eight years, and it would take the heads of ten thousand people together to have one billion hairs. The dynamic math duo of David A. Adler and Edward Miller explain the concepts of millions, billions, and trillions in a light hearted way.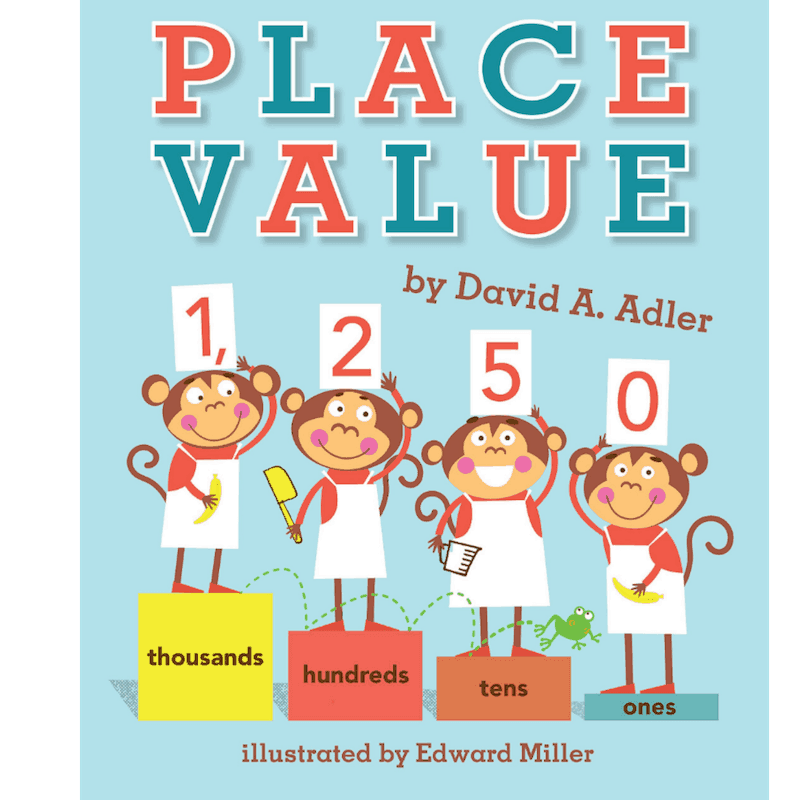 You had better not monkey around when it comes to place value. The monkeys in this book can tell you why! As they bake the biggest banana cupcake ever, they need to get the amounts in the recipe correct. There's a big difference between 216 eggs and 621 eggs. Place value is the key to keeping the numbers straight. Using humorous art, easy-to-follow charts and clear explanations, this book presents the basic facts about place value while inserting some amusing monkey business.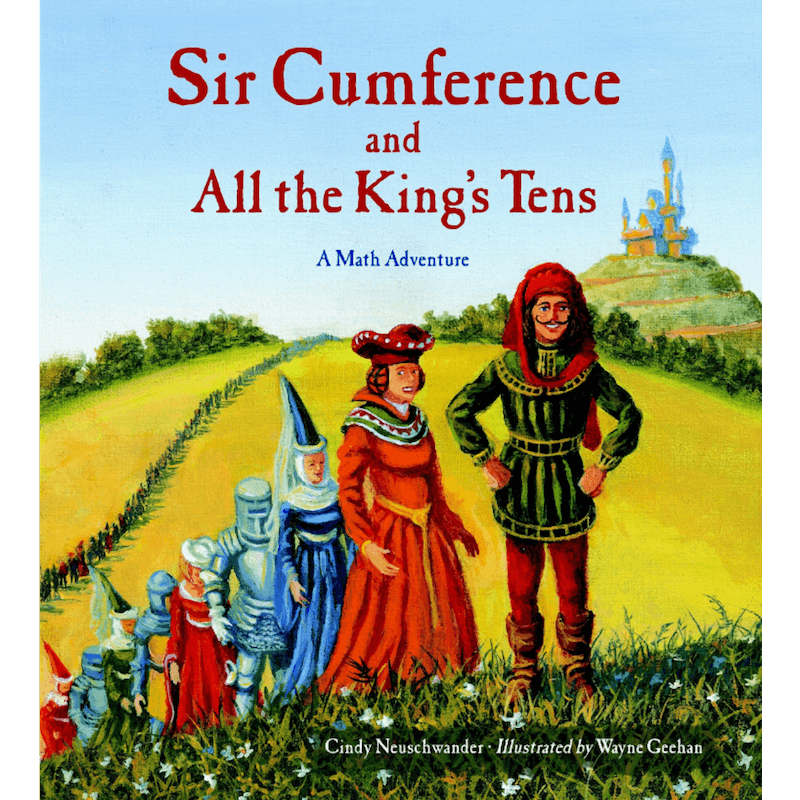 Sir Cumference & All the King's Tens
Join Sir Cumference and the gang for more wordplay, puns, and problem solving in the clever math adventure about place-value and counting by tens. Sir Cumference and Lady Di planned a surprise birthday party for King Arthur, but they didn't expect so many guests to show up. How many lunches will they need? And with more guests arriving by the minute, what about dinner? Sir Cumference and Lady Di count guests by tens, hundreds, and even thousands to help young readers learn place-value. Fans will love this new installment of the Sir Cumference series that makes math fun and accessible for all.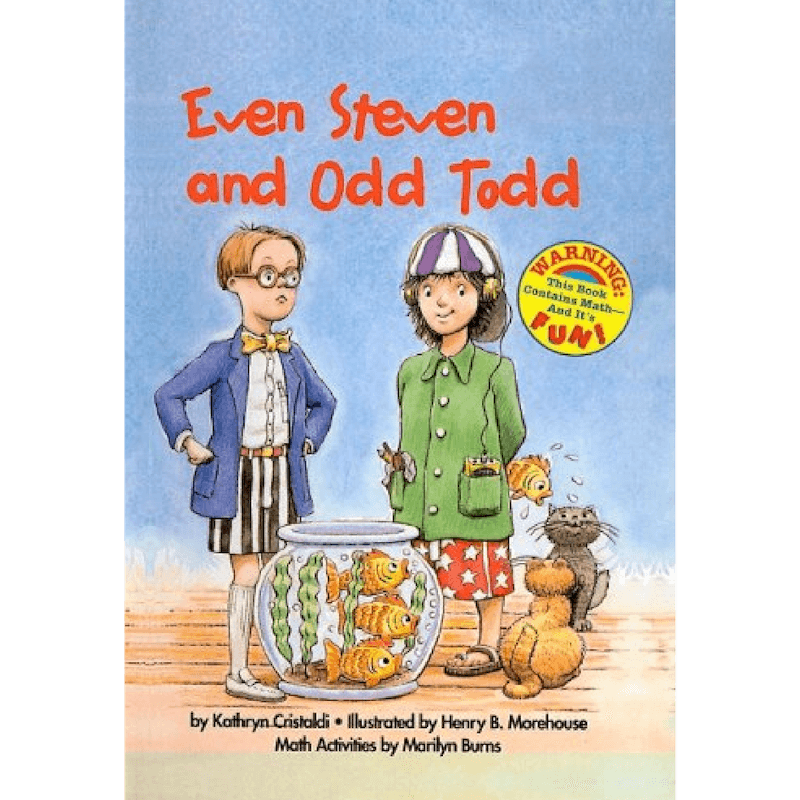 Math is often a difficult subject for young readers. However, the Hello Math Reader series makes learning about math fun. In this latest title, a mismatched pair–Even Steven and Odd Todd–through their differing number preferences, teach basic number concepts in a way that children will enjoy.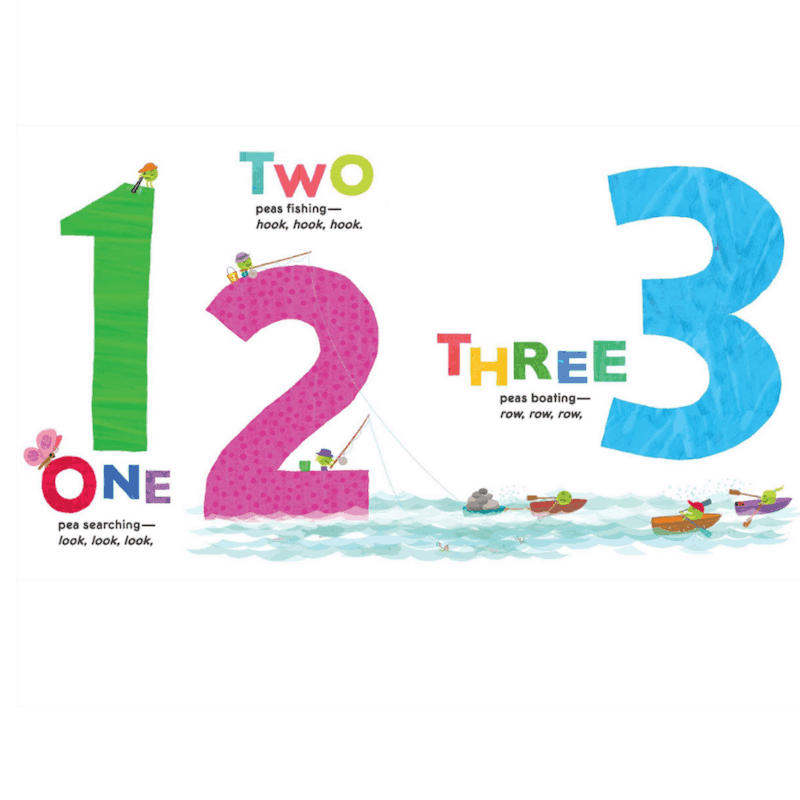 1-2-3 Peas -From 1 to 100
Meet the peas—the 1-2-3 Peas! Come along as they count from one to one hundred in this pea-filled board book that's packed with bright, bold numbers and playful number-themed scenes. These tiny green mathematicians will have young readers everywhere calling for more peas, please! Click for Lesson Plan ideas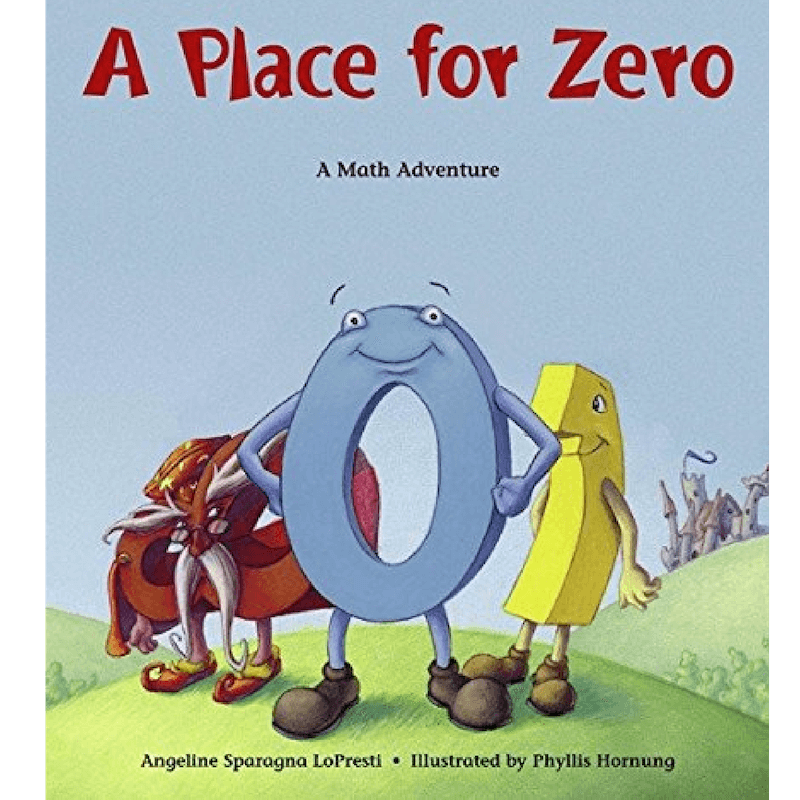 A Place For Zero – Multiplication & Zero as a place holder
Join Zero on his math adventure as he discovers his place through multiplication.  All the other numbers seem to belong and they all have a place, but when zero discovers multiplication he thinks he might have a place there. He sets out to find King Multiplus who also is curious about what will happen when Zero gets thrown in the mix. With math and wordplay A Place for Zero is the perfect introduction to multiplication and number placement. A playful way to make math less intimidating and more fun to explore.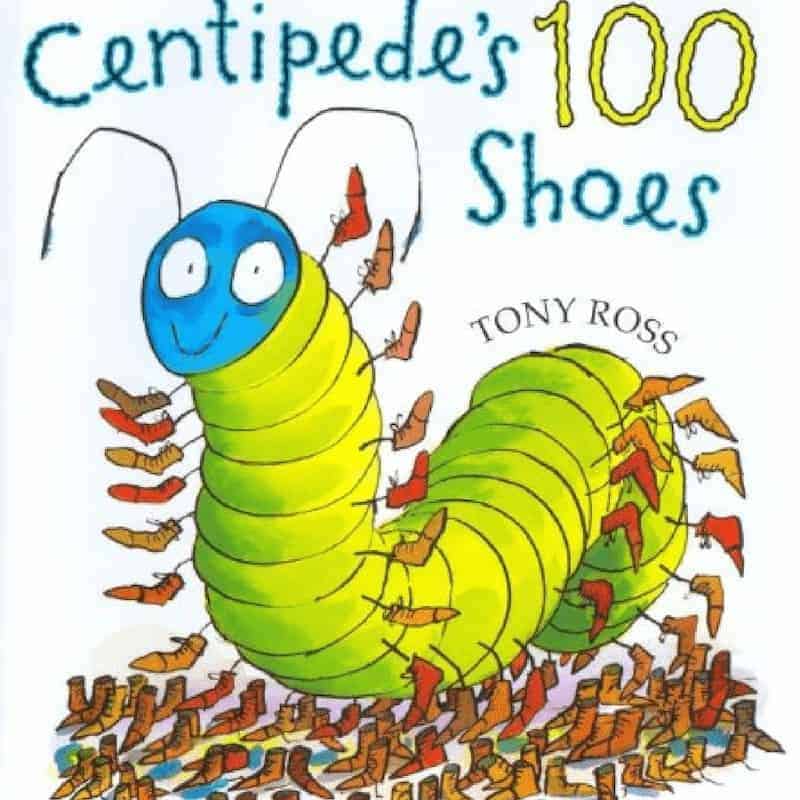 Centipede's 100 shoes – Introducing 100
Have fun with numbers in this hilarious new picture book by master storyteller and illustrator Tony Ross. "One hundred shoes, please!" said the little centipede. "Fifty left ones, and fifty right ones." "Why do you want one hundred?" asked the shoe seller."Because I'm a centipede, which means a hundred feet," said the little centipede.But when are one hundred shoes too many shoes? And what do you do with too many shoes? Why, you give them away! Find out who gets them in this delightfully silly story about a centipede with sore feet. Download a FREE Lesson Plan Here.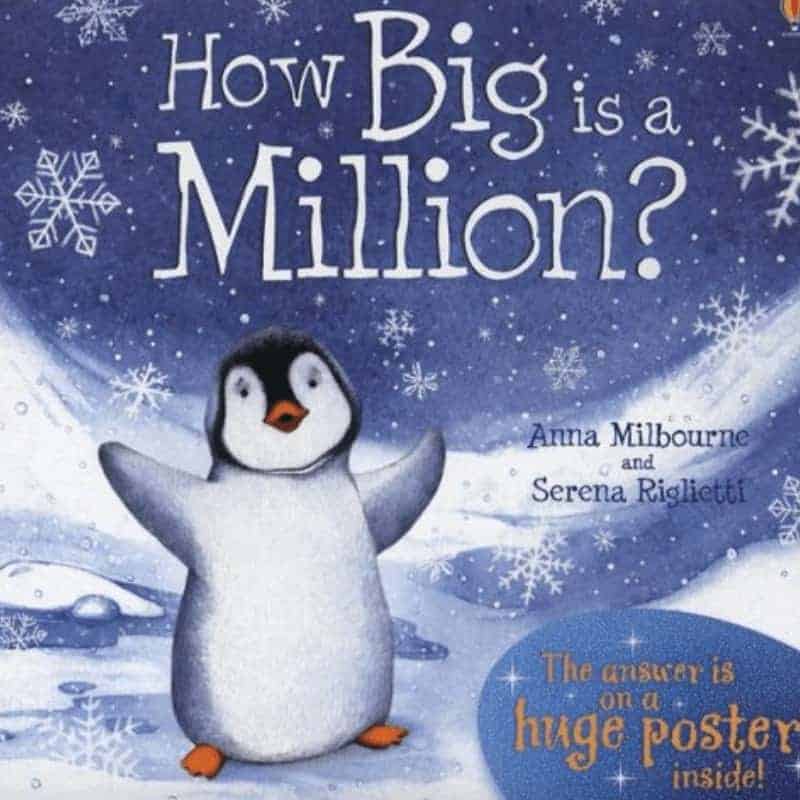 Pipkin the penguin sets out to discover how many things are in a million, with the help of his mother and a playful seal cub.  help children understand the concept of big numbers. He sets off to find out and along the way meets 100 penguins, sees 1000 snowflakes. At the end there's a beautiful fold-out poster which is printed with exactly one million stars. Download a free lesson plan here.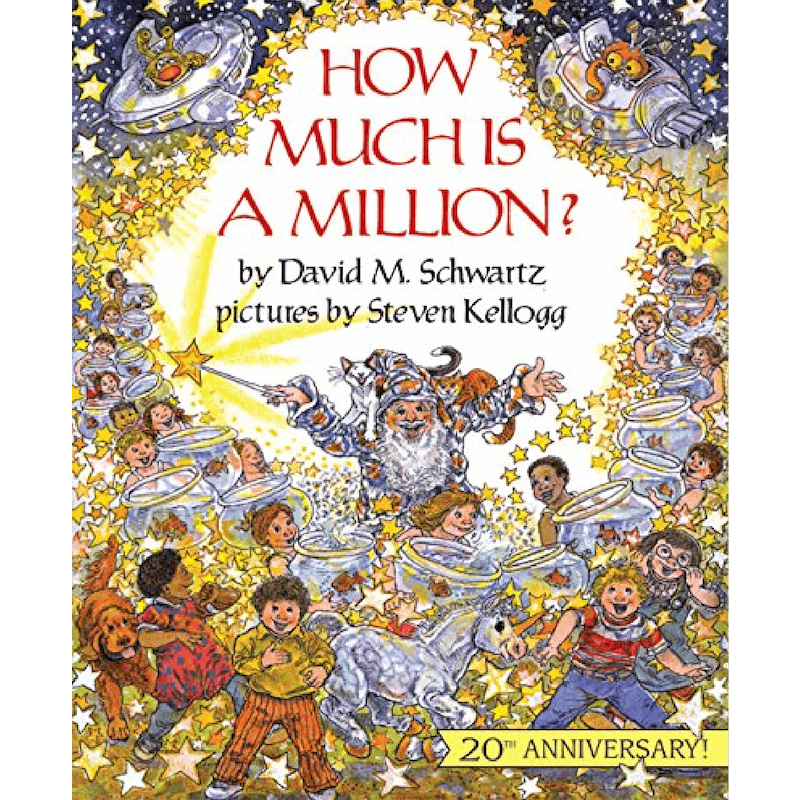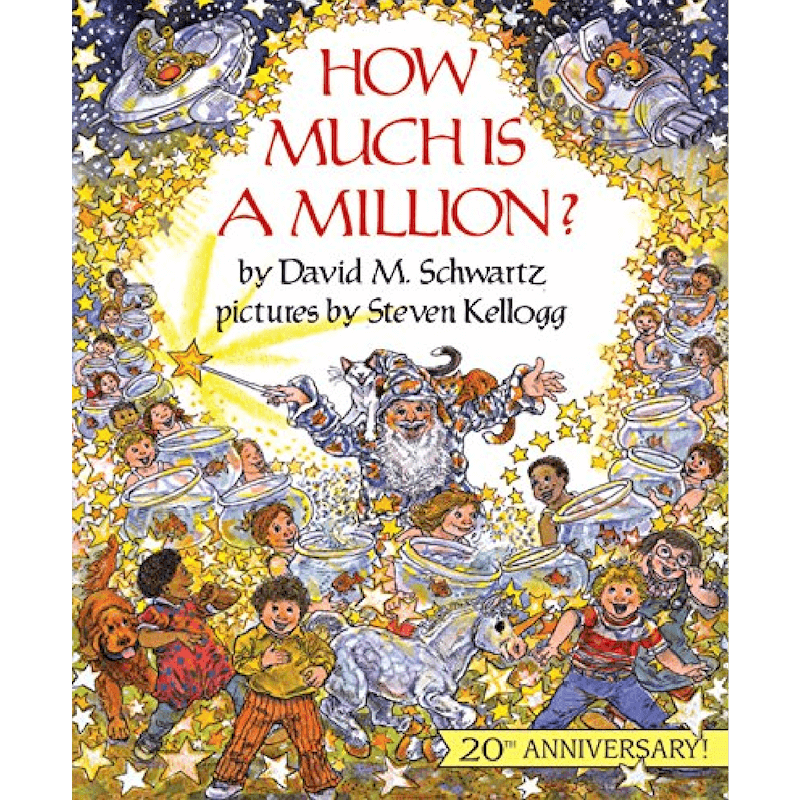 Ever wonder just what a million of something means? How about a billion? Or a trillion? Marvelosissimo the mathematical magician can teach you! How Much Is a Million? knocks complex numbers down to size in a fun, humorous way, helping children conceptualize a difficult mathematical concept. It's a math class you'll never forget. Free Lesson Ideas here.
Zero. Zip. Zilch. Nada. That's what all the other numbers think of Zero. He doesn't add anything in addition. He's of no use in division. And don't even ask what he does in multiplication. (Hint: Poof!) But Zero knows he's worth a lot, and when the other numbers get into trouble, he swoops in to prove that his talents are innumerable.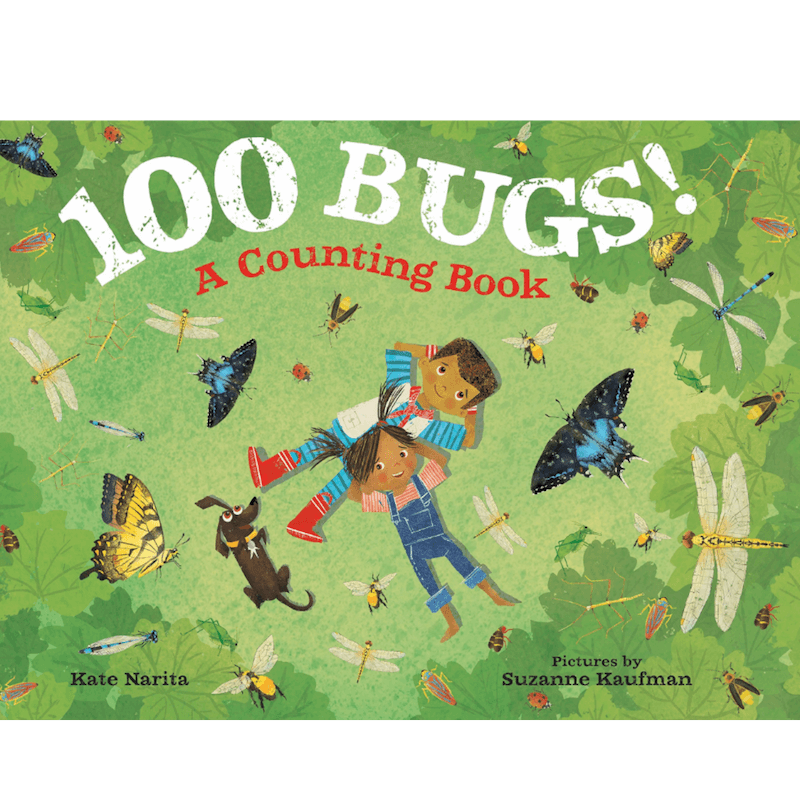 How many bugs can you count? From walking sticks to spittlebugs, dragonflies to katydids, discovering 10 bugs at a time, you just might see 100 bugs!Little explorers will learn 10 different ways to count to 10, using 10 different kinds of bugs, and get all the way to 100 by the end of their adventure.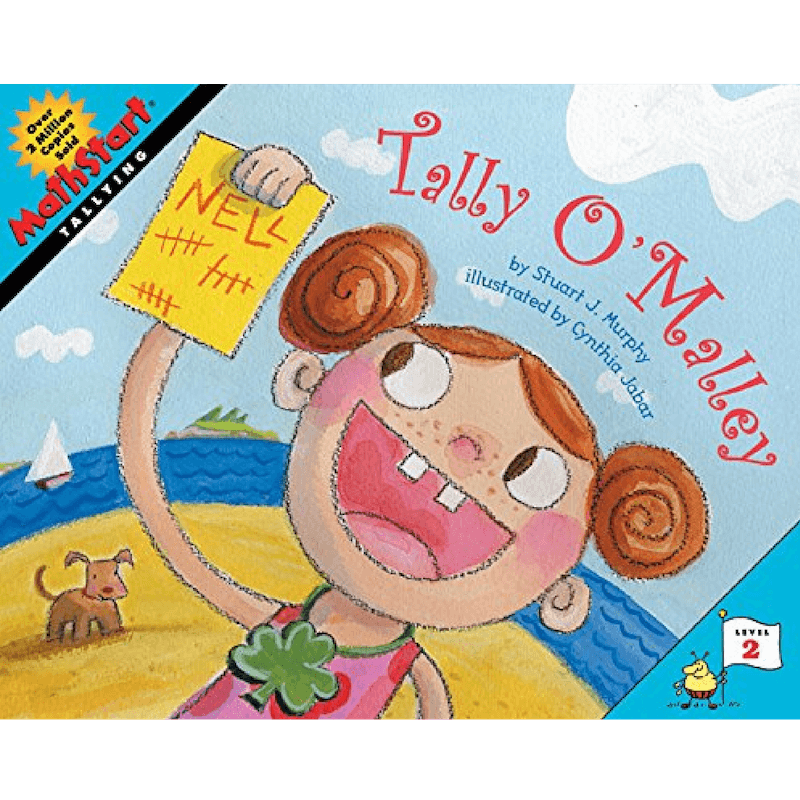 The O'Malleys are off to the beach! But it's a long, hot, boring drive. What can Eric, Bridget, and Nell do to keep busy? Play tally games, of course — counting up all the gray cars or green T-shirts they see. Whoever has the most marks at the end wins the game.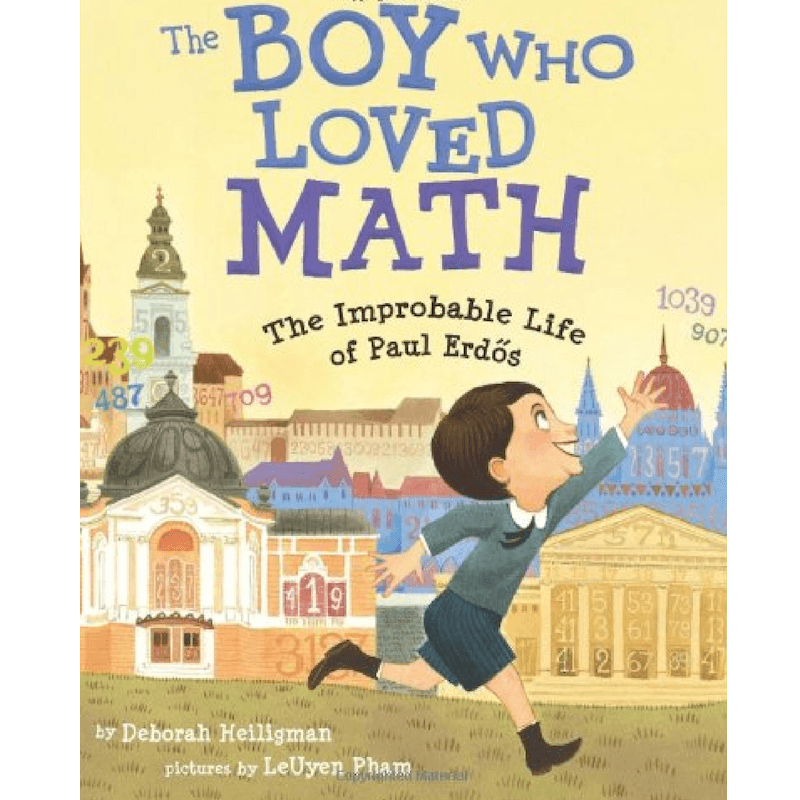 Most people think of mathematicians as solitary, working away in isolation. And, it's true, many of them do. But Paul Erdos never followed the usual path. At the age of four, he could ask you when you were born and then calculate the number of seconds you had been alive in his head. But he didn't learn to butter his own bread until he turned twenty. Instead, he traveled around the world, from one mathematician to the next, collaborating on an astonishing number of publications. With a simple, lyrical text and richly layered illustrations, this is a beautiful introduction to the world of math and a fascinating look at the unique character traits that made "Uncle Paul" a great man.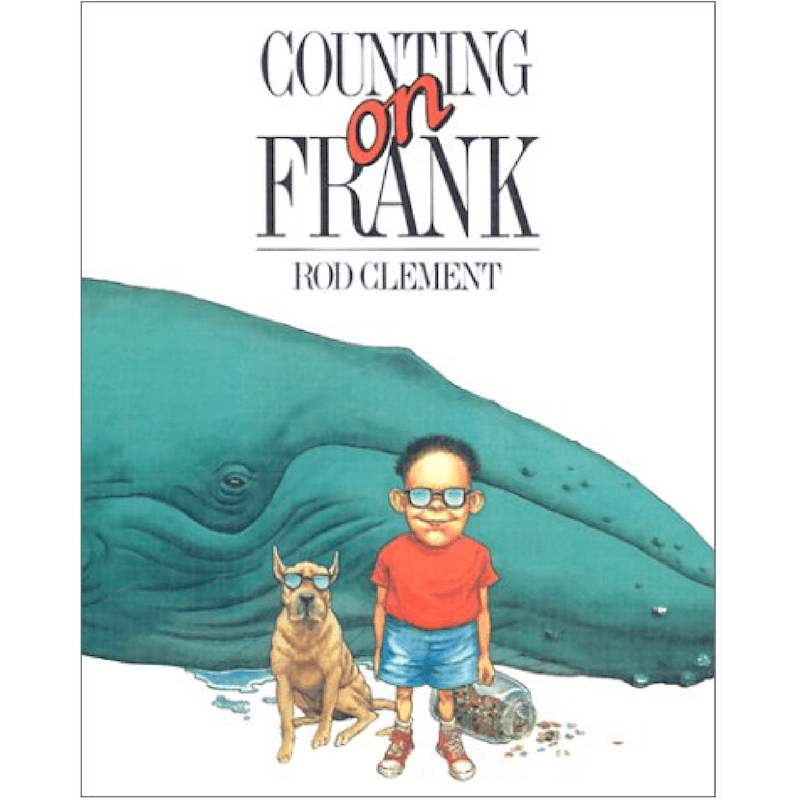 Frank loves to calculate things. He knows how many humpback whales would fit in his house. He knows how long it would take to fill his bathroom with water. But can Frank guess the number of jellybeans in the jar?
Related Posts: Activities, Printables & Ideas For Teaching Number Recognition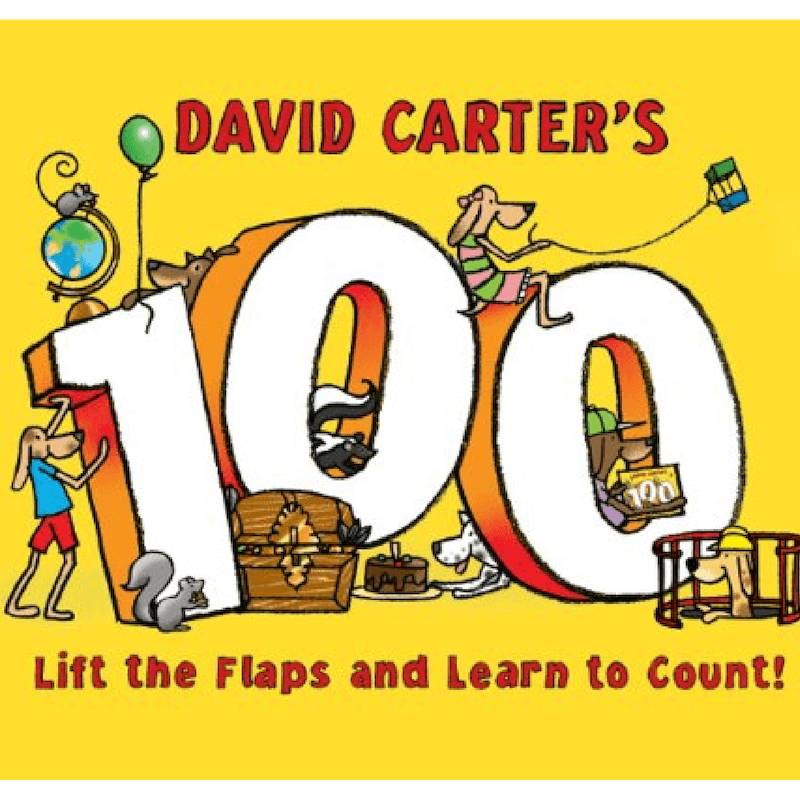 Flaps upon flaps upon flaps—100 of them—are layered on top of each other like gift boxes filled with surprises. Acclaimed master paper engineer and illustrator David Carter offers children a magical experience as they uncover an array of 100 wonderful things in a variety of landscapes. From zippy city streets—where successive flaps open to show a truck, taxi, bicycle, scooter, and skateboarder—to scenes deep undersea, in the forest, and in a prehistoric world with dinosaurs, this clever, visually astonishing book will amaze kids…and teach them to count up to 100.
The book begins with small, easily observable numbers before building up to truly gigantic ones, like a nonillion, a tredecillion, a googol, and even ones too huge for names! Any person, regardless of age, can benefit from reading this book. Readers will find themselves returning to its pages for a very long time, perpetually learning from and growing with the narrative as their knowledge deepens. Really Big Numbers is a wonderful enrichment for any math education program and is enthusiastically recommended to every teacher, parent and grandparent, student, child, or other individual interested in exploring the vast universe of numbers.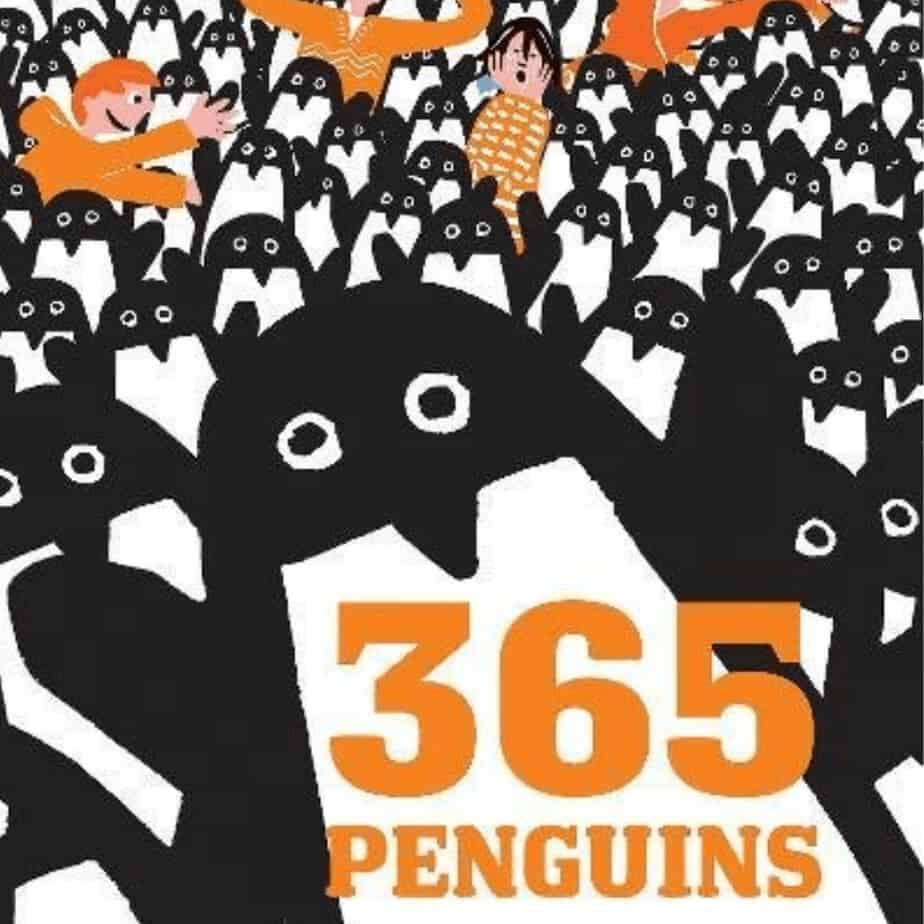 The penguins are back, in a new format and with a fresh new cover! The family in 365 Penguins finds a penguin mysteriously delivered to their door every day for a year. At first they're cute, but with every passing day, the penguins pile up—along with the family's problems. Feeding, cleaning, and housing the penguins becomes a monumental task. They're noisy and smelly, and they always hog the bathroom! And who on earth is sending these kwak-ing critters? Bright, striking illustrations with lots of opportunity for counting (and lots of laughs), 365 Penguins has become a perennial wintertime favorite since it first came out in 2006.
Children's Books for Teaching Measurement