If you need cute, EASY Gingerbread House Activities for kids give our mini gingerbread house alternatives a go! They are just the perfect low mess, NO BAKE alternative to traditional 'gingerbread' houses and so much fun to make!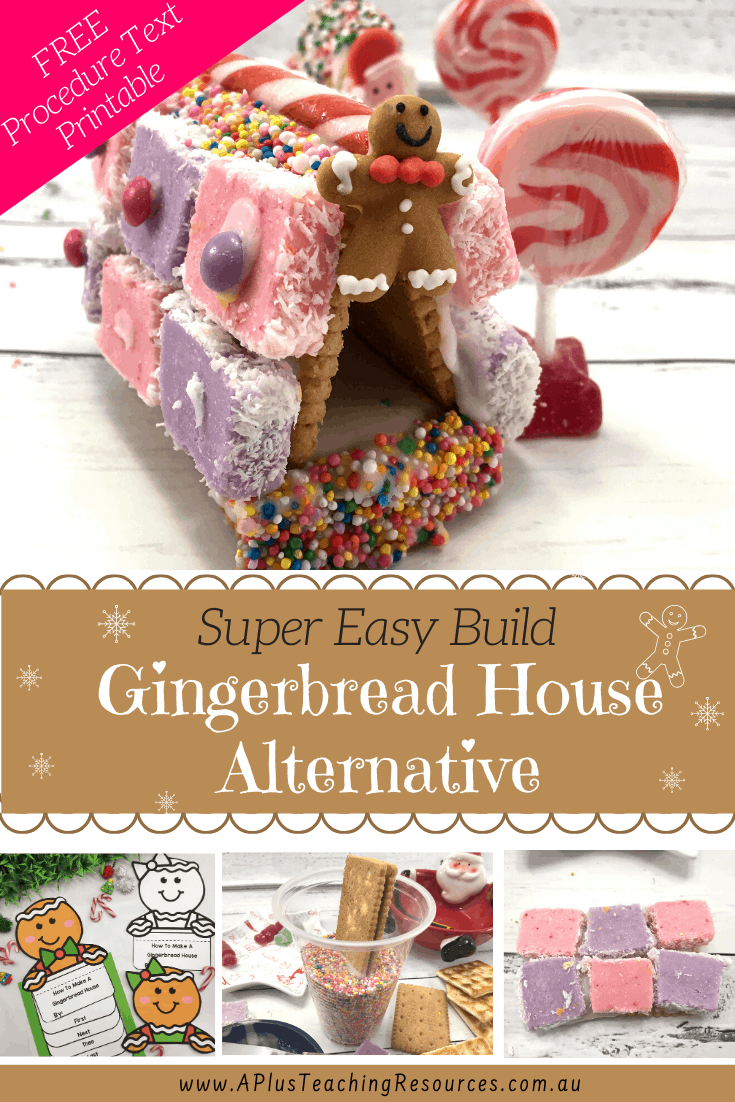 Gingerbread houses are a fun and delicious way to decorate for the Christmas holidays. But baking your own gingerbread and building the houses can be tricky! It can even end in tears if it collapses!
We tested every aspect of this gingerbread house recipe and tested out some ideas to keep it simple for kids and came up with a fun recipe for the classroom.
There's No baking, cutting or rolling and assembly is easy because we used Nice biscuits (Graham Crackers). It's the perfect gingerbread house alternative. Ther's also a FREE Procedure Writing Template at the END of the Post!
Related Post: Must Have FREE Christmas Resources For Teaching!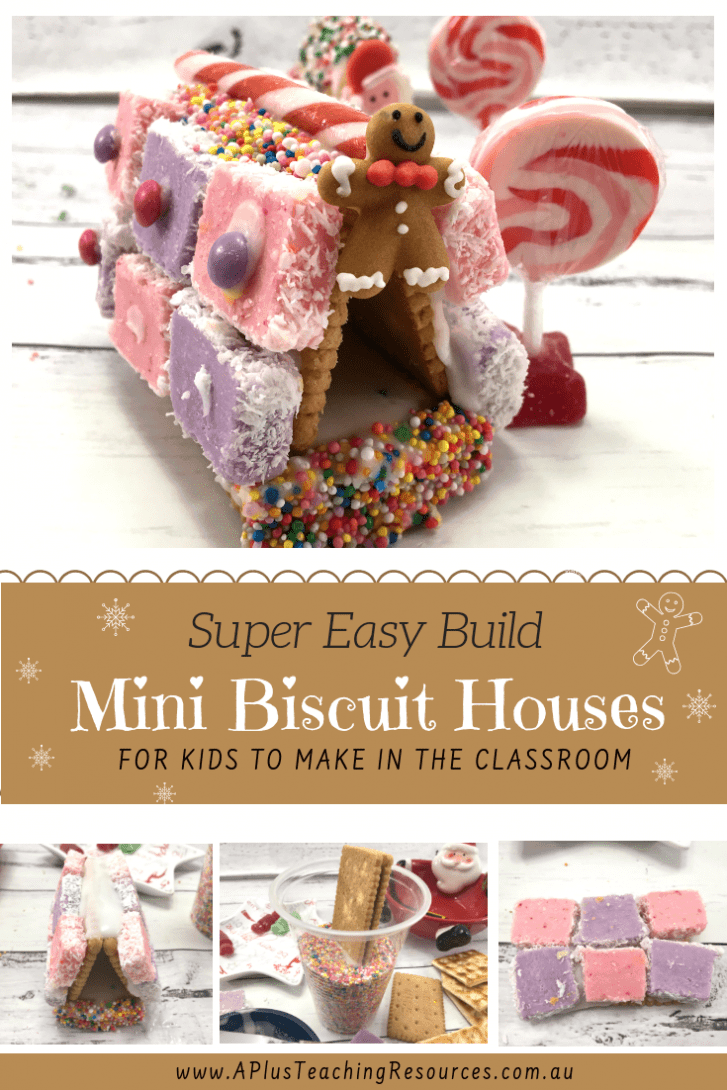 Classroom Proof Gingerbread House Activities For Kids
Speaking from experience, I can tell you that there are two things that can make making gingerbread houses with kids a nightmare.
The house collapsing
The decorations slipping off the house
But fear not we have played with the order of things and tested this in our classroom. For stress a free easy Gingerbread House keep an eye on these 3 things!
An adult adds the water to the powdered icing sugar a drop at a time so it's not too runny. Thicker is Better.
Decorate each section of the gingerbread house on a flat surface
Build the house once the icing is completely dry.
We have thought of everything so that these cute gingerbread activities will be a totally stress free and fun holiday activity in your classroom.
You can print off  your Free no bake gingerbread house recipe at the end of the post and share your ideas in the comments too!
Related Post: 24 Easy Christmas Crafts For Kids To Make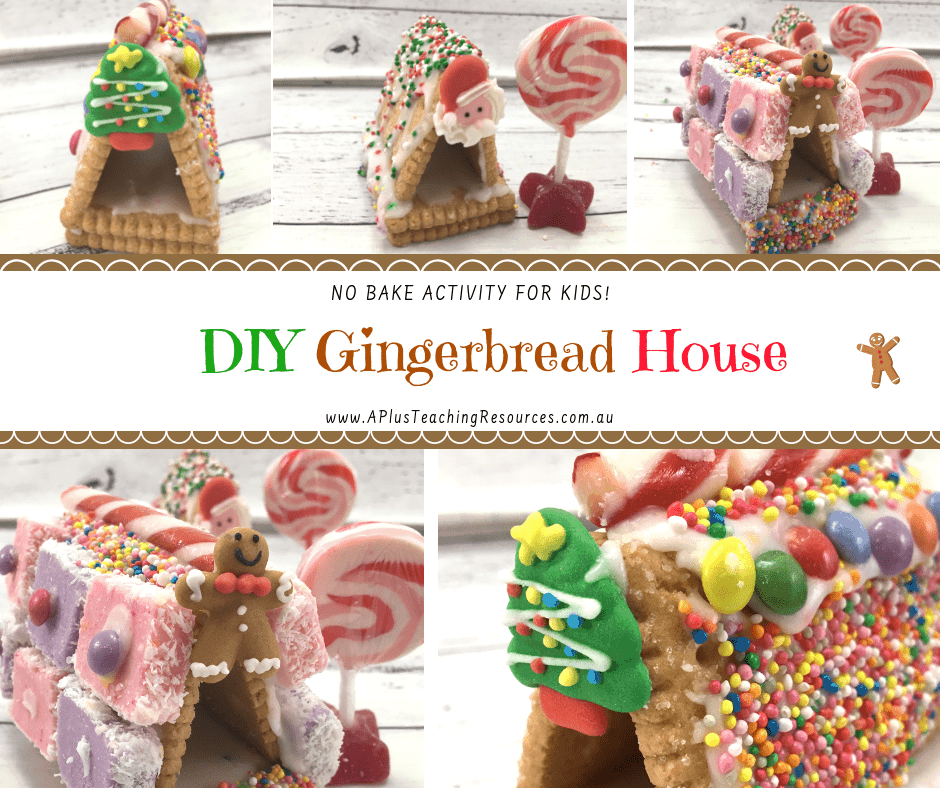 *this post contains affiliate links. APTR may receive a small commission for referring your purchase at no extra cost to you. Thanks for supporting us!
Gingerbread House Alternatives
Gingerbread may not be to your taste but you don't need to miss out on this Holiday tradition!
Try these easy gingerbread house alternatives that use regular biscuits or even savoury crackers.
These mini gingerbread houses are better for kids to make, handle and decorate than gingerbread versions. And they are much cheaper than bought kits too.
Once finished  and wrapped in cellophane they make a beautiful gift!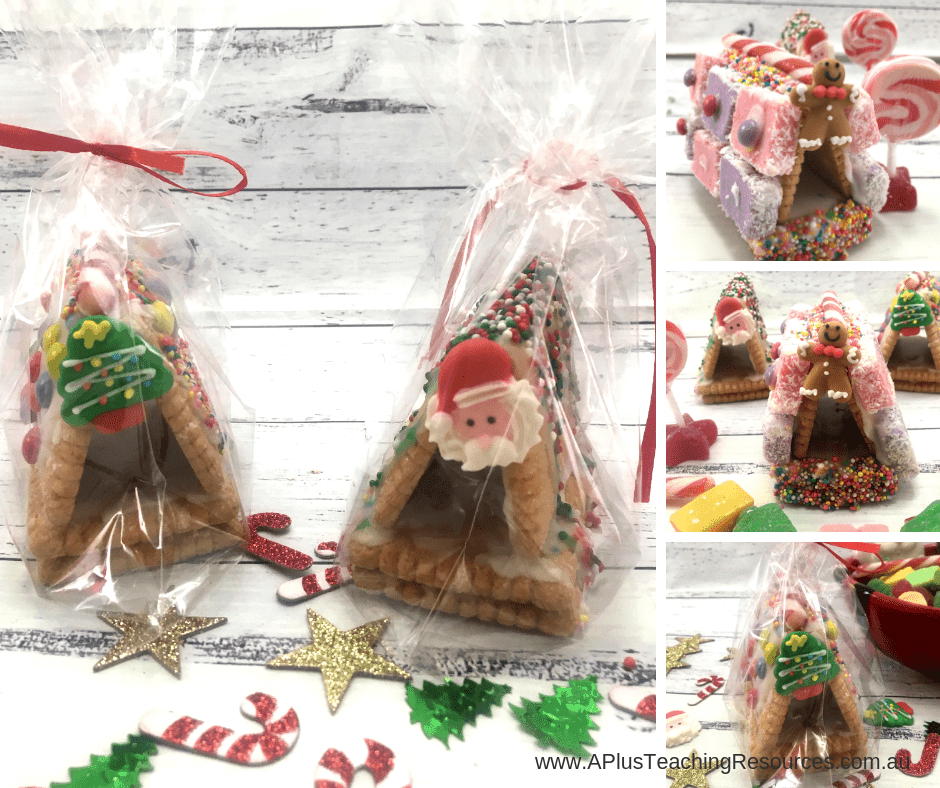 Gingerbread House Alternatives Ingredients
4 Graham Crackers or similar rectangular biscuits per house, we used Nice biscuits
1-2 tsp water
Zip lock bags for the icing (we used snack sized bags)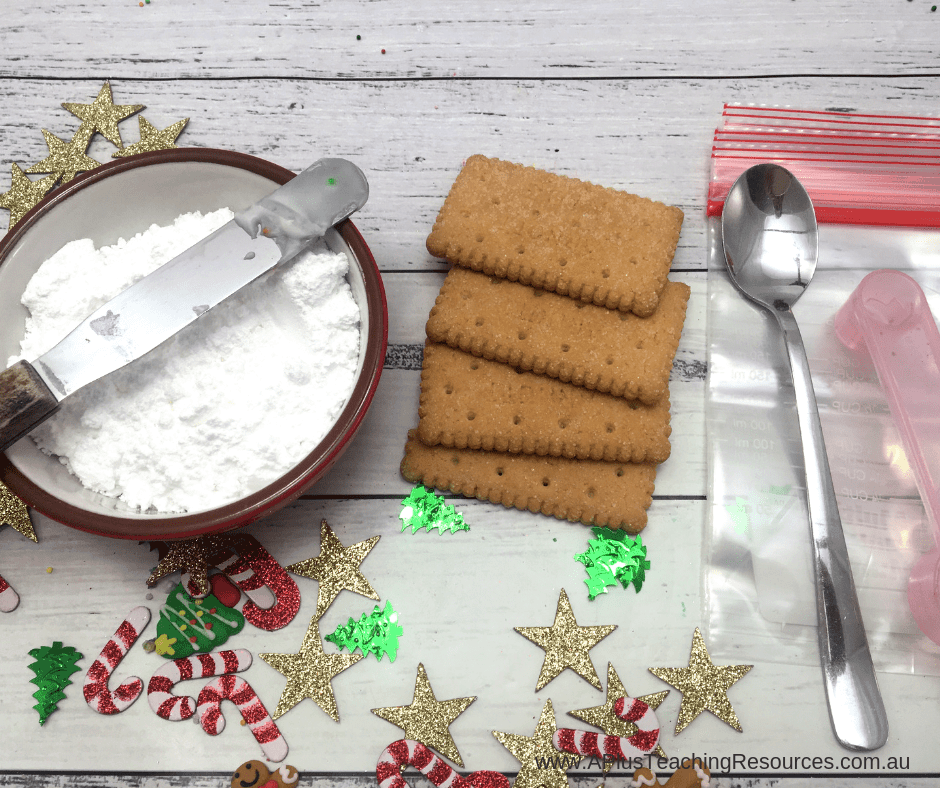 How To Make Gingerbread House Glue
To stop the houses from collapsing it's important to spend some time mixing the icing glue to the right consistency.
This can take longer than you expect unless you're a gingerbread House expert!
Icing sugar powder can be tricky to work with so we strongly suggest that an adult adds the water to the icing.
To make the icing glue add the water very slowly a few drips at a time. You need to have a very thick consistency.
Thoroughly mix before adding more water. It only takes a small amount of water to make the icing.
Mix up a thick paste for the main glue and a separate slightly runnier version to be used in ziplock snack bags if you want to add icicles. But be warned runny icing is tricky for little learners to use so don't make it too runny!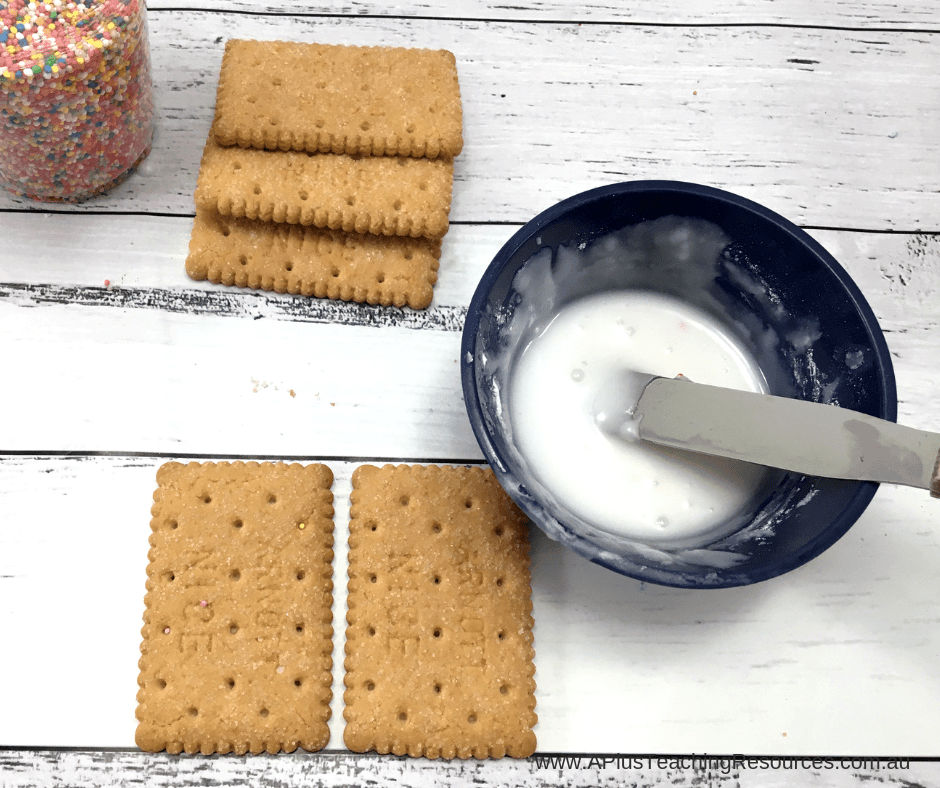 How To Make Mini  Gingerbread Houses with Crackers or Biscuits
To make the base of the mini house spread the icing mixture on top of a biscuit.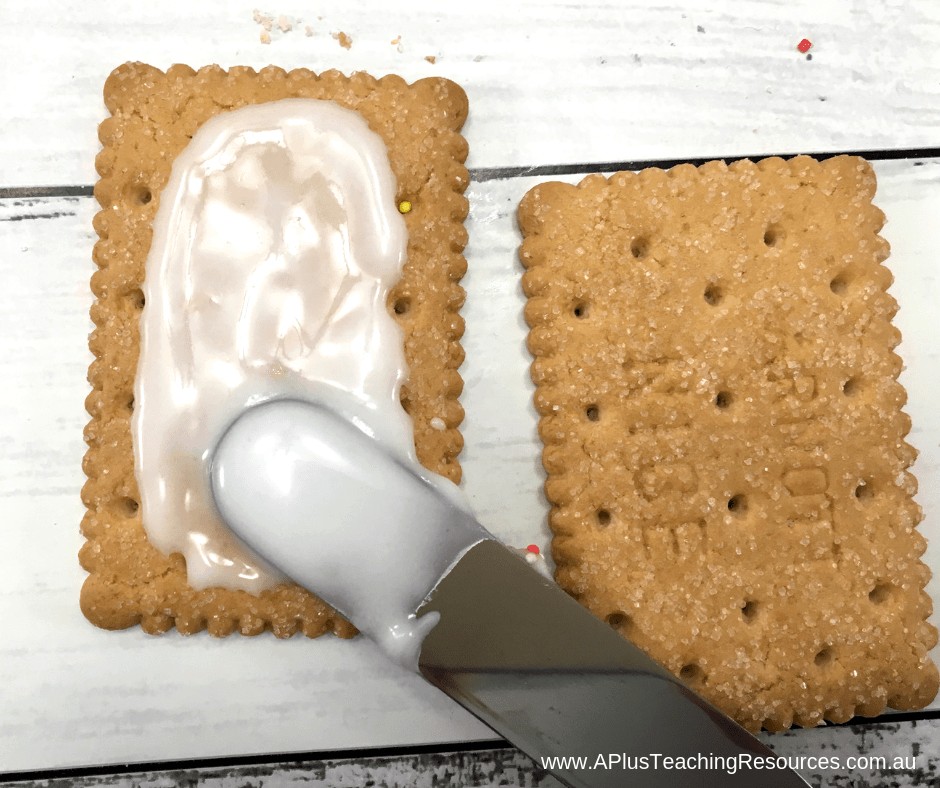 Place a second biscuit on top of the icing to make a biscuit sandwich. This makes a solid base for the roof.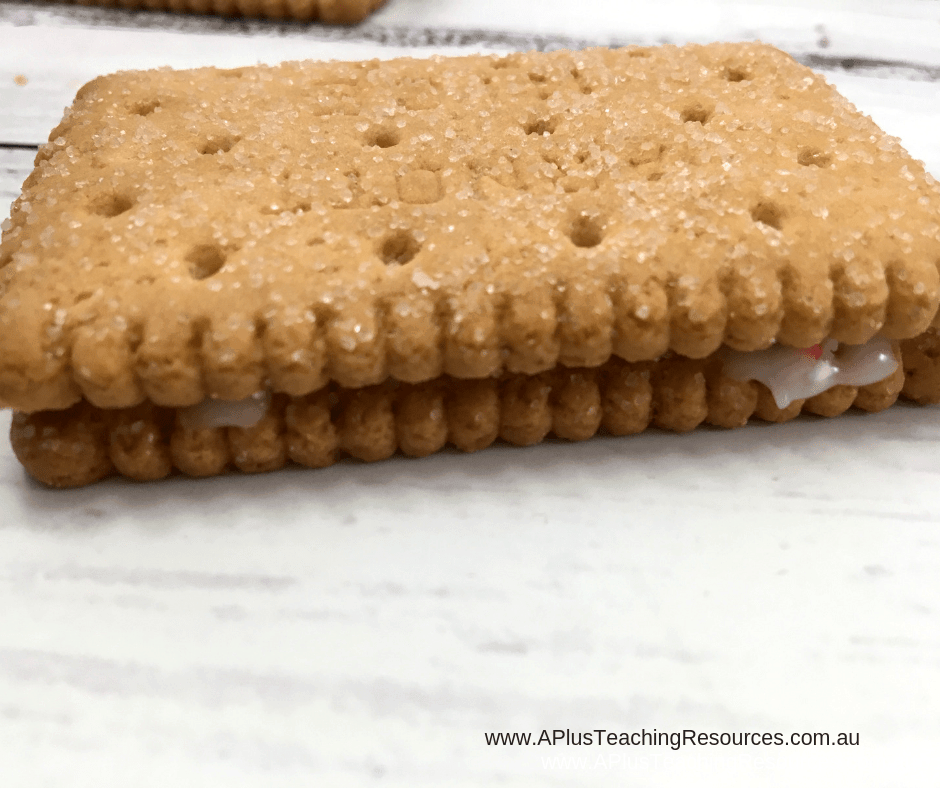 To decorate the base, without getting sprinkles everywhere, dip the edges of the biscuit in the icing.
Next dip into sprinkles and repeat.
To make the roof of the house place a biscuit onto a flat surface and cover with more of the thick icing.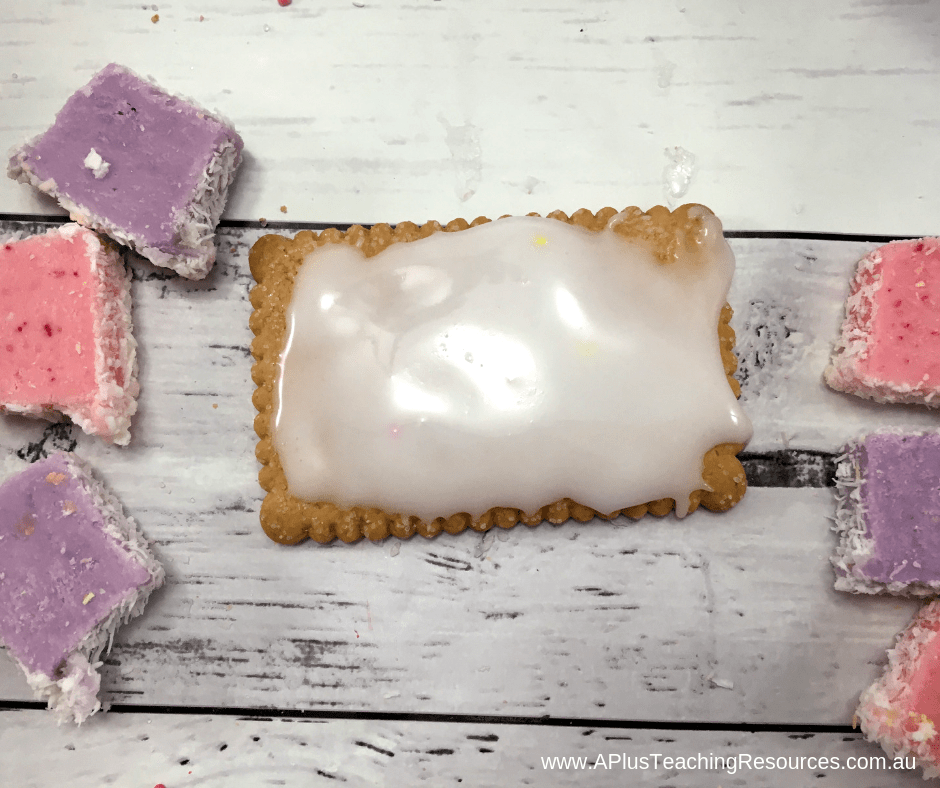 Decorate with treats, repeat with a second biscuit and leave to dry.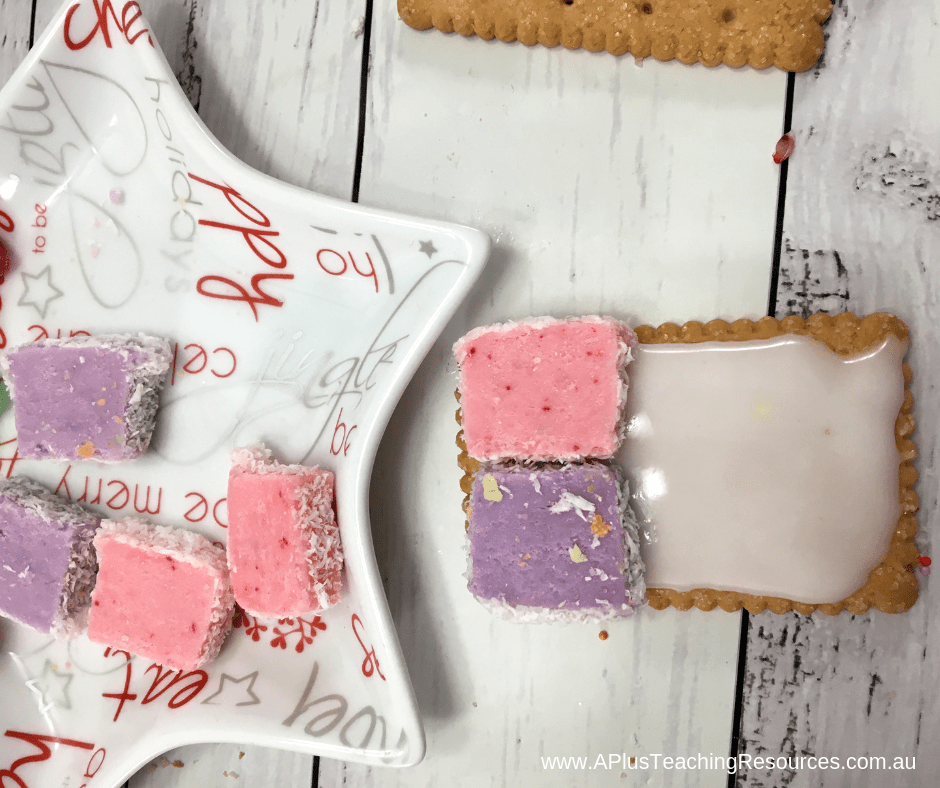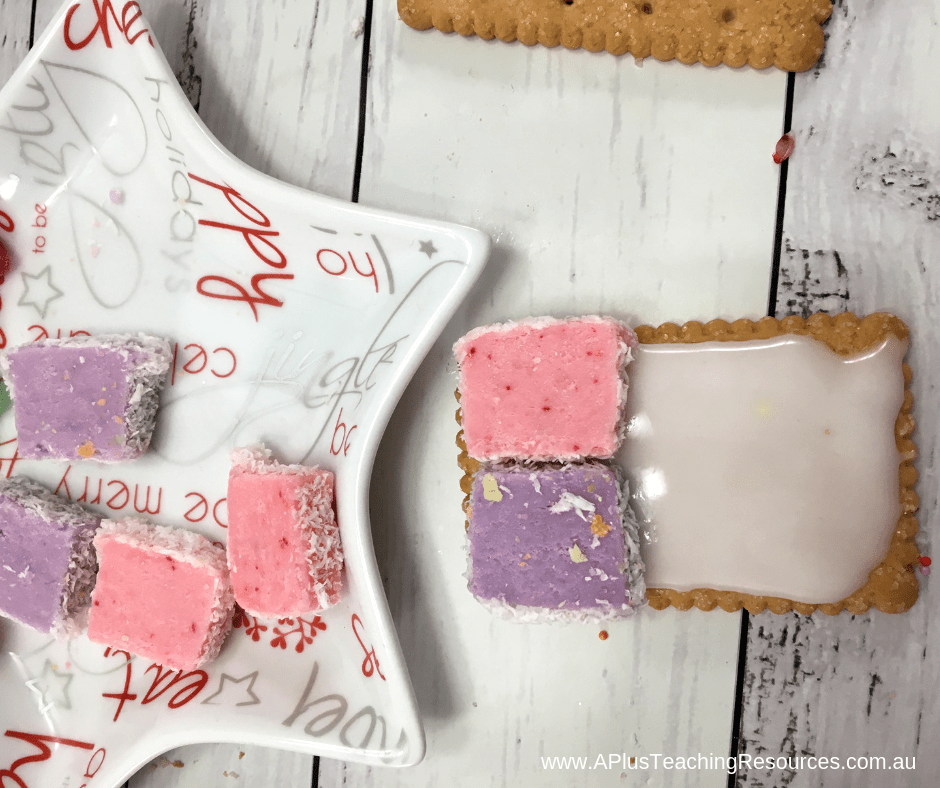 To attach the roof spread the base with the thick icing and lean the two biscuits against each other. Glue them together where they meet with more icing.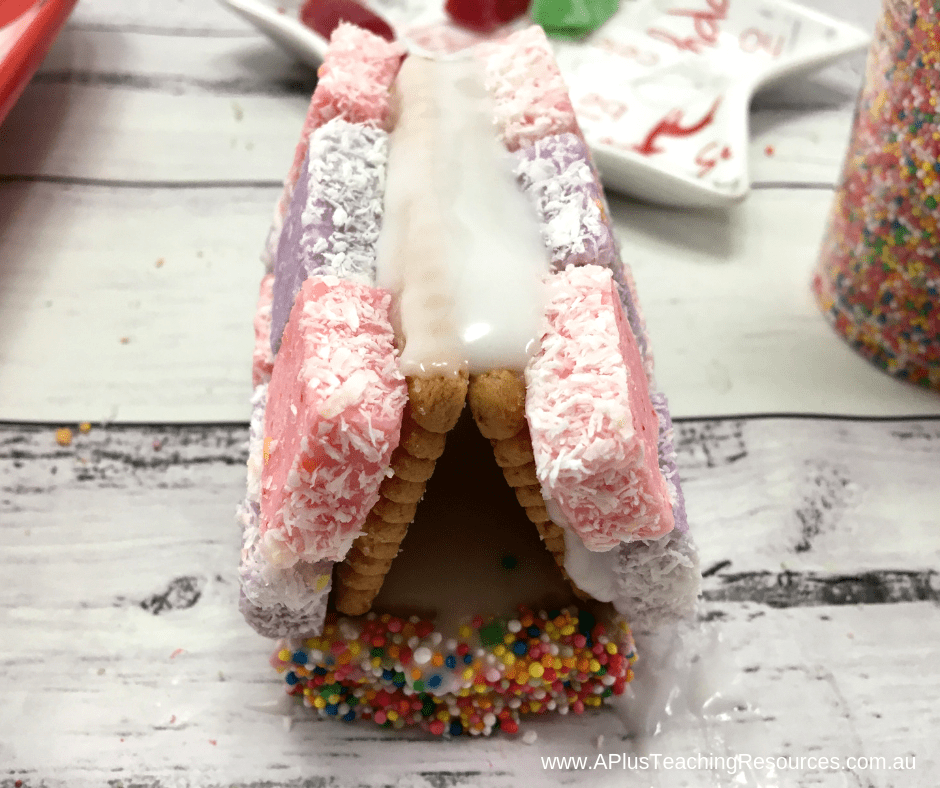 Add more decorations to cover the join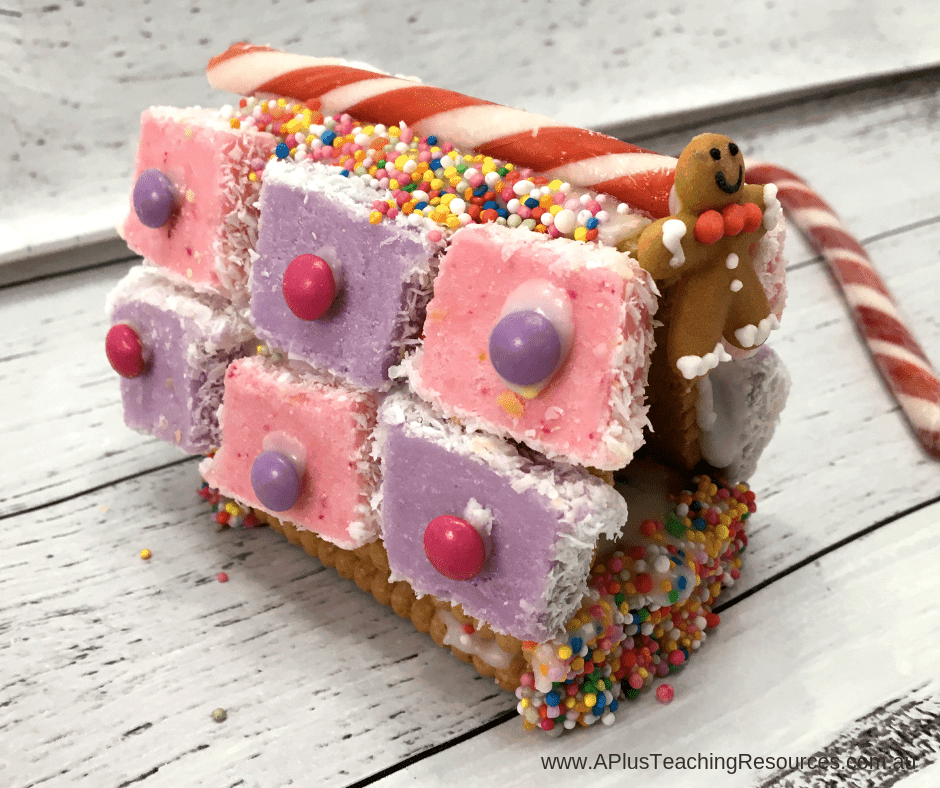 For extra snow add some runnier icing into a snack size ziplock bag and snip off the corner. Drizzle extra icing over your mini gingerbread house. Or create a different design on a new house.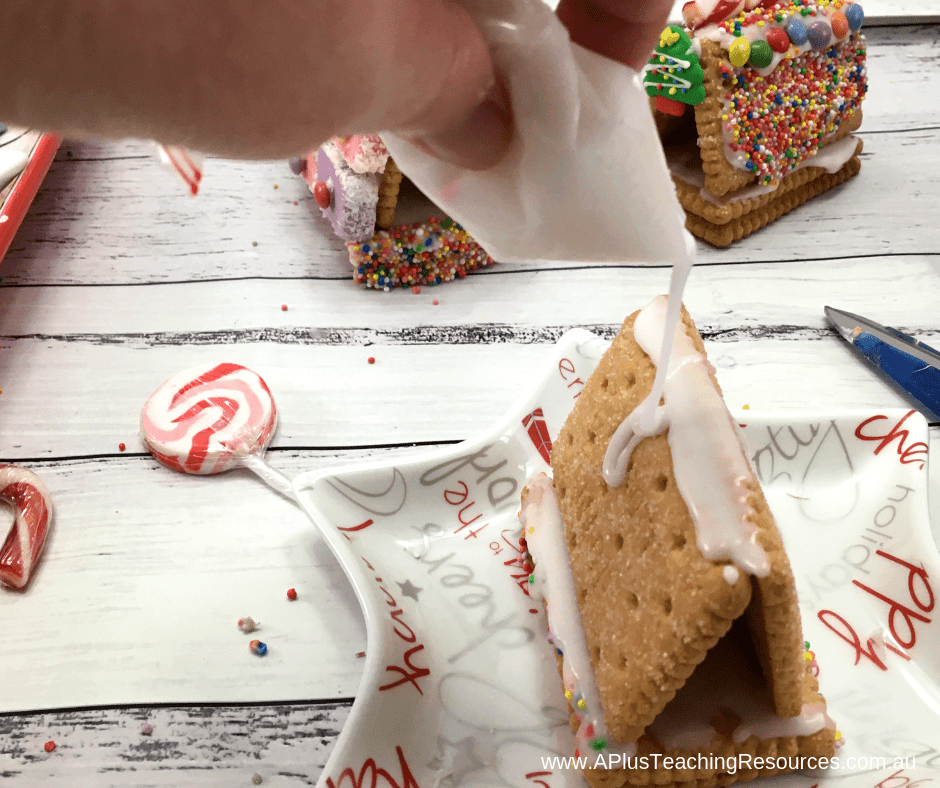 Make and decorate a few designs to make a village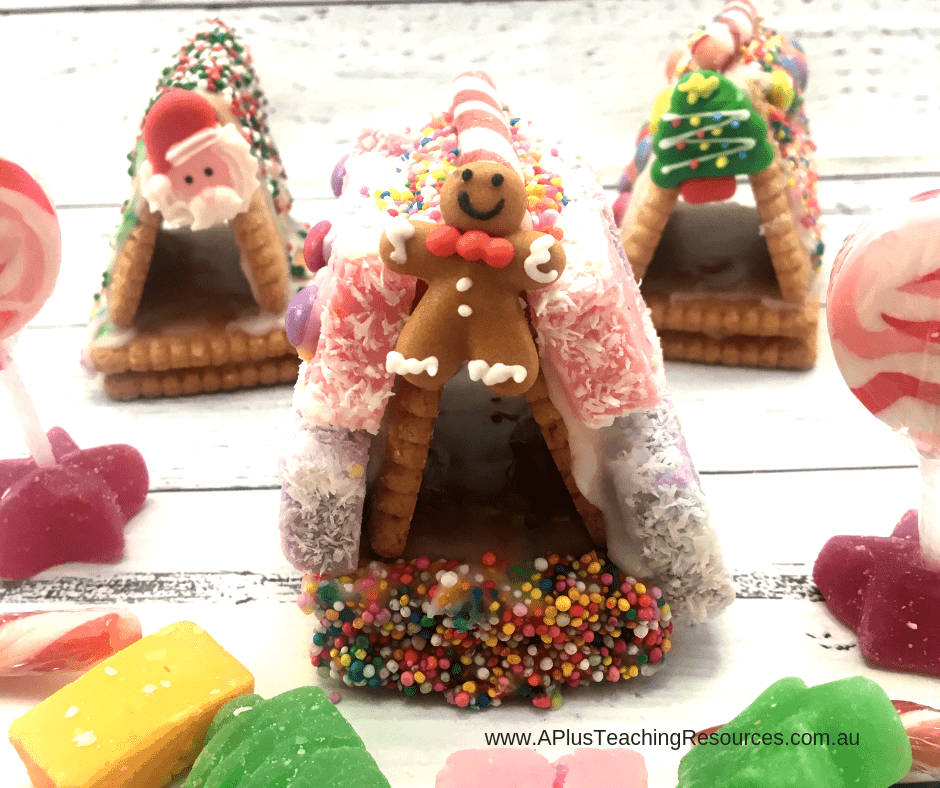 Place in clear cellophane bags for a beautiful Holiday gift.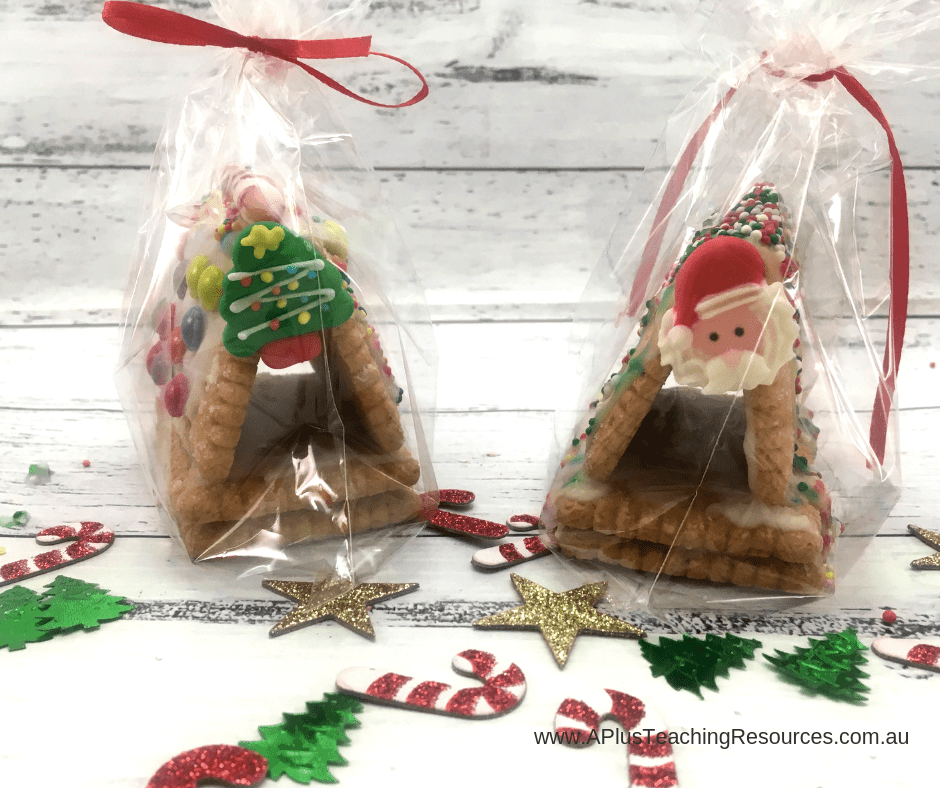 Click the Image Below To Download the FREE Gingerbread Procedure Writing Template!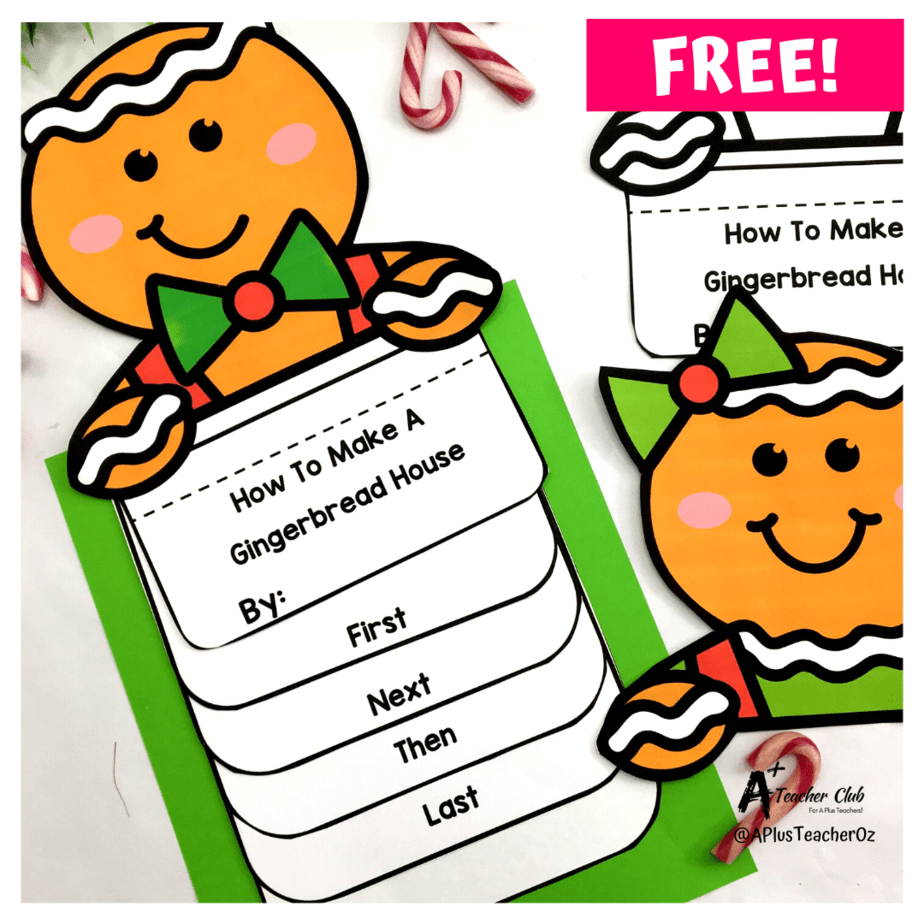 Gingerbread House Activities For Kids Decorating Ideas
For more ideas FOLLOW our Gingerbread Ideas For kids Pinterest Boards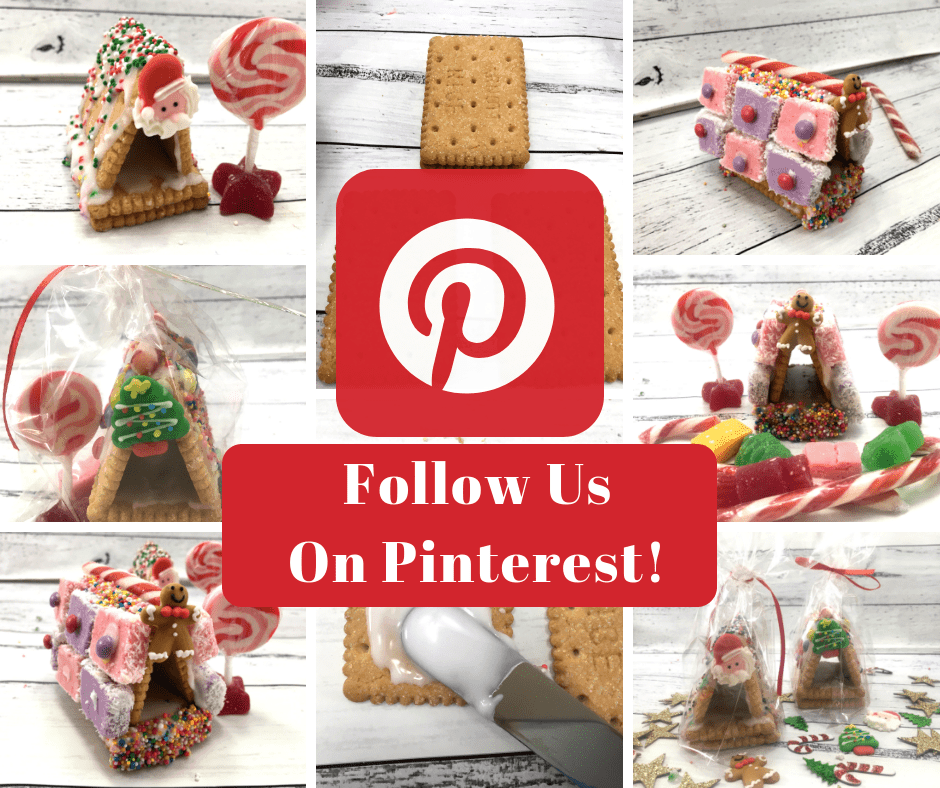 Christmas Math Games Printables
Don't Miss These…
Snowman Printable Number Games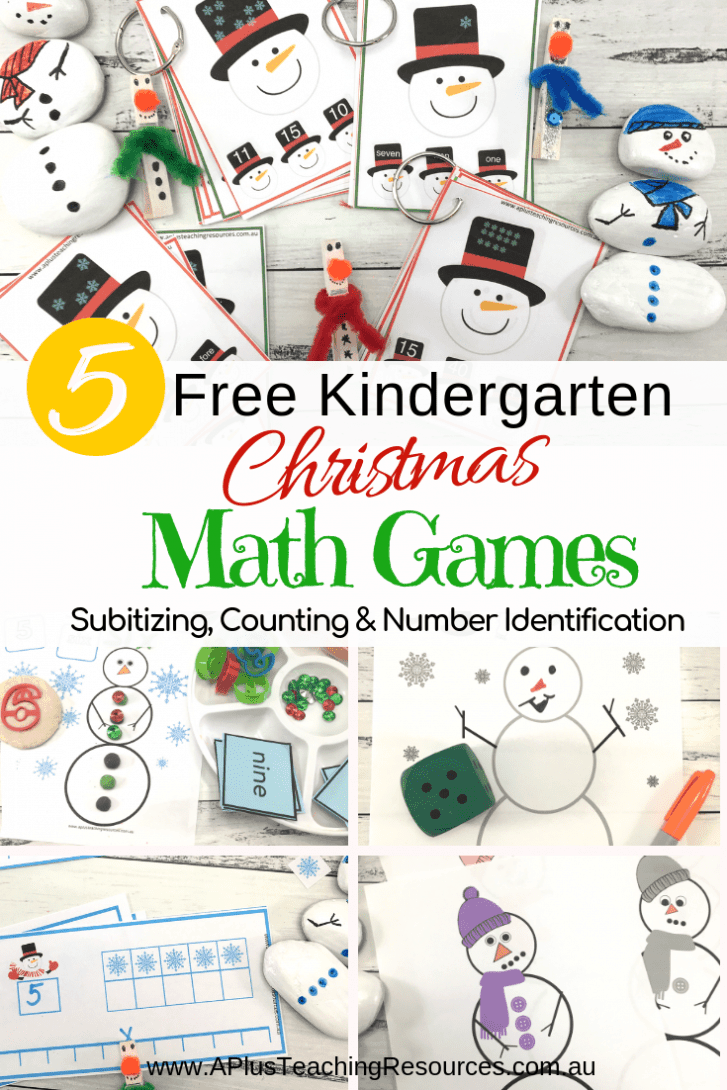 Cooked playdough recipe and Free Snowman Playdough Mats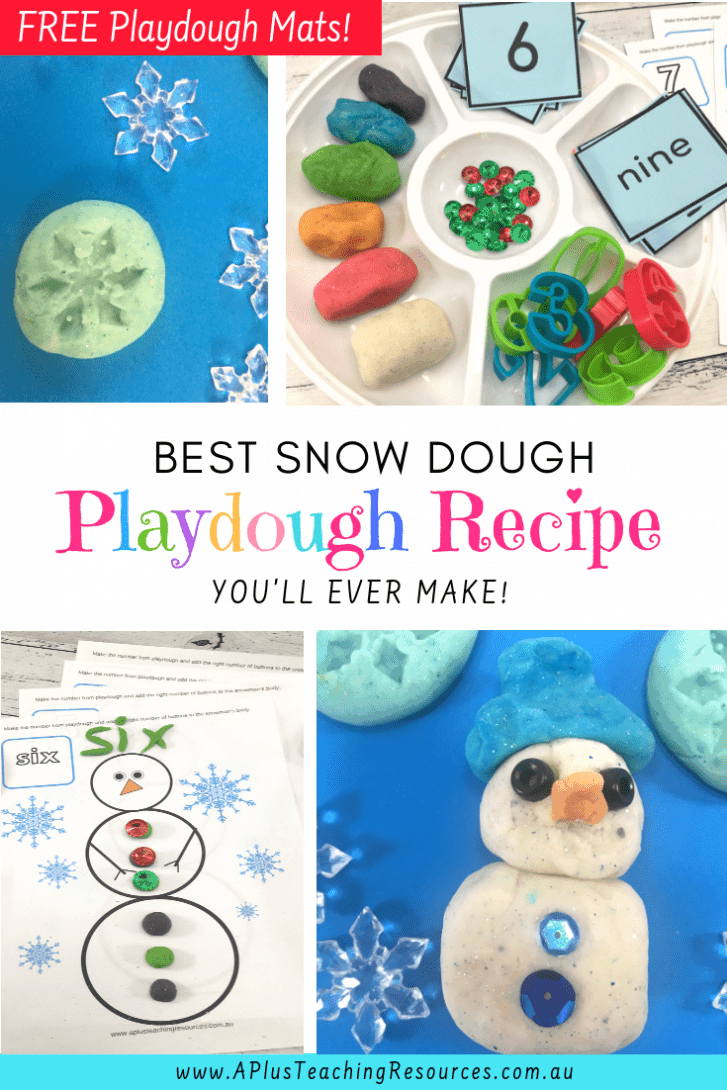 Christmas Picture Books For Kids