This Easy Pumpkin Soup is a favourite healthy, school-night recipe made from butternut pumpkin, or any type of pumpkin you like!  It is delicious, hearty and so easy to make.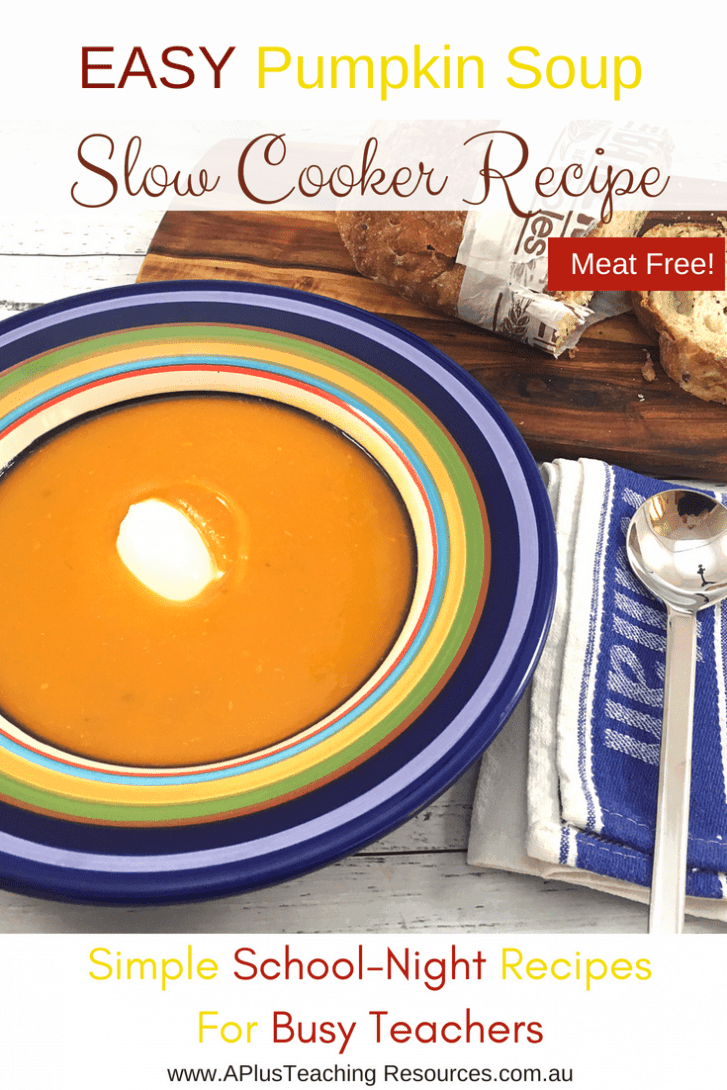 Easy Pumpkin Soup
Try it as a MEAT FREE Monday dish, or you can add bacon for a hearty meat version. Our pumpkin soup is possibly the easiest soup recipe on the planet, because everything is thrown into a slow cooker and it cooks while you're at work. Slow cooker pumpkin soup is the perfect teacher dinner idea!
When you get home blend with a stick blender and mop it up with crusty bread!  Yum!  Print out and save a copy of this perfect school-night recipe and add it to your Teacher Life Recipes file!
Pumpkin Soup Extras!
Make this soup with any type of pumpkin you like, onions, potatoes and garlic. The rest is up to you!
Try adding your own little extras like bacon, thai spices, curry powder, chilli  or cumin. Sometimes I like a splash of milk or cream or add a spoon of sour cream. Whatever you can muster on a school-night!
*Some links in this post are affiliate links. This will not affect your buying experience at all, but A Plus Teaching Resources will receive a few pennies in compensation for referring your purchase.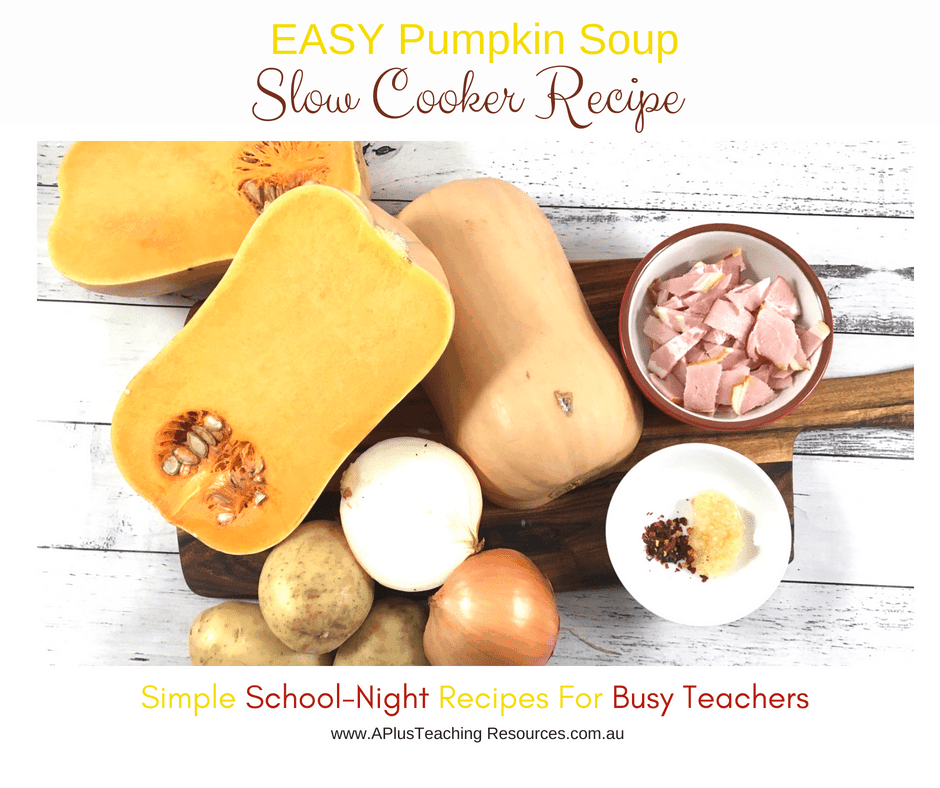 Useful Equipment for Easy Pumpkin Soup
Pumpkin Soup Instructions
Peel and chop your pumpkin, onions and potatoes. I sometimes even add a carrot or two!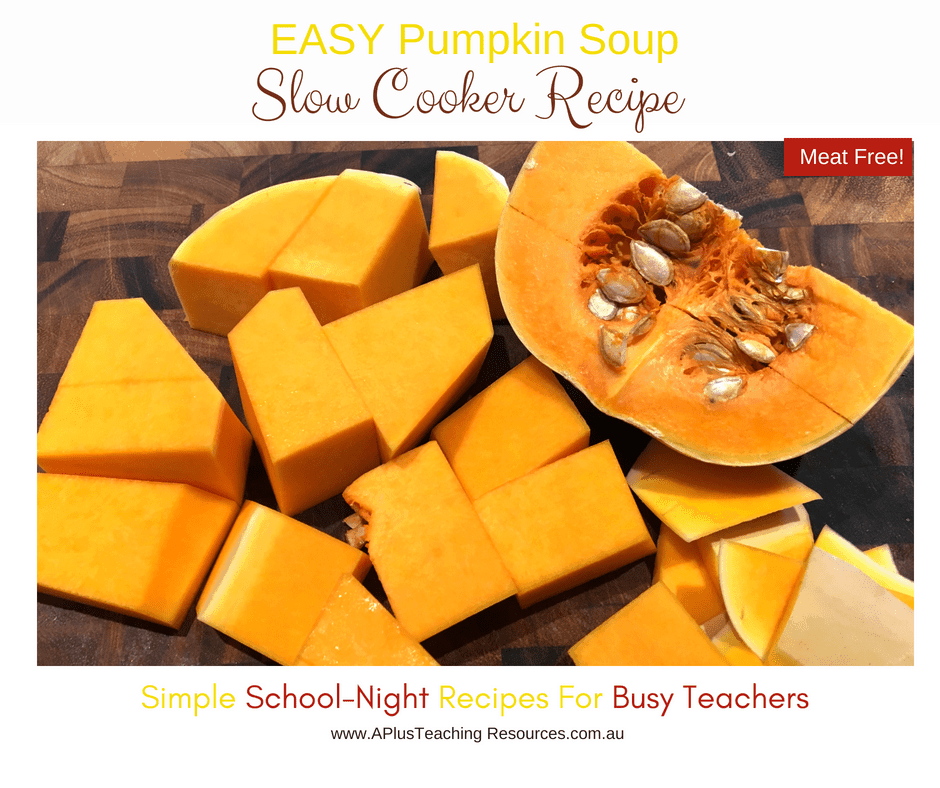 Place vegetables in a slow cooker and add stock, chilli, and garlic or seasonings of your choice. To save on washing-up try a slow cooker liner slow cooker liner!
Cook in the Slow Cooker for 4 hours on high or 8 hours on low. Blend until smooth using a stick blender.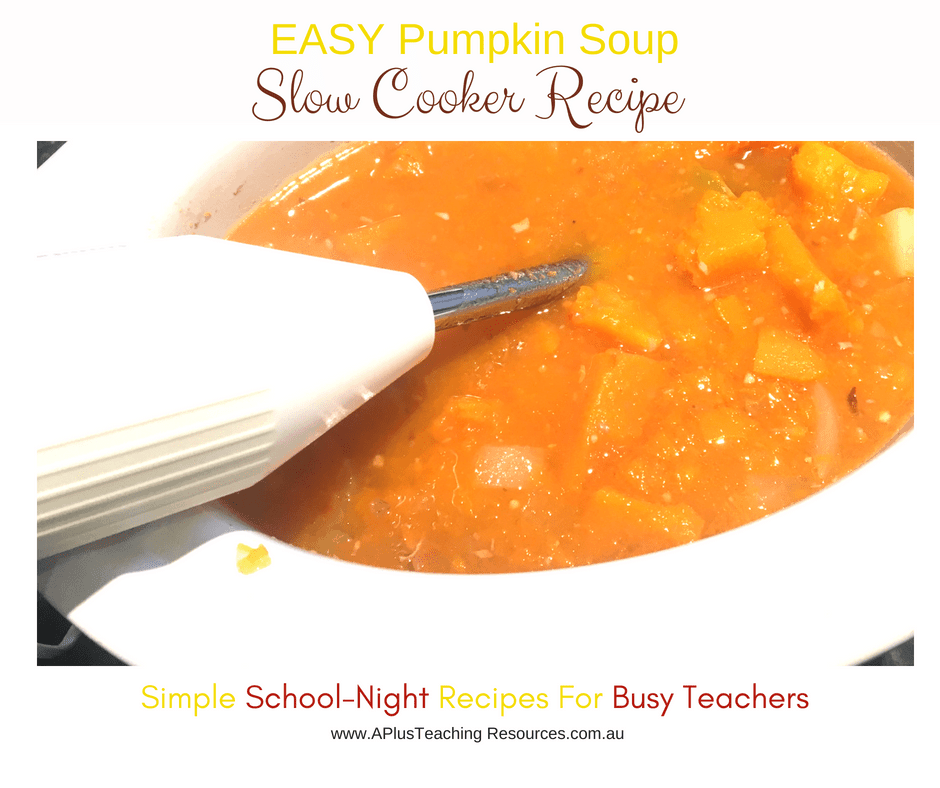 Add a dash of milk or cream or serve with a dollop of Sour Cream and warm crusty bread!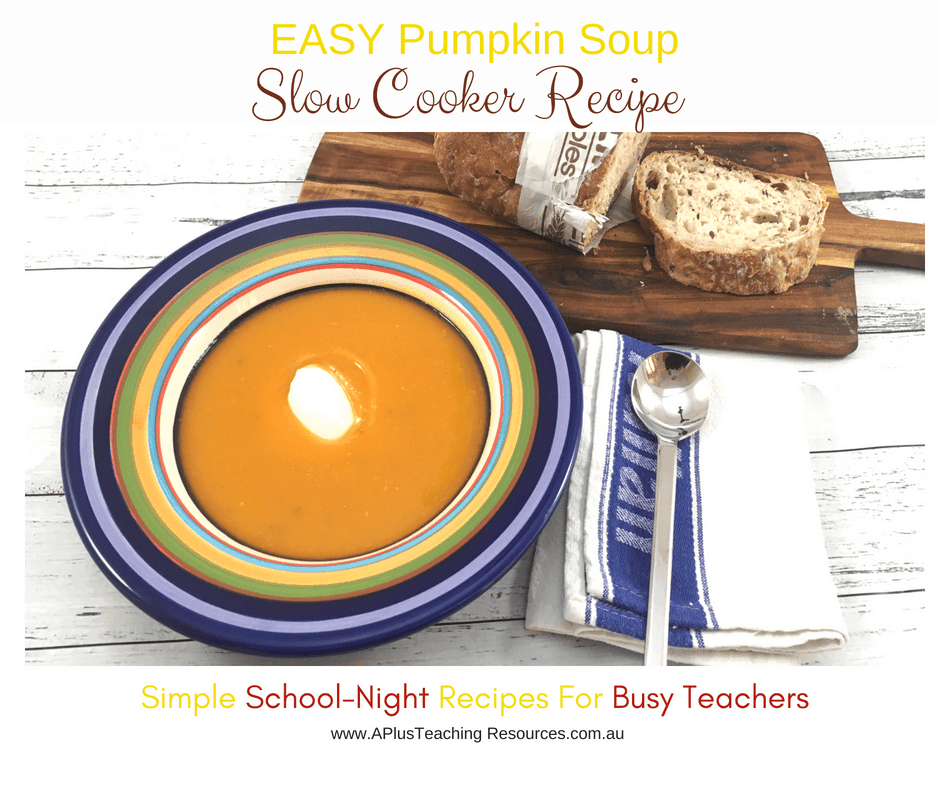 Enjoy this Easy Pumpkin Soup Recipe!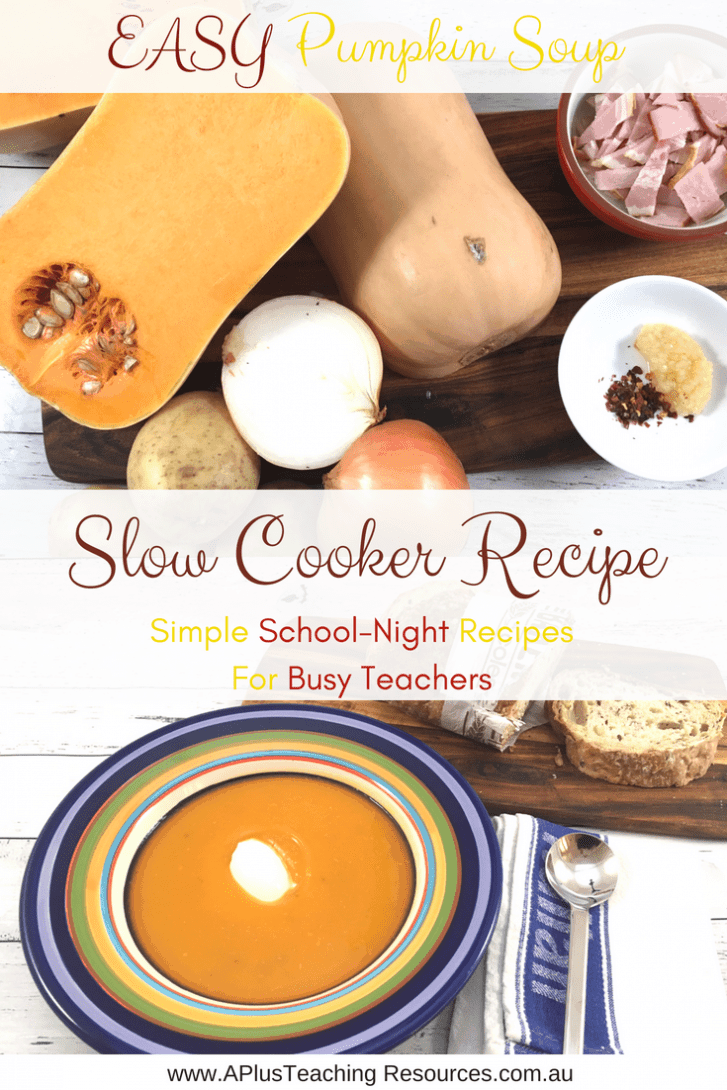 | | |
| --- | --- |
| | |
If using, place slow cooker liner inside slow cooker.

Peel and chop vegetables and add to slow cooker. Add bacon if using.

Add garlic and chilli flakes and cover with stock.

Cook for 4 hour on low or 8 hours on high.

Blend until smooth using a stick blender.

If using add a dash of cream or milk and stir through.

Serve with a dollop of sour cream and warm crusty bread.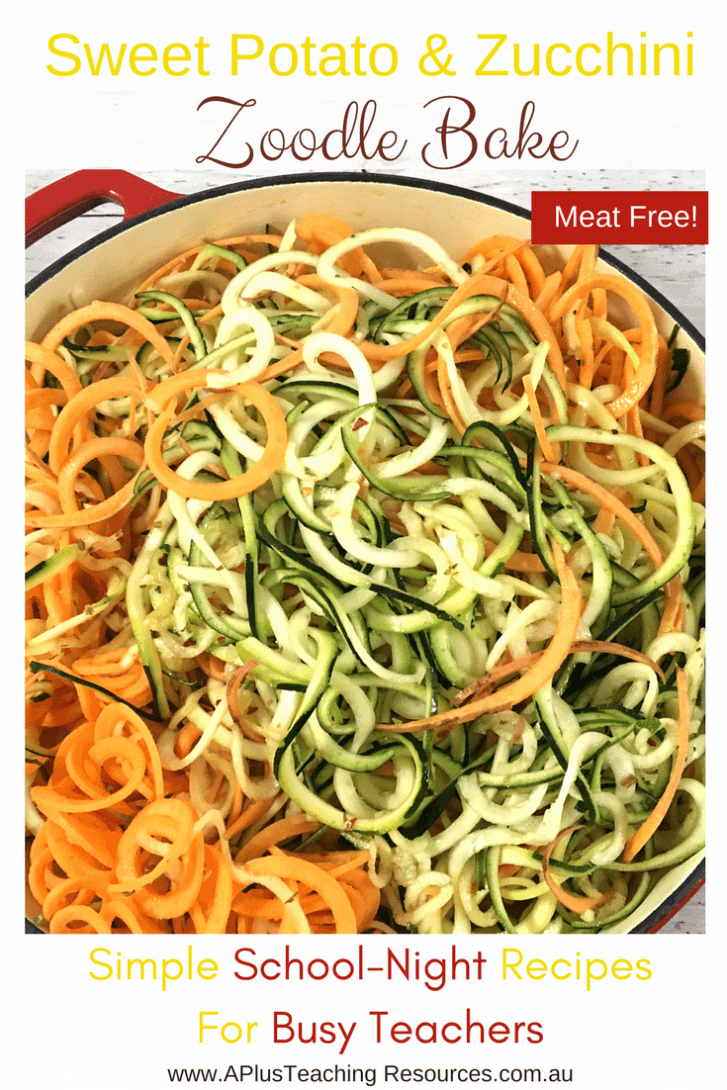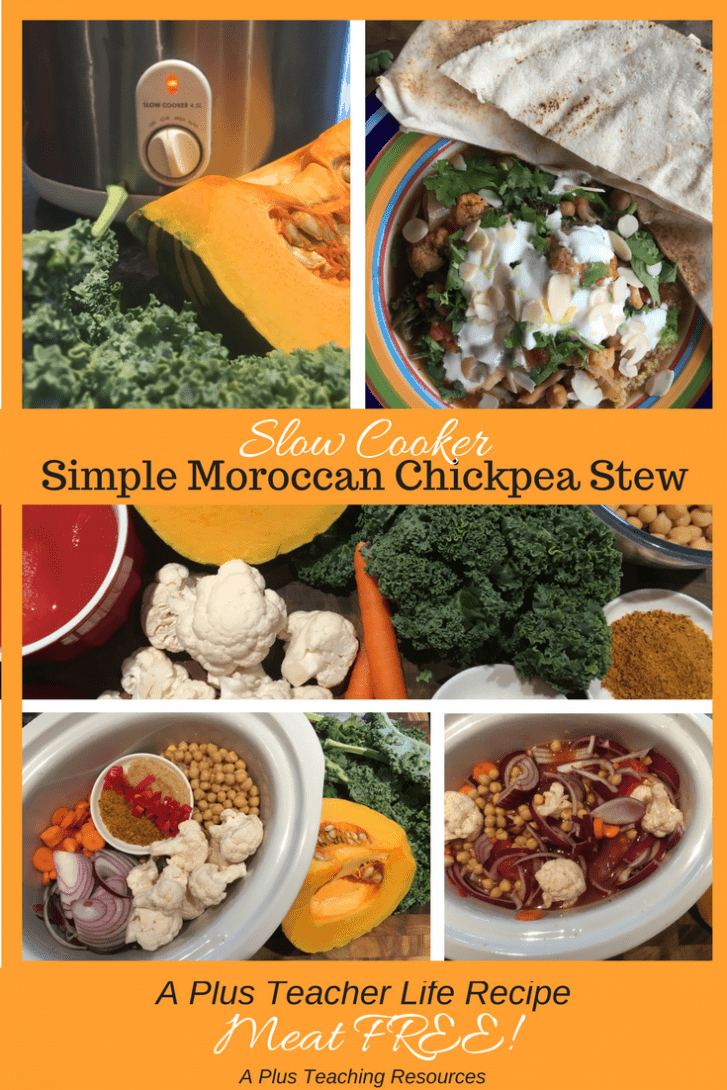 Useful Resources For Pumpkin Soup
amzn_assoc_placement = "adunit0";
amzn_assoc_tracking_id = "aplusteaching-20";
amzn_assoc_ad_mode = "manual";
amzn_assoc_ad_type = "smart";
amzn_assoc_marketplace = "amazon";
amzn_assoc_region = "US";
amzn_assoc_linkid = "dcc9b816814a977ad6023bd0807f6474";
amzn_assoc_asins = "B003HF6PUO,B005MMNBDO,B00578EKRY,B00FLYWNYQ";
amzn_assoc_search_bar = "true";
amzn_assoc_title = "My Amazon Picks";
Over to you... Leave us a comment to share what Extras you add to your version of pumpkin soup!