Looking For A Mothers Day Card Template For Kids? This one is Quick and Simple to Make, Best of All It's FREE!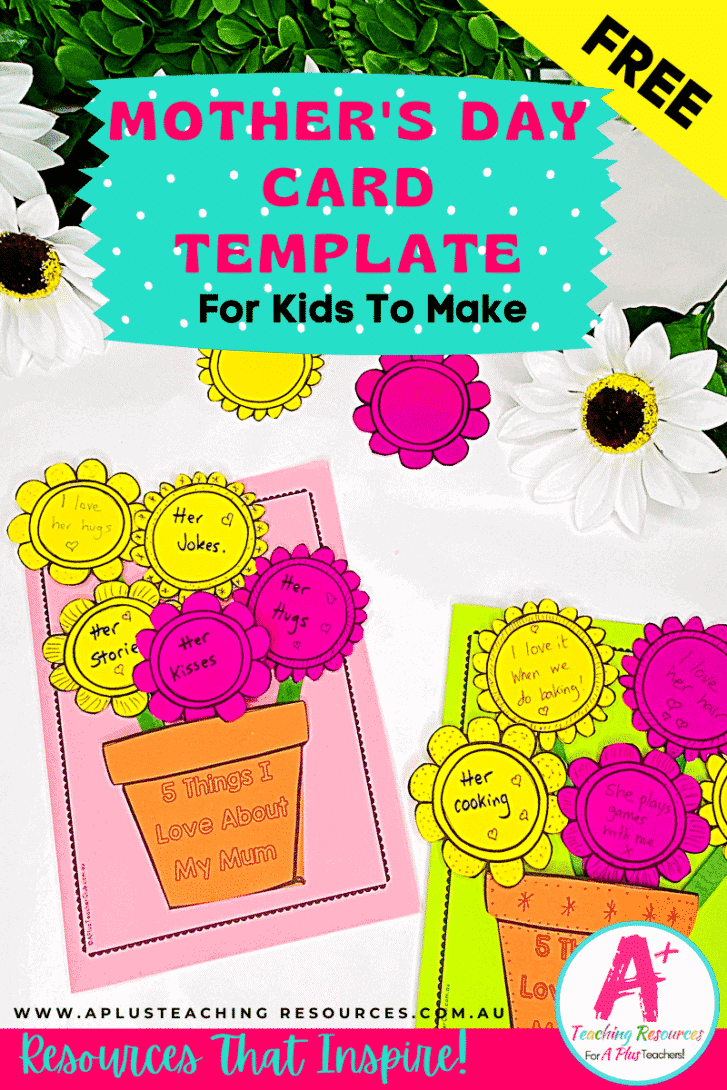 Using our Gorgeous, Free Mothers Day Card Template won't take weeks of prep or hours to put together. We promise it will only take 1 afternoon to do!
This Mother's day template is so simple to make with just card stock and some pop sticks, it makes it the perfect DIY mother's day Thematic Craft For Kids to make at school in the classroom.
So grab your colour card, some pop sticks and the printable mothers day card templates and you're all set. (Link to Printable at the end of the post!). Heads-up this post contains affiliate links details here.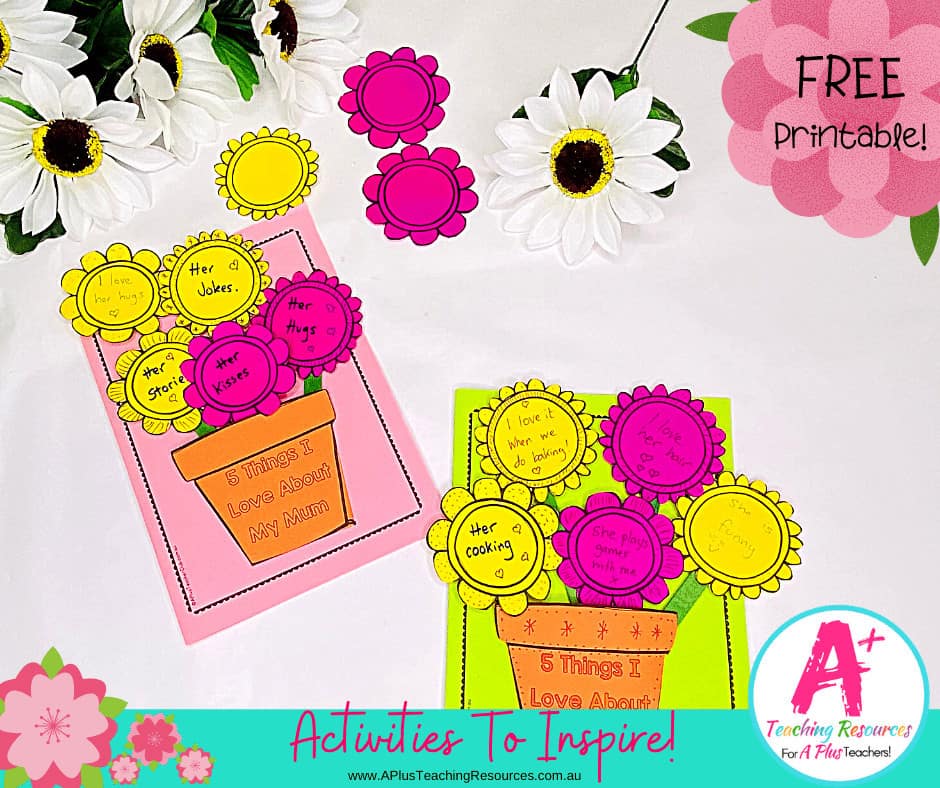 Looking for MORE Teaching Resources & Printables To Inspire You & Your Kiddos?
We have you covered…
Click below to get Instant Access To ALL Our Teaching Resources!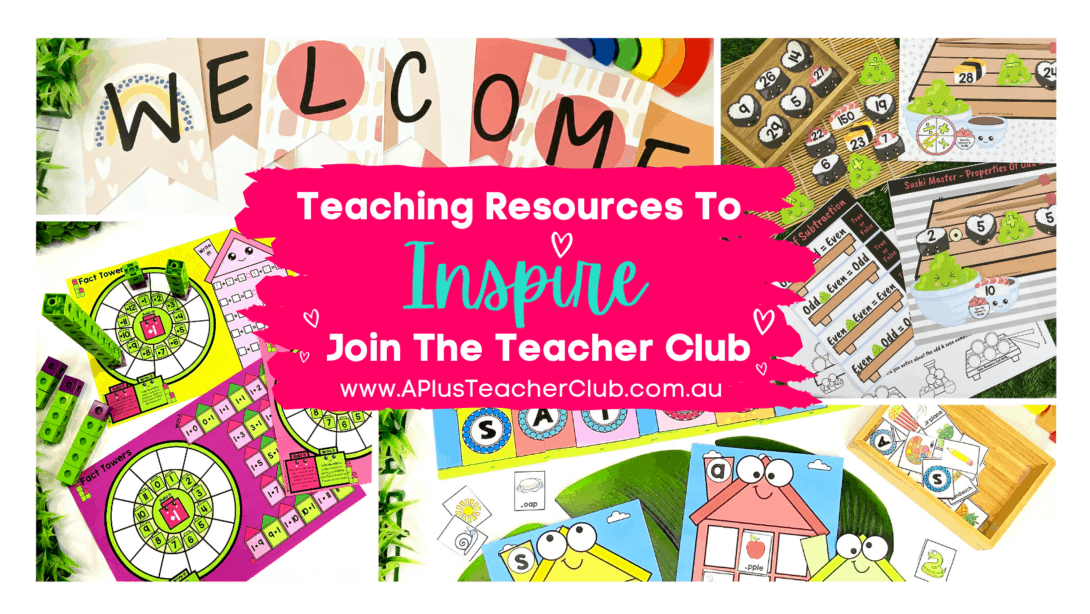 Related Post: Free Mother's Day Teapot Card Template
Mother's Day Flower Card Template
The Mother's Day Flower Card template includes a variety of options,  including whole-class versions & individual all on one-page versions for MOM, MUM and a blank, perfect for every type of family. Here's what's in the Download:
1x  Secured PDF – 9 pages (no customising, changing, copy-paste)
1x A4 Card Template – print 1 per card
1x A4 template including all the pieces perfect for students to colour or craft themself – "MOM"
1x A4 template including all the pieces perfect for students to colour or craft themself – "MUM"
1x A4 template including all the pieces perfect for students to colour or craft themself – blank
1x A4 Plant pots – 4 to a page – "MUM"
1x A4 Plant pots – 4 to a page – "MOM"
1x A4 Plant pots – 4 to a page – blank
1x A4 Flower head page – 2 sets of 5 – 1 sheet is enough for 2 students
1x A4 Flower stems – 25 stems per page – 1 sheet enough for 5 students – optional- use with popsicle sticks instead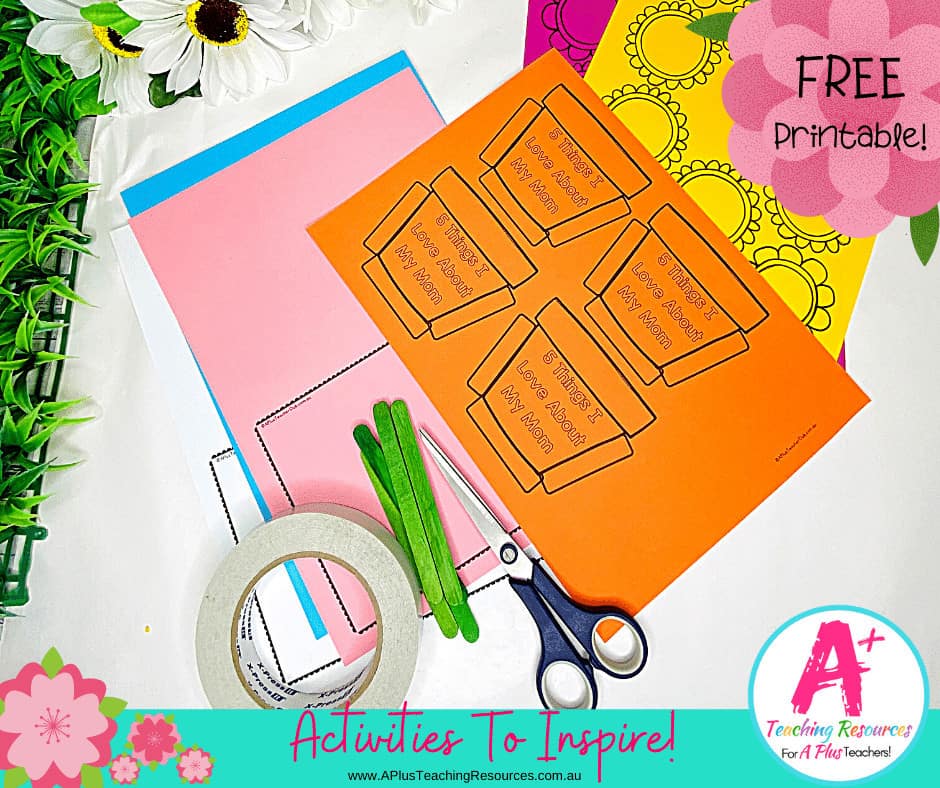 Mothers Day Card Template Materials
Download the mothers day card templates at the end of the post
Green popsicle sticks to natural ones painted -5 sticks per card
How To Make Mother's Day Flower Card
First,  decide which pages of the Mother's day card template you want to use. If students are not decorating the pages, decide on the colours you will need for each piece of the template.
We used a range of colours for the base card template, orange for the flower pots, and yellow and pink card for the flowers. We also used green popsicle sticks instead of printing the stem template.
Once you have decided which template you're using, print enough copies and give the templates to your students. To make things run even smoother for younger students cut out the pieces before your start.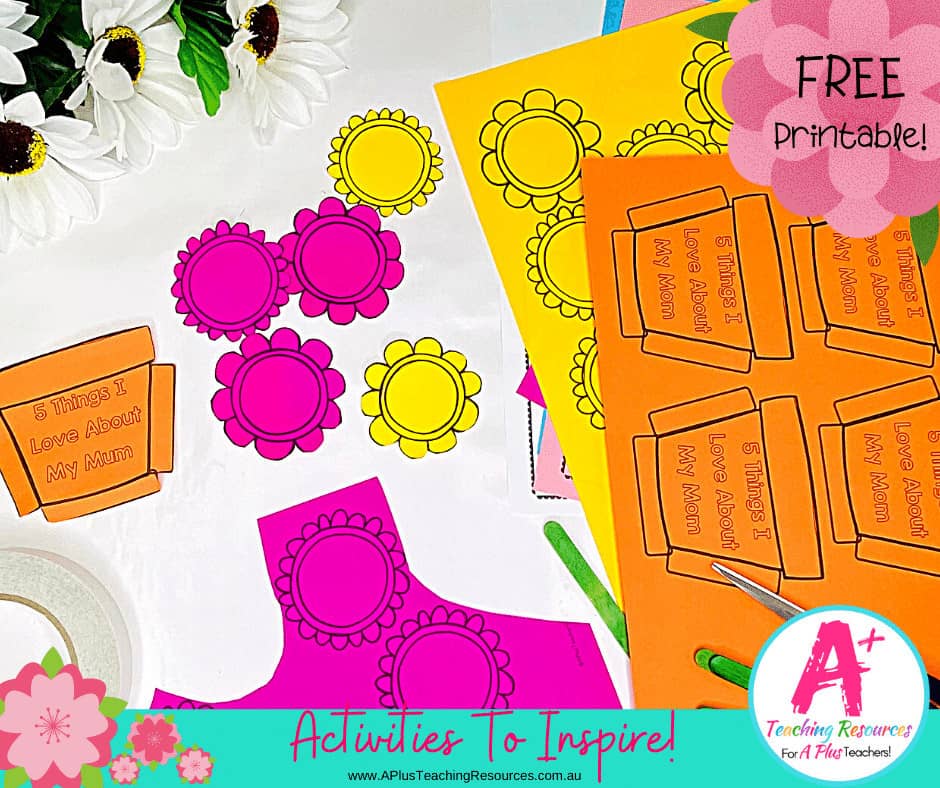 Start by folding the base template in half. Students decorate and write their message inside.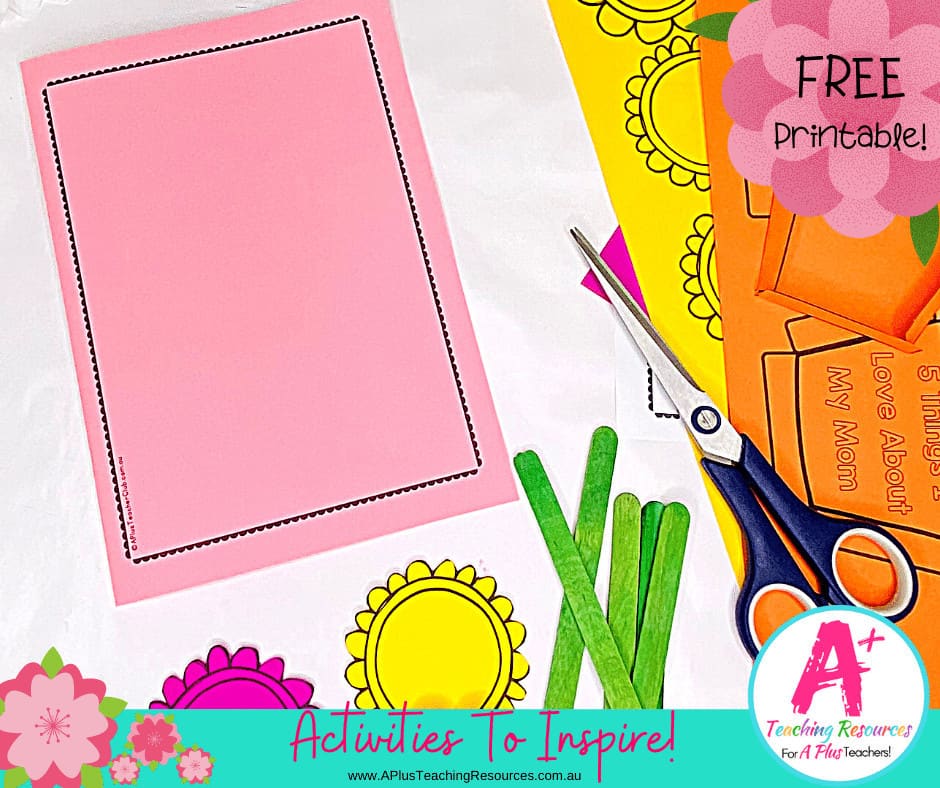 Cut out the flowerpot template and decorate. Then fold back the tabs of the pot.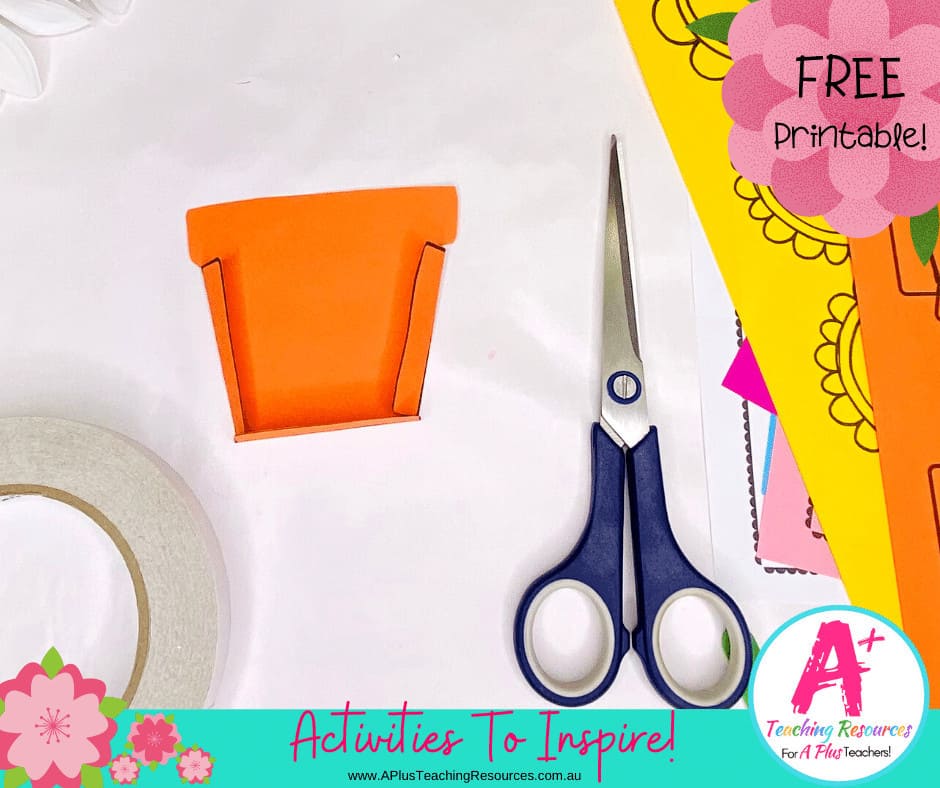 Attach pieces of double sided tape onto the tabs on the flowerpot.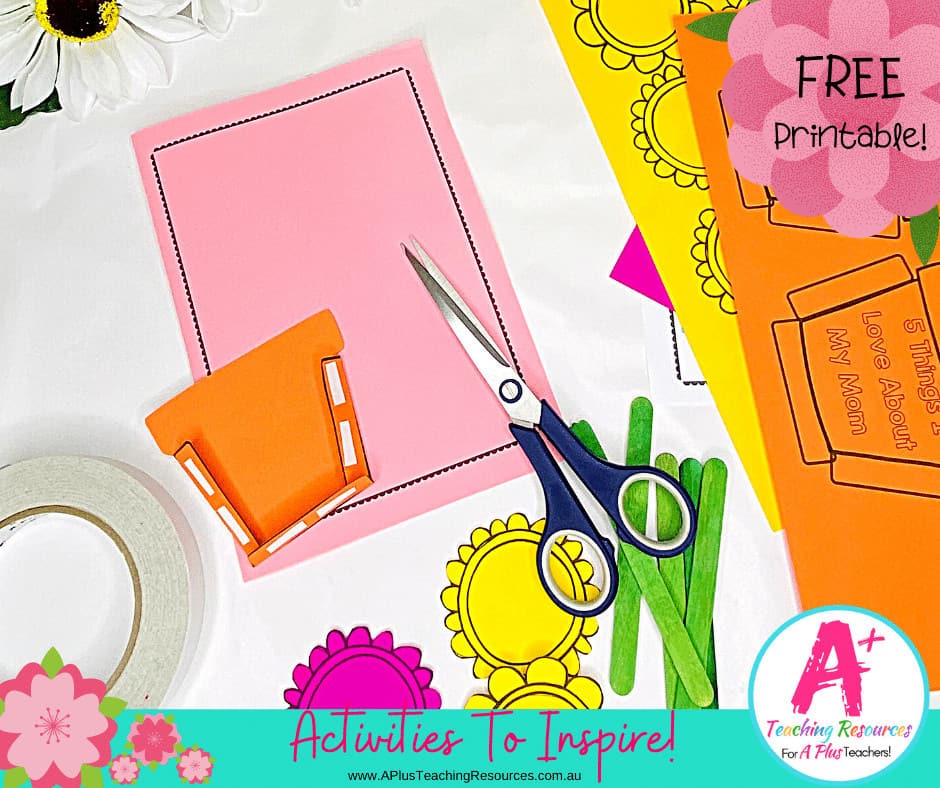 Then peel of the backing paper from the double sided tape, and attach the flowerpot to the base temlate.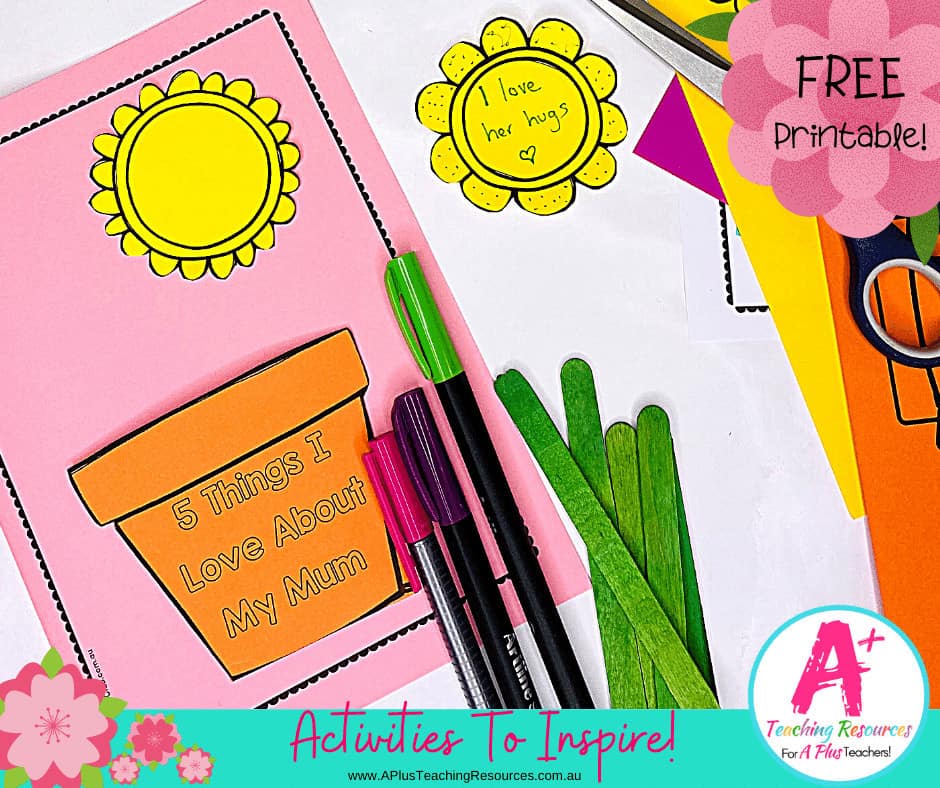 Next, ask students what 5 things they love about the mum, like, spending time together, going to the park together, eating dinner, her jokes, or hair etc… You could turn the activity into a writing task by getting them to write the 5 things in their writing books first.
Students then write the 5 things they love about their mum, one thing per flower. Make sure there are 5 things in total to make a bunch of flowers to put in the flowerpot. Don't forget to decorate each flower too!
Alternatively, students could draw a picture in the centre of each flower or the teacher could scribe their response. Whatever works best for the child.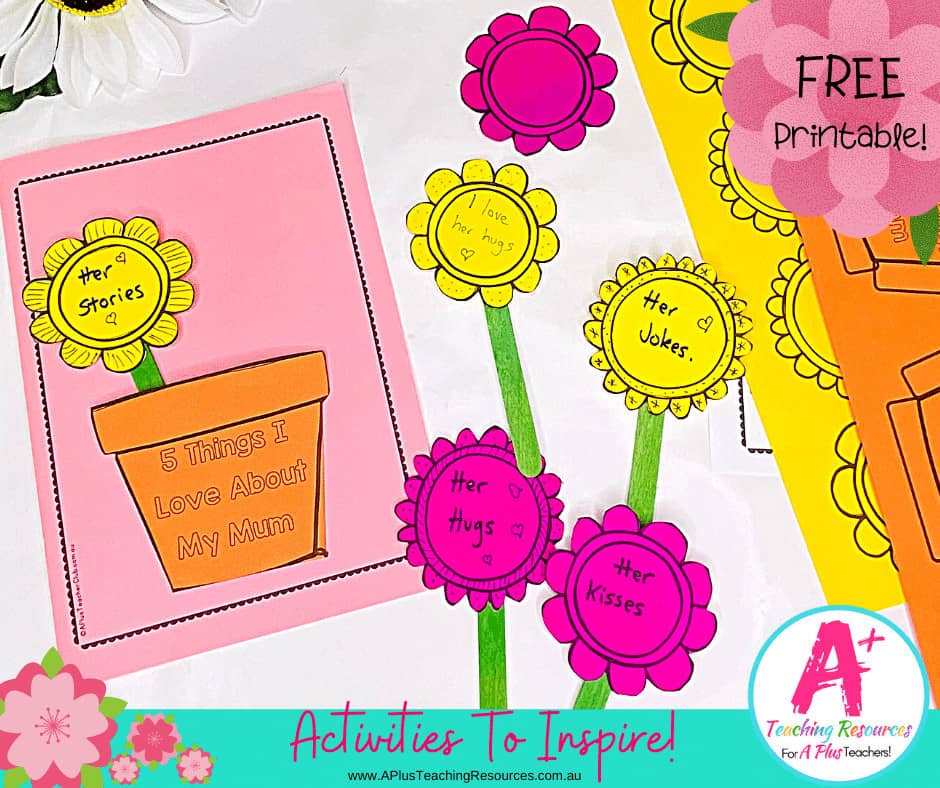 Next, turn the flowers over and attach a small piece of double-sided tape to each popsicle stick, this is going to make the flower stem. If you are not using popsicle sticks use the paper version instead.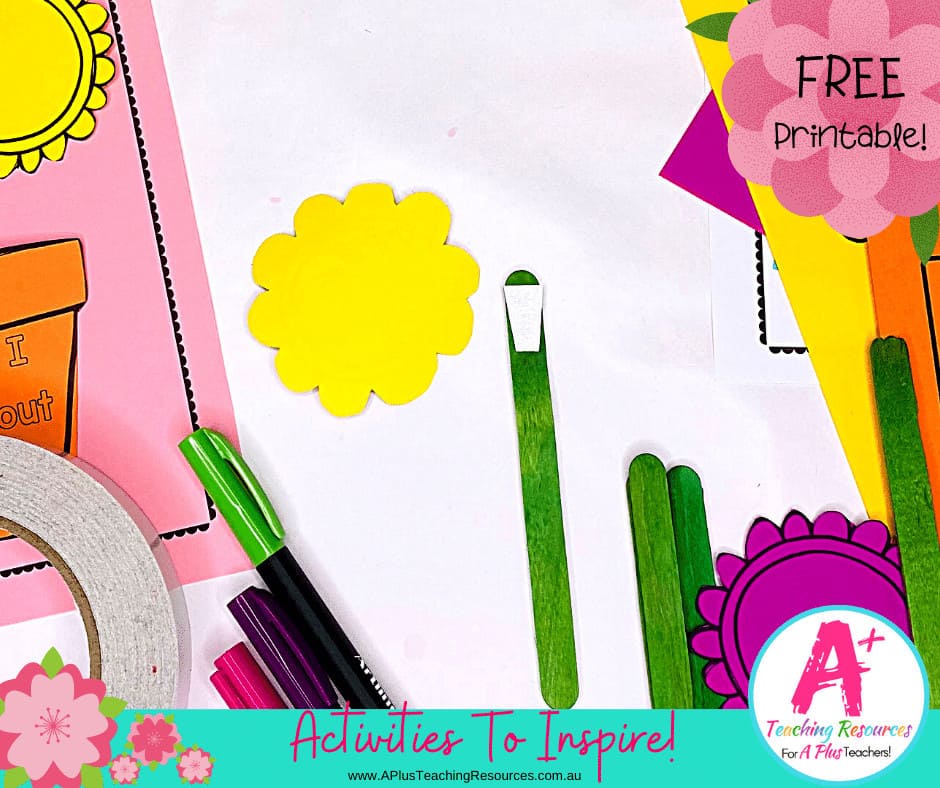 Peel off the paper backing from the tape and attach the stick to the back of the flower. Do this to the 5 flowers.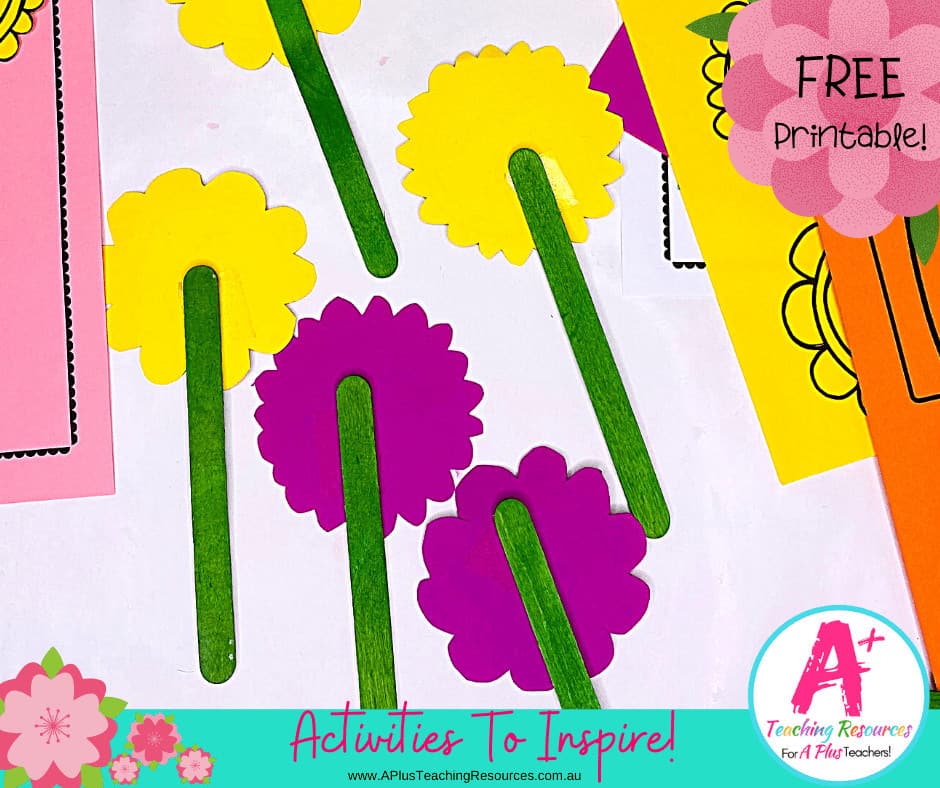 Finally, place the flowers into the flowerpot on the card template.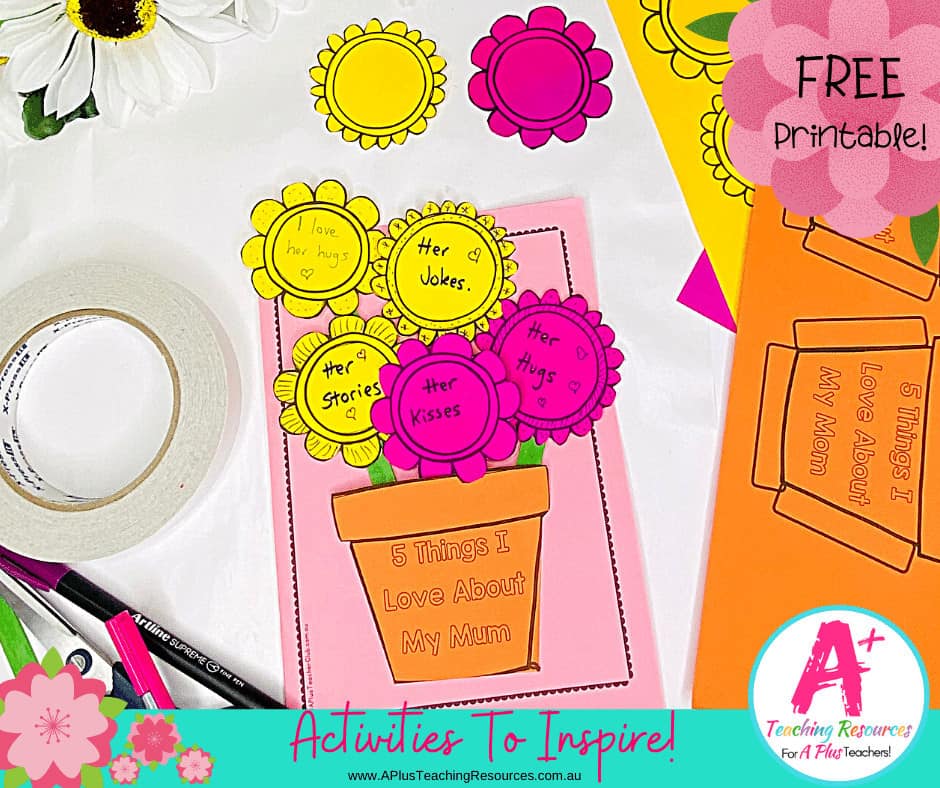 Your gorgeous Mother's Day Card is complete!
Now to get your FREEBIE – Click the image below to Get the FREE Mother's Day Flower Card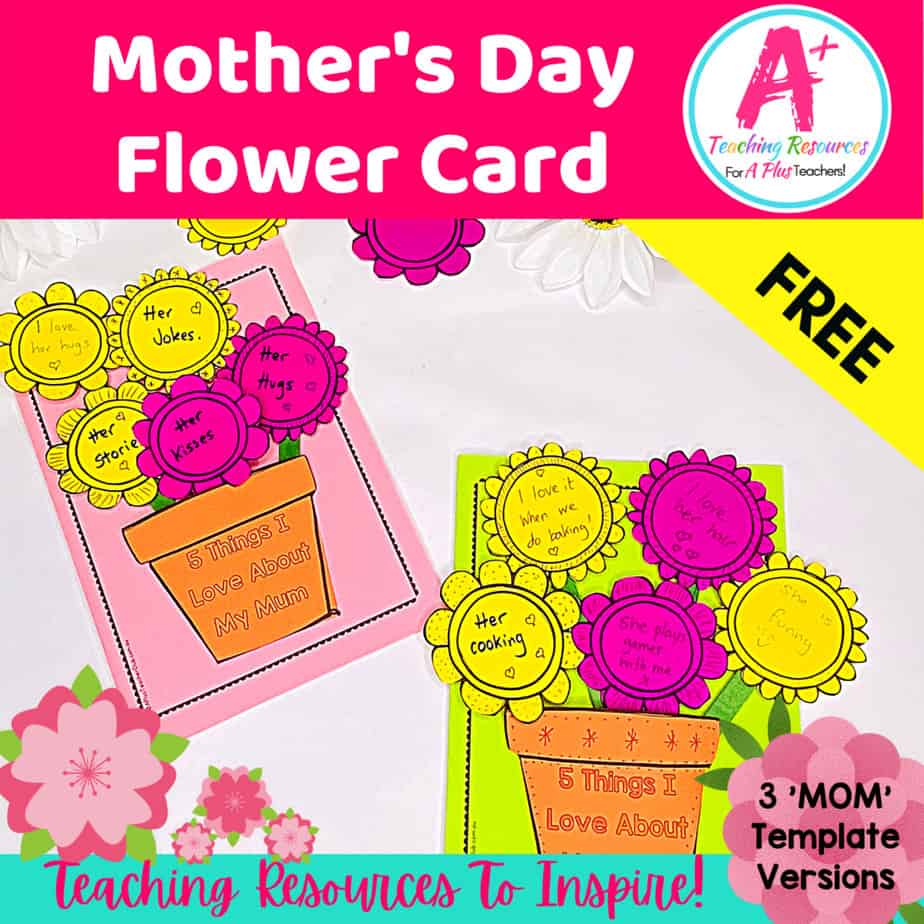 Related Posts:
Teabag Mother's Day Card Template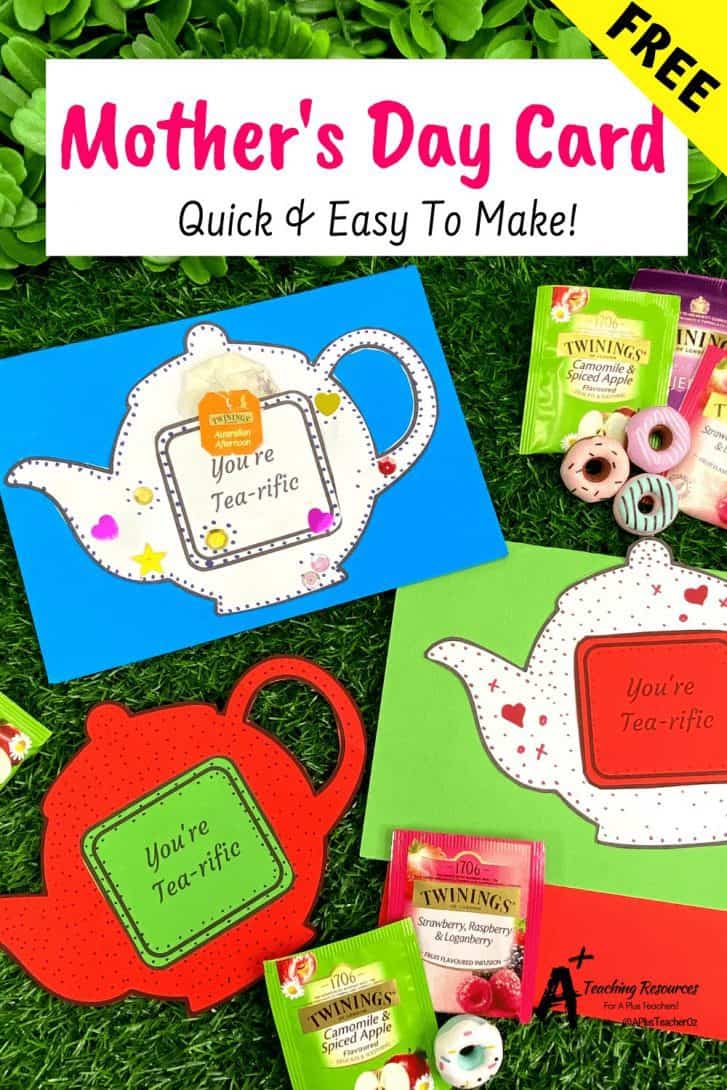 Easy To Make Mother's Day Gift For Kids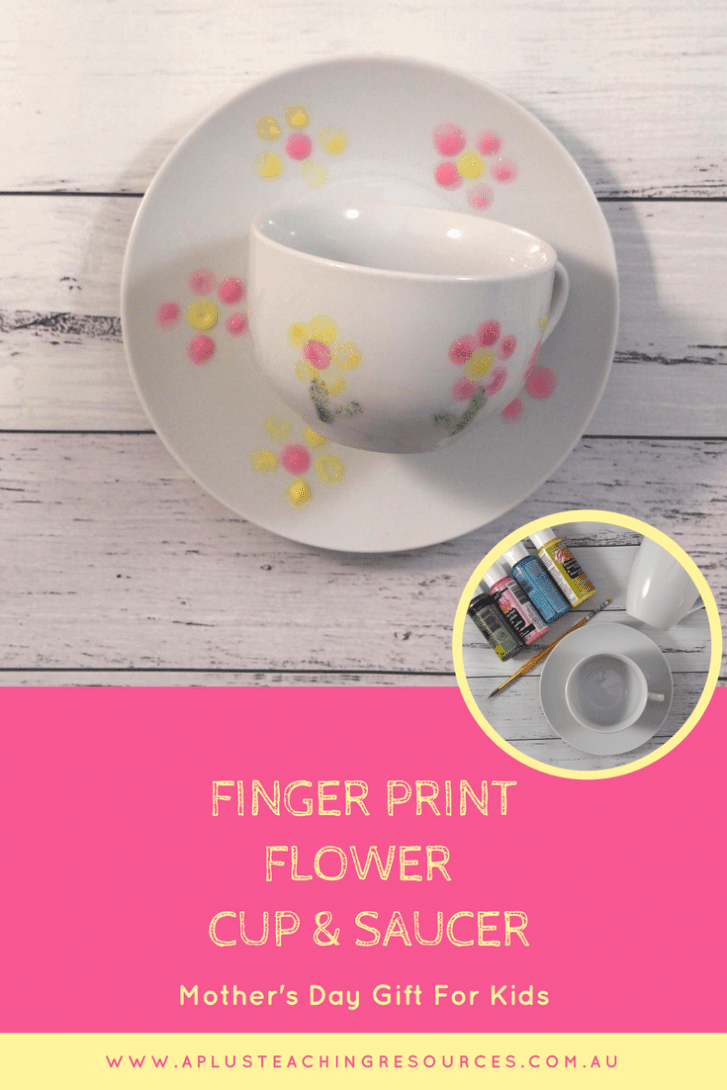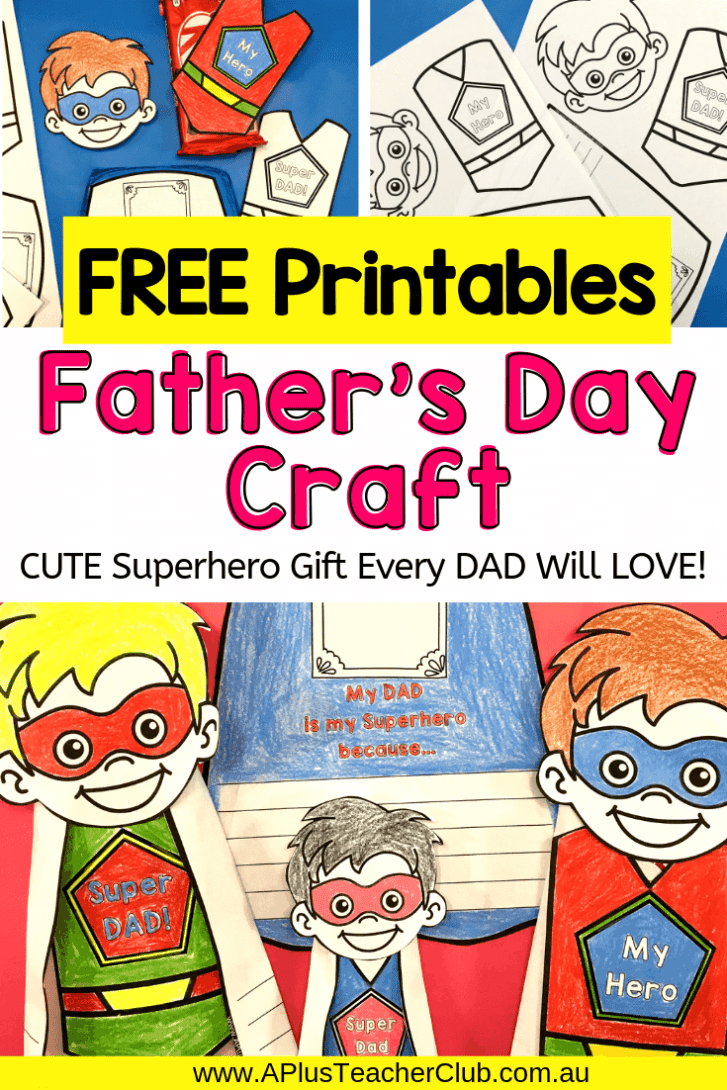 PSST! If you want to Save time and $$$ on Teaching Resources Join Our VIP Club! Get instant access
To ALL our PAID & FREE Resources Plus 20+ New Activities Every Week! Click The Image Below To Find Out More…