Our FREE Number Sorting Think Board Template is a fun addition to preschool and kindergarten play trays. Perfect for learning to identify numbers 0-10!

Number Think Board Download
We love using a number think board in our math classroom. There are so many ways you can adapt them, and they can easily be differentiated to meet the needs of your students. Get this number think board download for FREE to help your students with numbers, numerals and quantity.
We have combined think boards with the concept attainment strategy to create a very simple, but hugely effective addition to your teaching numbers program. Read more about using concept attainment activities here…
Free Version Includes:
 1 secured PDF, (no copy, paste, extracting or changing, customising of information)
11 Number think board mats for sorting numbers into yes/no categories numbers 0-10
You will also need to open this product in Adobe Reader DC (FREE) to print correctly. Download it HERE
All you need to do is download the sorting boards and grab a stack of "number" materials. We used items like:
dice
playing cards
counting cubes
beads
magnetic numbers
playdough cutters
counters
flashcards
magazine images
The list is endless and can include whatever you can find!
Next, we created a play tray to hide all the items in. We filled our Kmart tray with coloured rice, but you can use dried beans, shredded paper, pasta or sand. Again anything that adds a sensory element and that you have to hand. Add the "number" items into the play tray for the students to sort.
Finally, print and laminate the number sort think boards and place them next to the play tray and you're ready to go!
Using the play tray really motivated the kids to find and sort the numbers. They really loved digging into the rice and pulling out items to sort and match.
Related Post: How To Make rainbow Rice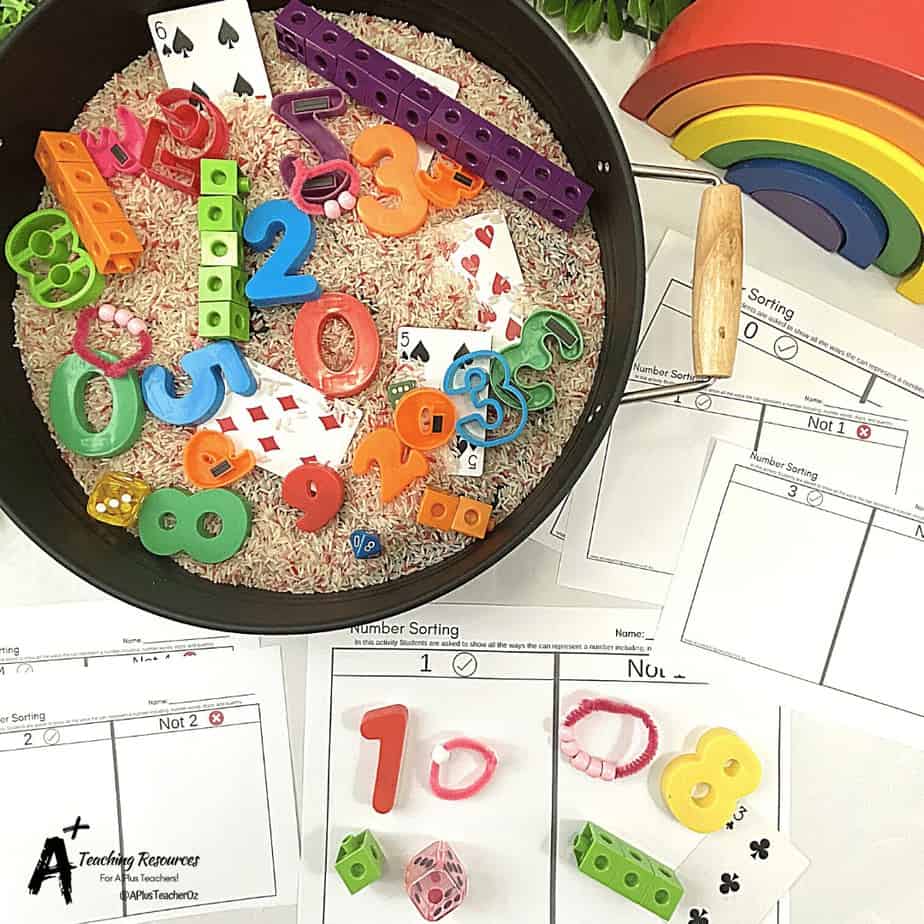 Click here for more Think Board Activities
Select the PAID version if you want to include cut, sort & stick sorting boards. The aid version includes sorting:
tallies
numbers as digits
numbers as words
counting on fingers
ten frames
quantity amounts
PSST! If you want to Save time and $$$ on Teaching Resources Join Our VIP Club! Get Instant Access To ALL our PAID & FREE Resources Plus 20+ New Activities Every Week! Click The Image Below To Find Out More…