c Expand All C Collapse All

So you've reset your password and you still can't log into your account. There are a few reasons why:

You're logging into the wrong website is the NO.1 reason for not being able to login.

You can see login links on the pink navigation bar at the top of the website.

You're using the wrong email and username
Email support aplusteachingresources@outlook.com. for assistance
You don't have an account on this site
Email support aplusteachingresources@outlook.com. and we'll check for you
---
Error messages happen when your file has become corrupted.
---
Occasionally you may get an error message  similar to :

" This document enabled extended features in Adobe Reader. The document has been changed since it was created and use of extended features is no longer available. Please contact the author for the original version of this document." 

This happens when the file has become corrupted in some way. There are many reasons this can happen, the most common are:
 the file has been/attempted to be opened  using a program other than Adobe Reader DC
the version of Adobe Reader DC is outdated
computer default settings used to open PDF is incorrect
There is no Adobe READER DC on the device and another ADOBE product is being used to open the program.
If you get this message or a similar one you can download a fresh copy of the file using the links in the order email we sent you. Alternatively you can email customer support for a new file and they will send it out to you as soon as they can.

Please note that these files are large so if you want it emailed to you promptly check your inbox is not too full especially if using education department emails, or provide an alternative email address.

You do not need to BUY Adobe to fix this issue Adobe Reader DC is a FREE download.

Over several years the A Plus Brand has grown considerably and now consists of 3 separate websites.
www.APlusTeachingResources.com.au
www.APlusTeacherClub.com.au
www.TeachersPayTeachers.com/Store/A-Plus-Teaching-Resources
In 2014 we initially started out with a store on Teachers Pay Teachers (TPT) and then expanded to selling our teaching printables on our own Australian website, where our customers could pay in AU$

www.APlusTeachingResources.com.au

Today A Plus Teaching Resources is a free website that hosts paid advertisements, has a shop in AU$, and offers FREE resources and teaching advice to subscribers. It has a very large following from all over the world!

After receiving 1000's of requests for a, low cost, membership site, with easy access to everything, we finally opened a second website in 2019

www.APlusTeacherClub.com.au

This is the website you're on now, and where we store our printables for our paid VIP members. Best of all it's an AD FREE website!

Having 2 separate websites may be a little confusing at first. But it is the easiest and most convenient way for VIP's to get quick access to 1000's of pages of resources.

Just make sure you're logging into the correct website!  (HINT the VIP paid site is AD free!)
---
All our products are Editable PDF. We do not sell word documents.
---
To protect the copyright of our products all our resources are secured PDF. You will not be able to extract, copy, cut, paste or change text in our products.

Our editable products are also secured PDF files but they have been created with 'form fillable fields' which allows you to edit certain areas of the product. To enable the edit & save functions you MUST open the file with the latest version of Adobe Reader DC or your product will not work correctly. 99% of technical issues are due to:
using an old version of Adobe
using the wrong Adobe product
Computer default settings not opening with the new version of Adobe just downloaded.
 

To make sure you are opening the product with Adobe Reader DC we suggest using the  'OPEN With'  function (right click on your mouse) to open the file:
Find the file you want to open
Click your mouse once (not double click) on the PDF file
Right click the highlighted file and you will get dialogue box (below) select 'OPEN With' this will shoot out another dialogue box, select 'Adobe Acrobat Reader DC (15………)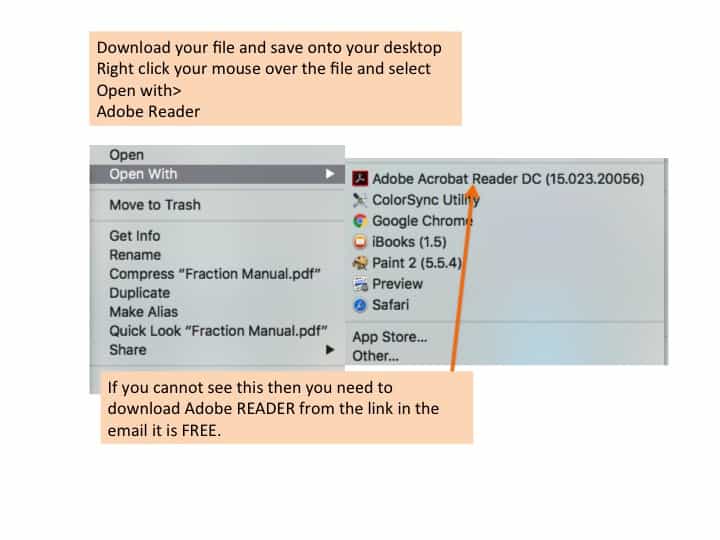 ---
To enter you class details and information just type into the 'blue highlighted' fields in the document.
---
All you need to do is type your information into the 'Highlighted fields' in the document,  they are highlighted blue. These fields are the only place you can type into the document. If the field you want to type into is not highlighted you need to open the other file in the kit, there are 2 Kits in some products. We do include instructions in each product. you can also see a preview of each product in the product description to shoe you or see our 'How To Videos' if you need further assistance.

You cannot use the Adobe side bar editing tool to edit our products.  Do not use it in our documents or you will not be able to edit the file and you will get an error message and may even corrupt the file. If you get an error message close the file and start from scratch or if the file is corrupted re-download the file again using the original email links.
---
No. Our products use the FREE version of Adobe Reader DC.
---
You do not need to buy any expensive programs to use our products. But you MUST have an up to date version of the correct ADOBE product on your computer or laptop.

Adobe make lots of different programs and you may have some of them loaded onto your device. If your default setting opens your product with the incorrect program the file can become corrupted and will not work. Make sure that you OPEN the editable files with Adobe Reader DC. This is the only program that will allow you to edit & save the changes you make in our editable products. 

 
---
Watch a 'How To' Video…
---
Click the play button to get help on:

 

How to Download products immediately 'on-screen'

How To Download, Open & Edit Products

<

How To Edit Products In The Lesson Planner Range

How To Edit Products In The Achievement Standard Kits

How To Edit Products In The Organiser Range