c Expand All C Collapse All
---
All links are emailed automatically and will vary in the amount of time it takes to be sent to you.
---
If you cannot see an email from us it can be due to the following:
You didn't give it enough time for payment to be processed – This can take time and is beyond our control. To check if there is a payment issue review your Paypal/credit card statements.
If you have a receipt for your payment but do not have an email from A Plus Teaching Resources & have waited 1 hour:
Check your Junk email folder – 99% of emails are here because we are not on your safe senders list.
I have checked my junk email and I cannot see my email:
Your EMSP SPAM filter is blocking our emails- This happens depending on a number of things and is beyond our control. You will need to add us to your safe senders list. We find this is an issue with some Department of Education Email addresses, but not all! Contact Customer Care who will resend your links to an alternative email. If you want to use your product at school you can forward the email to your work email at a later date.
Your in-box is FULL – Again this is usually an issue with Department of Education Email addresses. Contact Customer Care with an alternative email address who will resend your links
You entered an invalid email address – Contact customer Care with the email address you want us to send your products to
 

Over several years the A Plus Brand has grown considerably and now consists of 3 separate websites.
www.APlusTeachingResources.com.au
www.APlusTeacherClub.com.au
www.TeachersPayTeachers.com/Store/A-Plus-Teaching-Resources
In 2014 we initially started out with a store on Teachers Pay Teachers (TPT) and then expanded to selling our teaching printables on our own Australian website, where our customers could pay in AU$

www.APlusTeachingResources.com.au

Today A Plus Teaching Resources is a free website that hosts paid advertisements, has a shop in AU$, and offers FREE resources and teaching advice to subscribers. It has a very large following from all over the world!

After receiving 1000's of requests for a, low cost, membership site, with easy access to everything, we finally opened a second website in 2019

www.APlusTeacherClub.com.au

This is the website you're on now, and where we store our printables for our paid VIP members. Best of all it's an AD FREE website!

Having 2 separate websites may be a little confusing at first. But it is the easiest and most convenient way for VIP's to get quick access to 1000's of pages of resources.

Just make sure you're logging into the correct website!  (HINT the VIP paid site is AD free!)
---
All products are digital downloads. They are not physically mailed to your home.  There are 2 ways you can download them.
---
'On- Screen' Product Download
After your payment has been processed you will be shown a 'Order Received' page. It shows your order number, date, total spent and customer details.

Your 'Order Details' are also shown, including the products you have purchased.

If you want to download them immediately just click the green text 'DOWNLOAD' (not the title of the product… this will take you back to the shop ) and save your download onto your computer.

 

 

 

 

 

 

 

 

 

 

 

 

 

Your product links are also emailed out to you using the email address you provided at the checkout. So if you are not at your computer at the time of your purchase, don't worry you can download them later at a more convenient time!
Email Product Download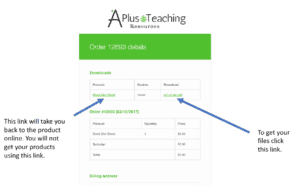 After payment is finalised you will be emailed a 'Your order is complete-download files' email. This email also contains your download links to your products.

Download your products by clicking the Green underlined text under the word "Download" not "Product". If you click the word product you will be taken back to the web page where you bought it from.  If you have purchased more than one product you will need to click all links.

 

 

 

 

Once you have clicked the link your computer will put out a dialogue box asking you where you want to save the files. Please take not that your default setting will automatically save your products to your 'Downloads Folder' on your computer.  You can also select your own destination before clicking save, we suggest you 'SAVE' to  your 'Desktop' then move them to a folder of your choice.

 

How to Download products immediately 'on-screen'

 

 
---
Watch a 'How To' Video…
---
Click the play button to get help on:

 

How to Download products immediately 'on-screen'

How To Download, Open & Edit Products

<

How To Edit Products In The Lesson Planner Range

How To Edit Products In The Achievement Standard Kits

How To Edit Products In The Organiser Range