This painted rock snowman is quick, easy and so much fun to make.  Use them in your classroom math centers or for a simple gift idea. Try it with your Kids for a Jolly Holly-day this December!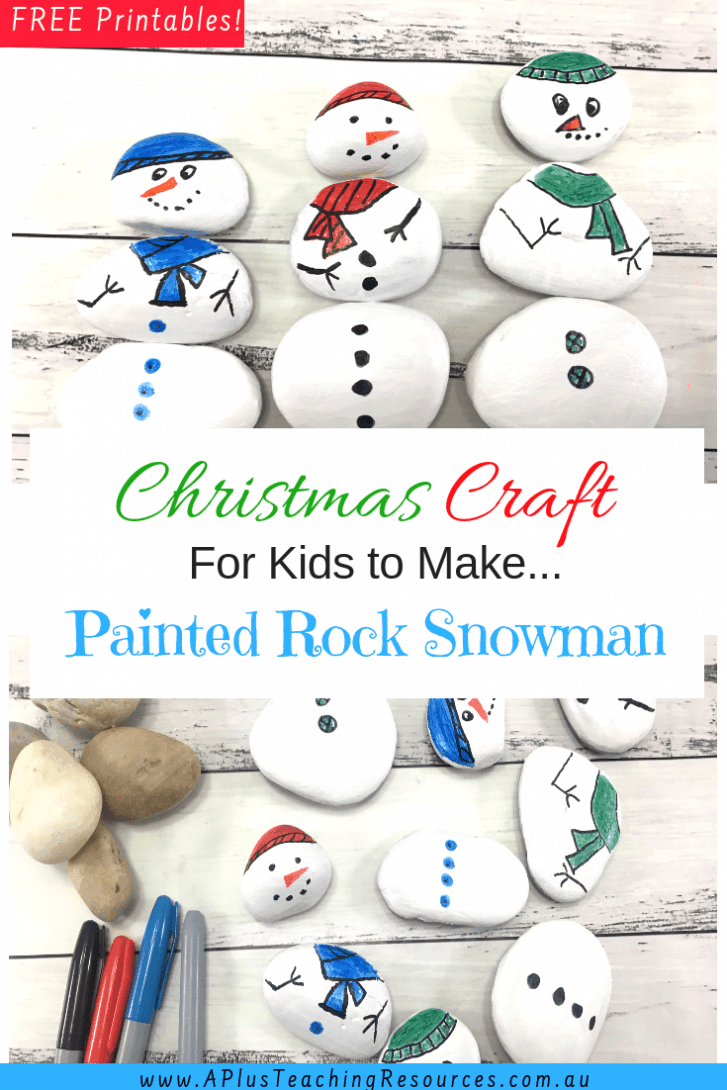 Painted rock craft is BIG at the moment and we just love it! Don't you?
As Christmas is right around the corner we wanted to get a head start on planning our Christmas Classroom Activities. After consulting everyones favourite reference… Pinterest, for inspiration, we decided on this cute snowman painted rocks set! We have quite a few FREE Christmas Resources for Teaching on the site. Check them out!
We really loved how easy this snowman rock painting craft project is to make, especially for kids. And that that it can be used for teaching math concepts like:
colours
counting
addition
matching
measuring length
We even made a FREE printable to go with it! (Scroll to the end of the post to get it!)
Related Post: Festive Fun Math Games Printables For Christmas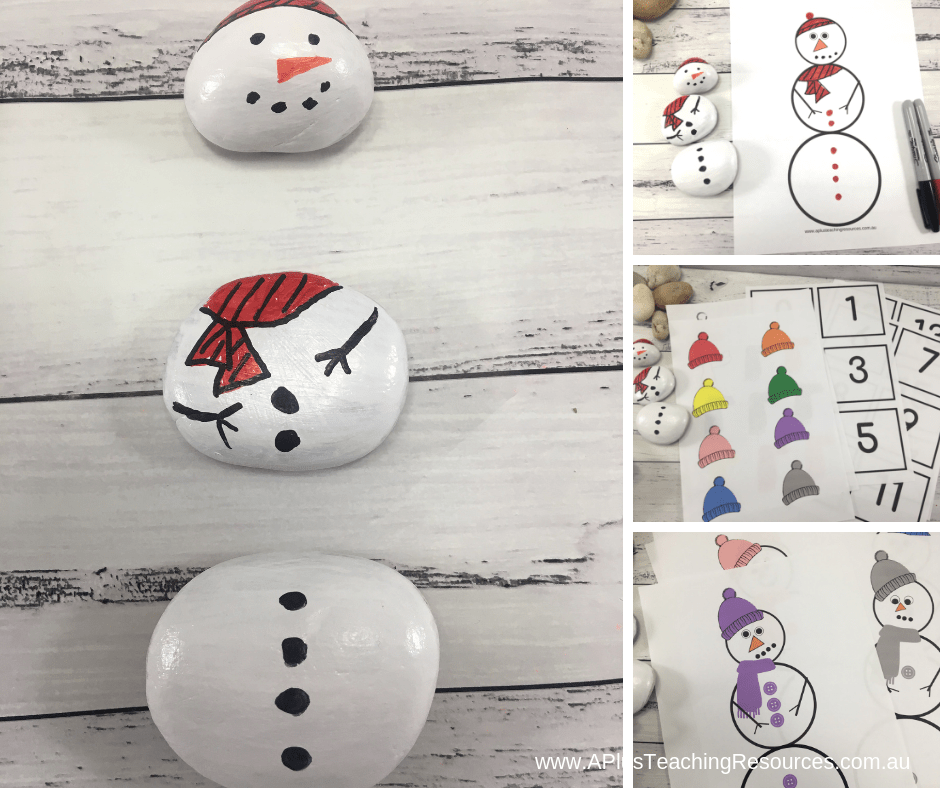 *This post contains affiliate links. APTR may receive a small commission for referring your purchase, at no extra cost to you. Thanks for supporting us!
Supplies For Painted Rock Snowman
There's nothing nicer than using pebbles and rocks that you have found in your local environment for this painted rock snowman project, but please be careful. Make sure you check the rules of your area before taking rocks to paint.
If you need to buy your rocks try your local garden centre or landscaping suppliers. You may even find them in the dollar shop, you can even buy rocks on Amazon!
Painted Rock Snowman in the Classroom
These painted rock snowmen are 'snow adorable' and are a very simple to make.  Our Kindergarten kids were involved in painting the rocks white and we left them to dry overnight.
Once made these snowmen painted rocks can be used in so many different ways, try them in:
a play centre as a way to build visual discrimination skills -describing how many buttons on the snowman, the colour of the hat and scarf
measurement activities – ordering shortest to tallest
counting activities – make a snowman that has __ stones
copying and matching tasks – use the free printable matching cards to practice matching and copying each snowman
small world sensory free play
simple sequencing and procedure activities – Download our free sequencing printable at the end of the post
cute holiday gifts!
Equipment For Painted Rock Snowman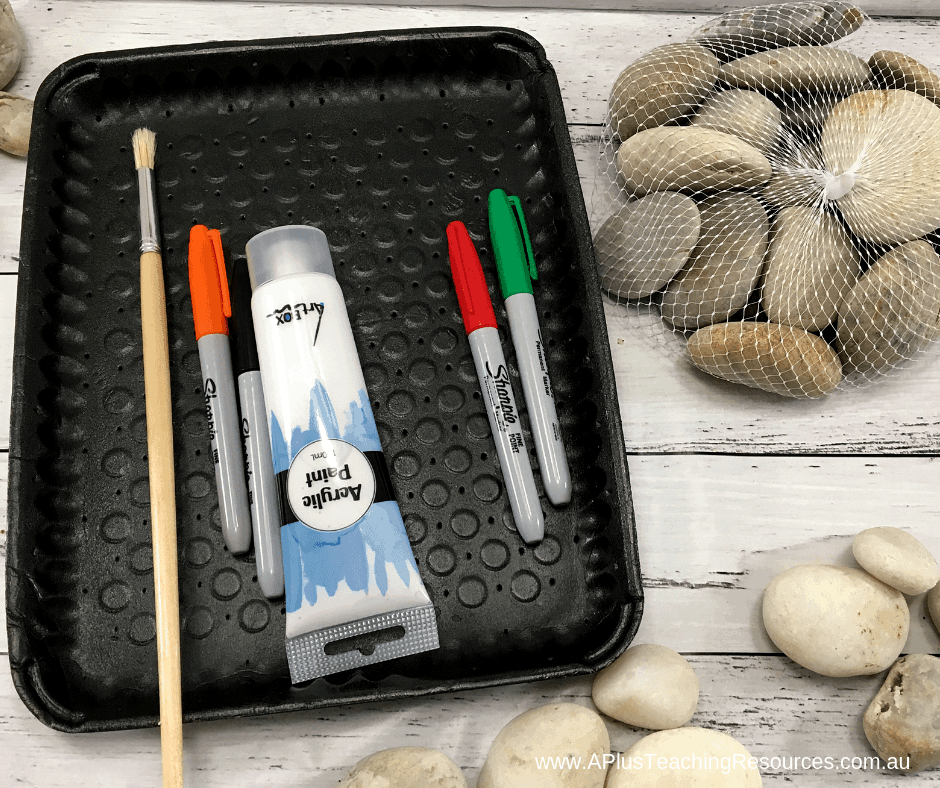 Plan Your Painted Rock Snowman
We started by sorting the rocks by size and planning out the bodies for our snowmen.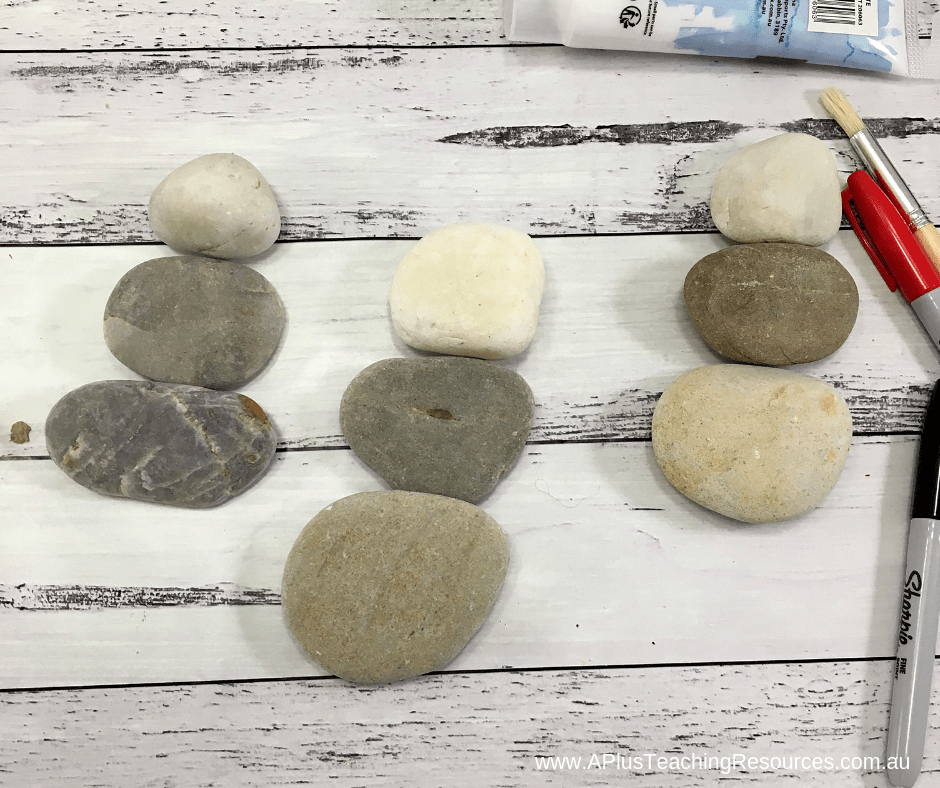 Next we painted each rock white, even the white rocks, with acrylic paint. This helps the snowman features really pop. Depending on the quality of your paint you made need to do a couple of coats. Leave the rocks to dry.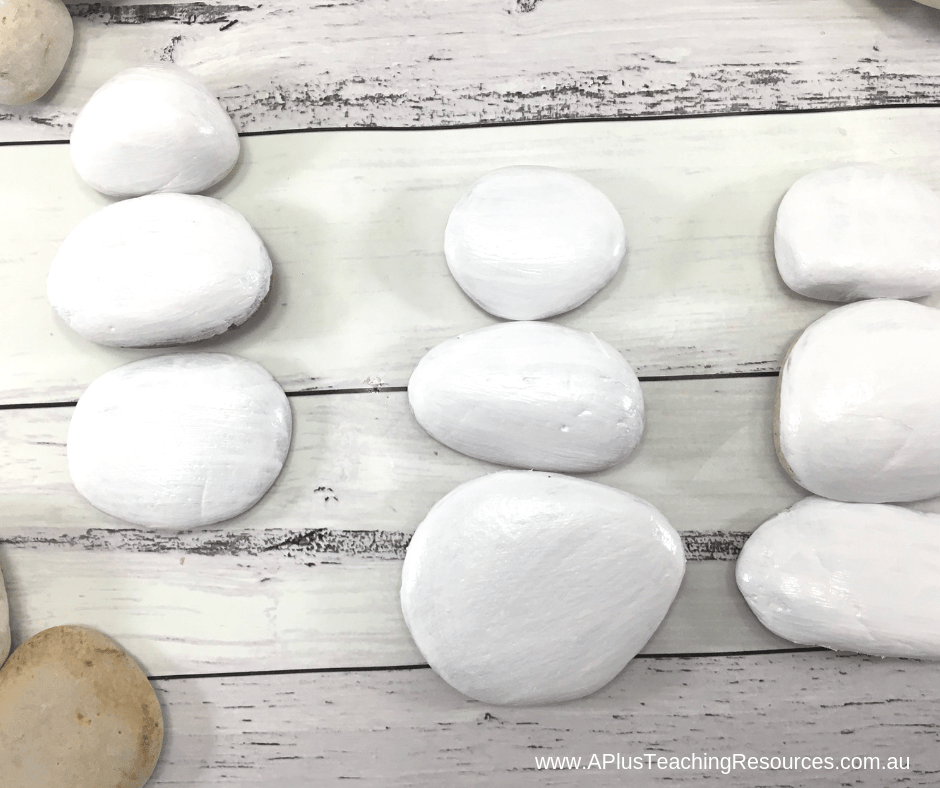 Use the FREE printable templates we created (at bottom of post) to help your children copy a design. There are 1o different colour designs including:
white
red
grey
pink
blue
purple
green
yellow
orange
multi colored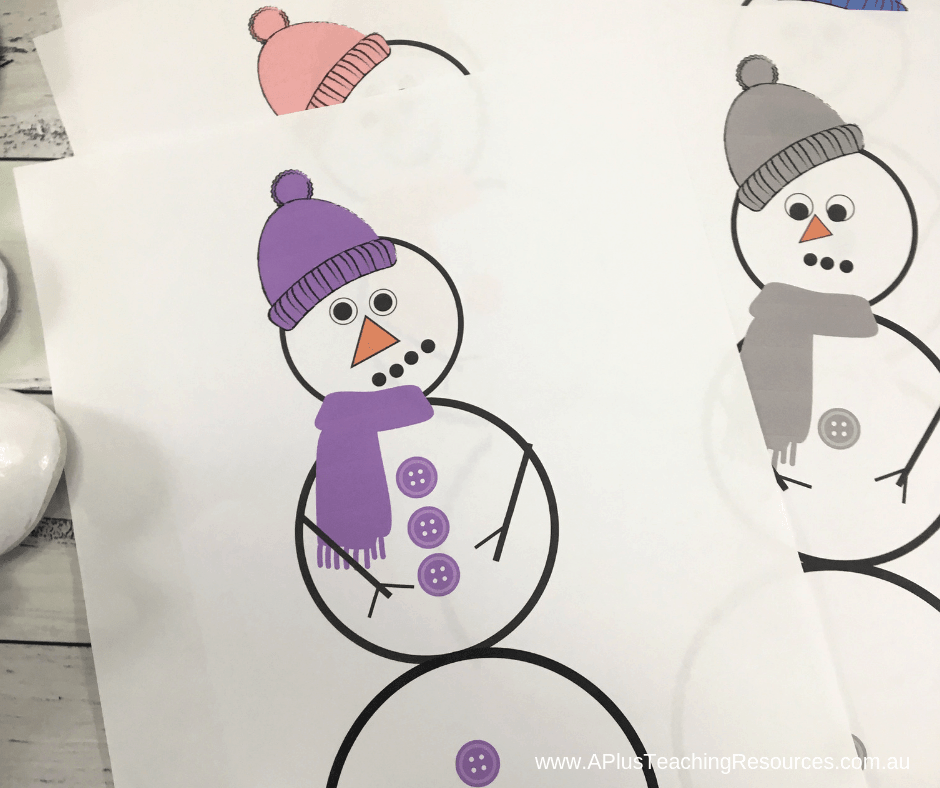 Or you can use the blank template in the printable to create your own snowman design!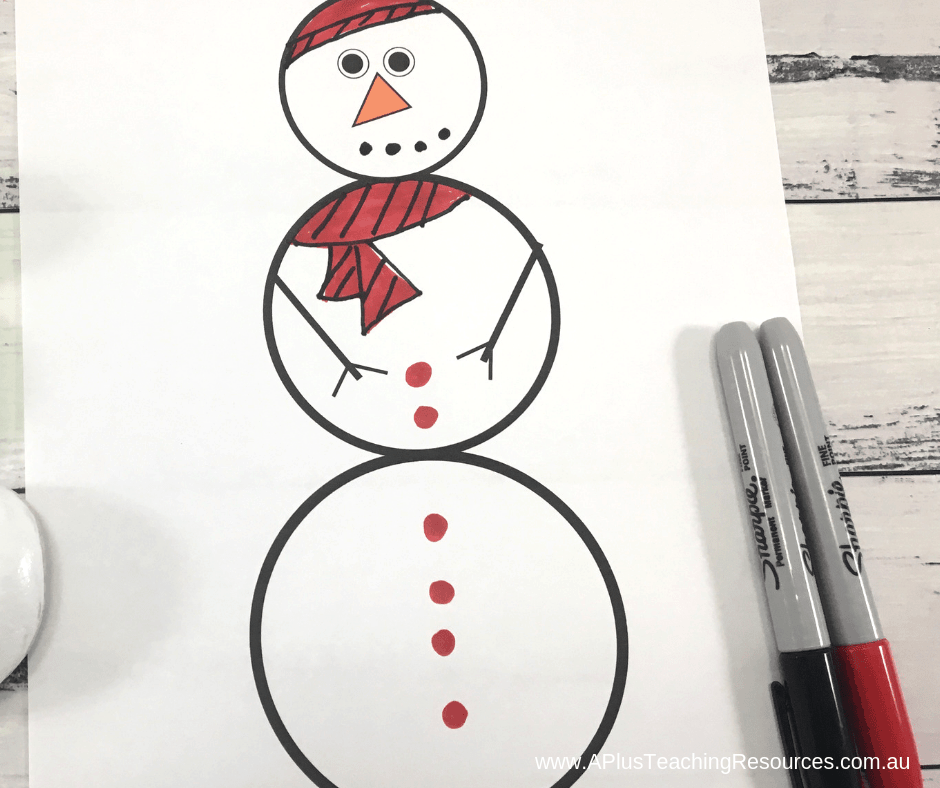 Related Post: Free Winter  Snowman Number Games Printables
Decorating Your Painted Rock Snowman
To copy the design onto the rocks we used permanent markers.  Sometimes we have found that the base paint can ruin the pen, depending on the brand of acrylic you use, so we have also used the proper rock painting pens.
They have the added bonus of being really vivid! You may like to test out the markers first to see which works best for you.
We colored the hat with the sharpie, then outlined it with a black marker. Or you can use a small paint brush and acrylics to paint the hat and then outline it after it has dried. Also include the mouth, eyes and a carrot nose on this rock.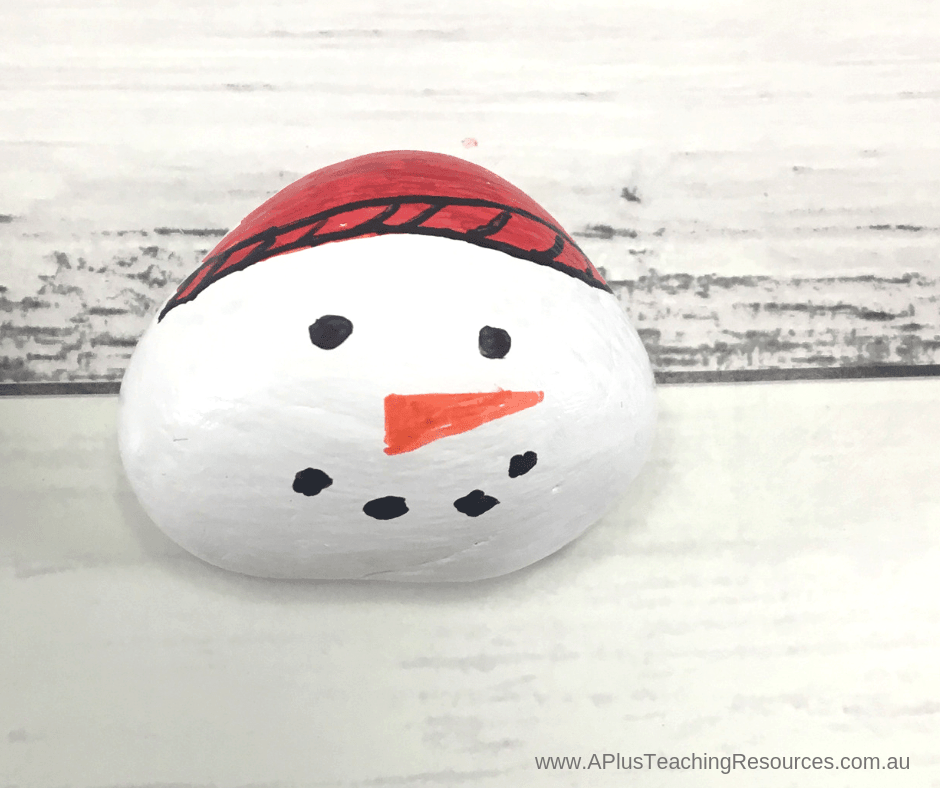 On the next rock we added the snowman scarf,  buttons and arms arms. We colour co-ordinated our snowman for a color matching game.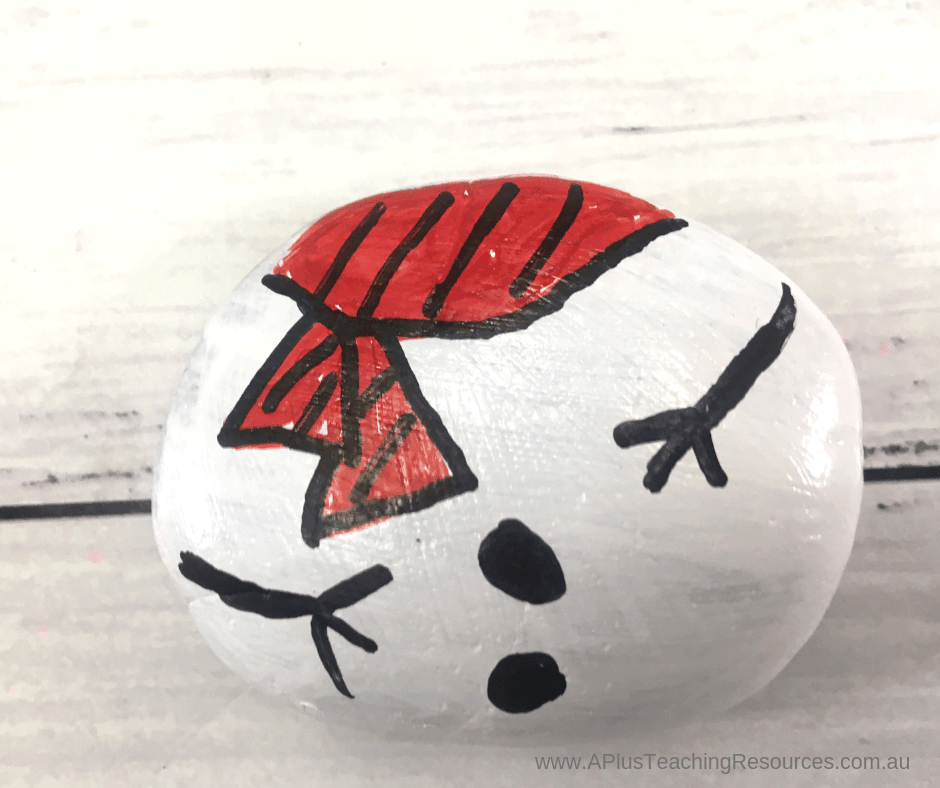 On the next rock painted more buttons. We varied the number of buttons on this section so the kids could practice counting.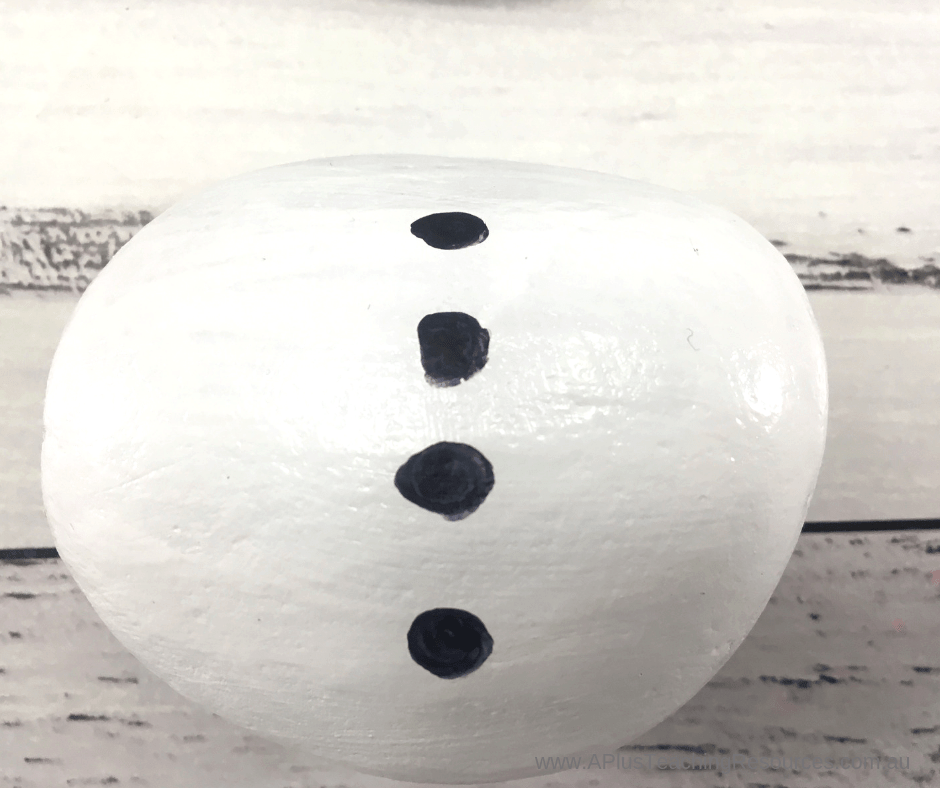 We used  created several different painted rock snowman designs. You can paint a different design on the underside of your rocks to double the number of snowmen in your painted rock snowman resource.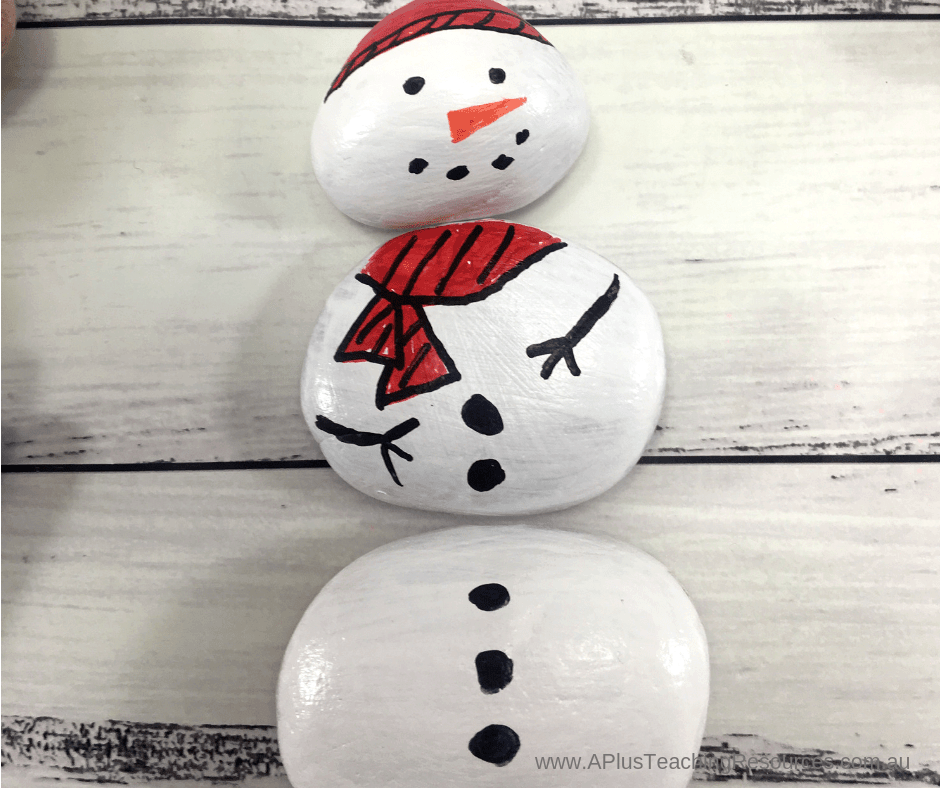 Related Posts: How To Make A Christmas Book Advent Calendar
Classroom Activities For Your Painted Rock Snowman
If you're using the painted rock snowmen in your classroom here's some fun ideas and a free printable (get it at the end of the post).
Build a snowman by matching the colors.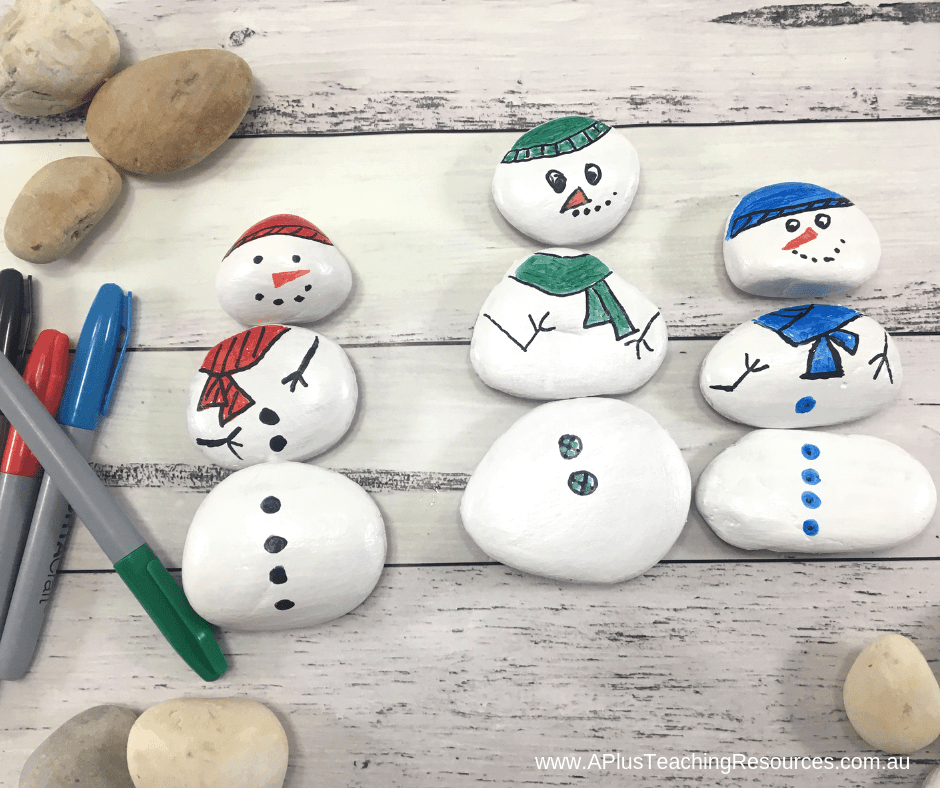 Or mix and match the colours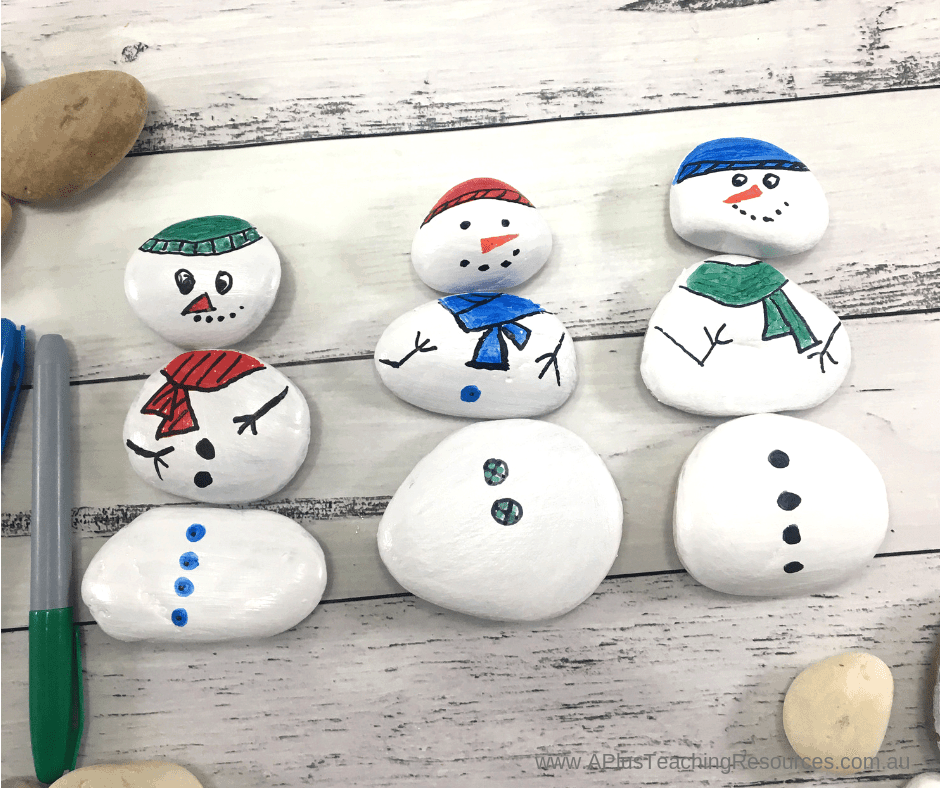 Our kids also used the paint rock snowman to order them from smallest to biggest (shortest to tallest)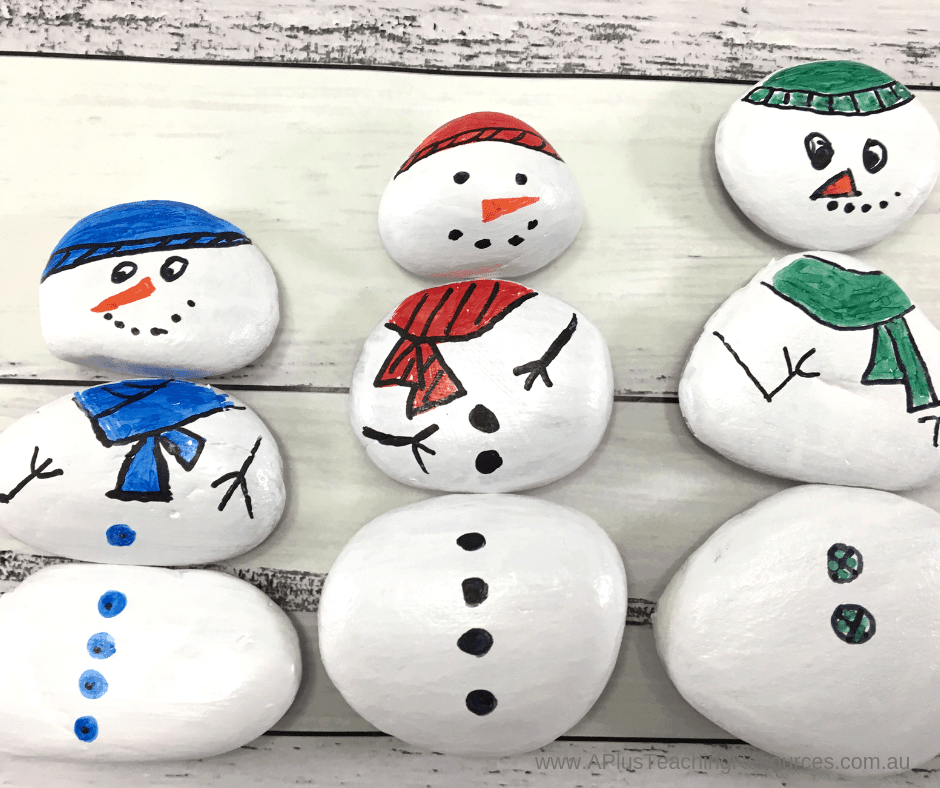 Click the image to Get the free painted rock snowman printable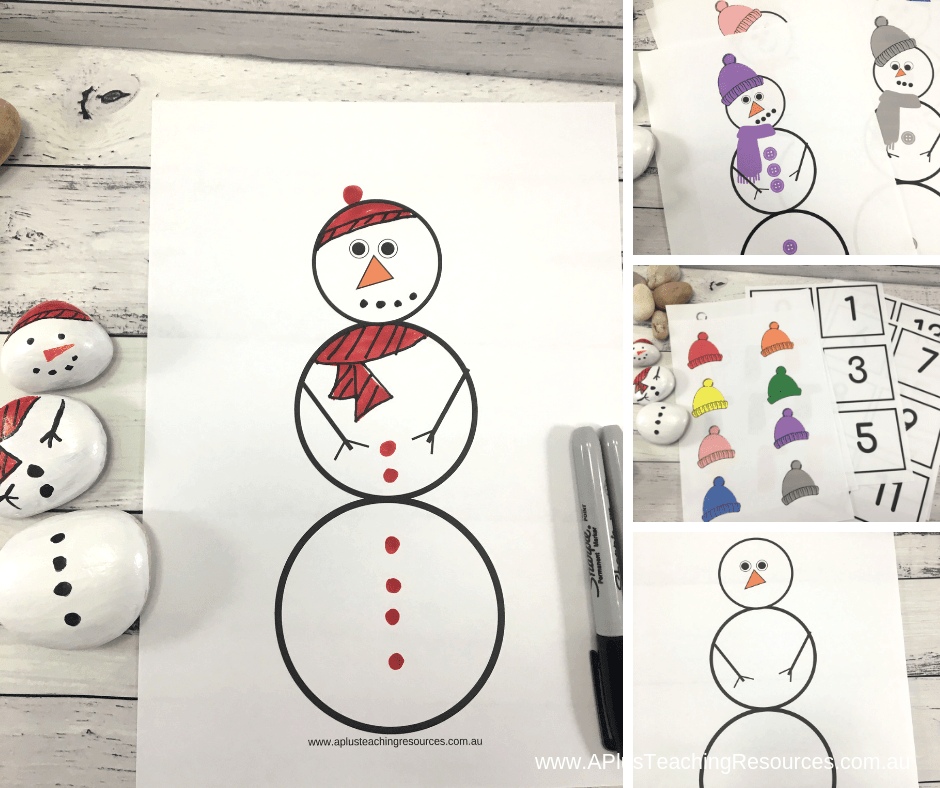 Related Post: Best Christmas Books For Kids List & Printable
Number Recognition Products Created By A Plus Teaching Resources
Don't Miss Out!!! Sign up to our Blog To get the next Resources idea & Free Printable Delivered To Your Email !!!
Snowman Clip Card Printable Number Games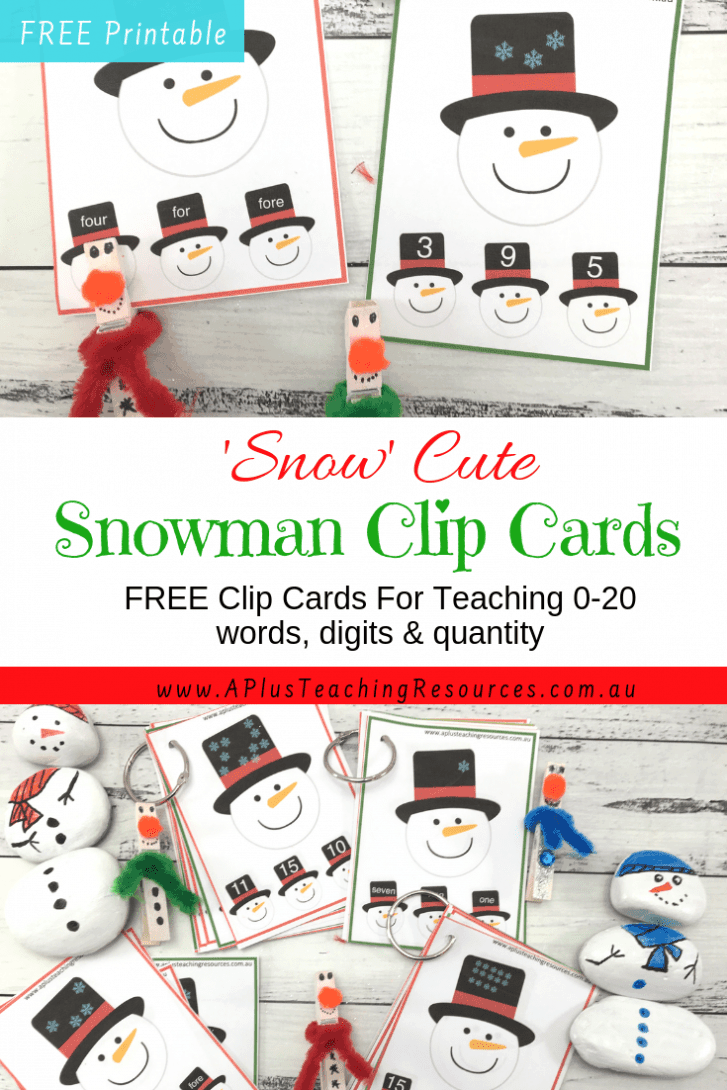 Christmas Picture Books For Kids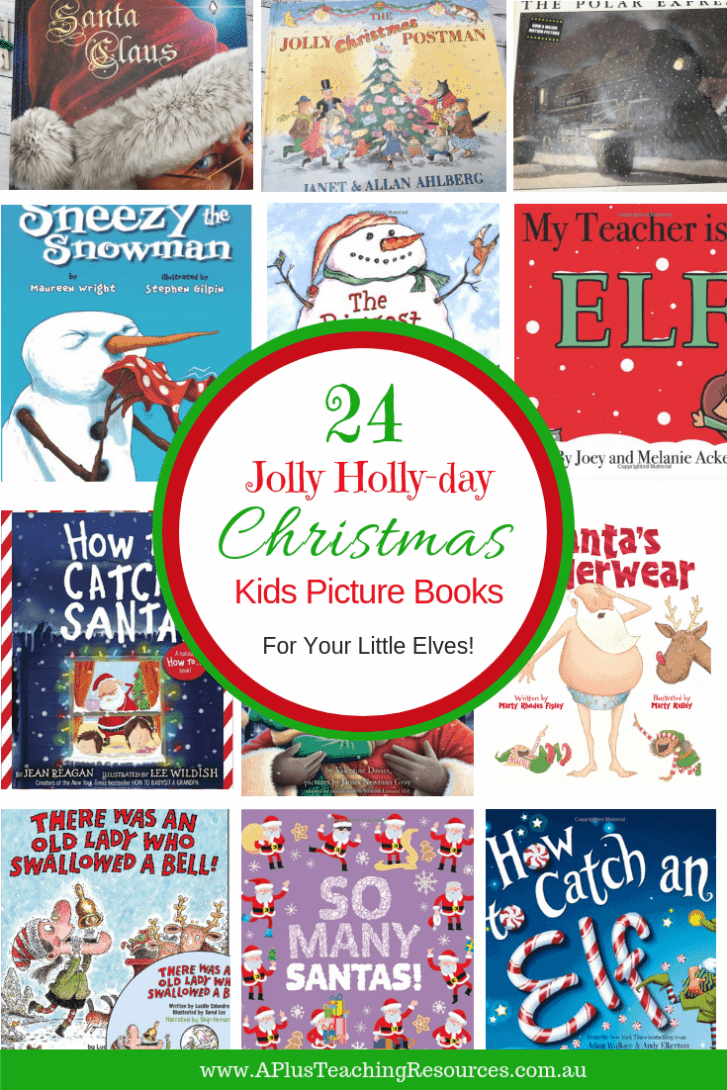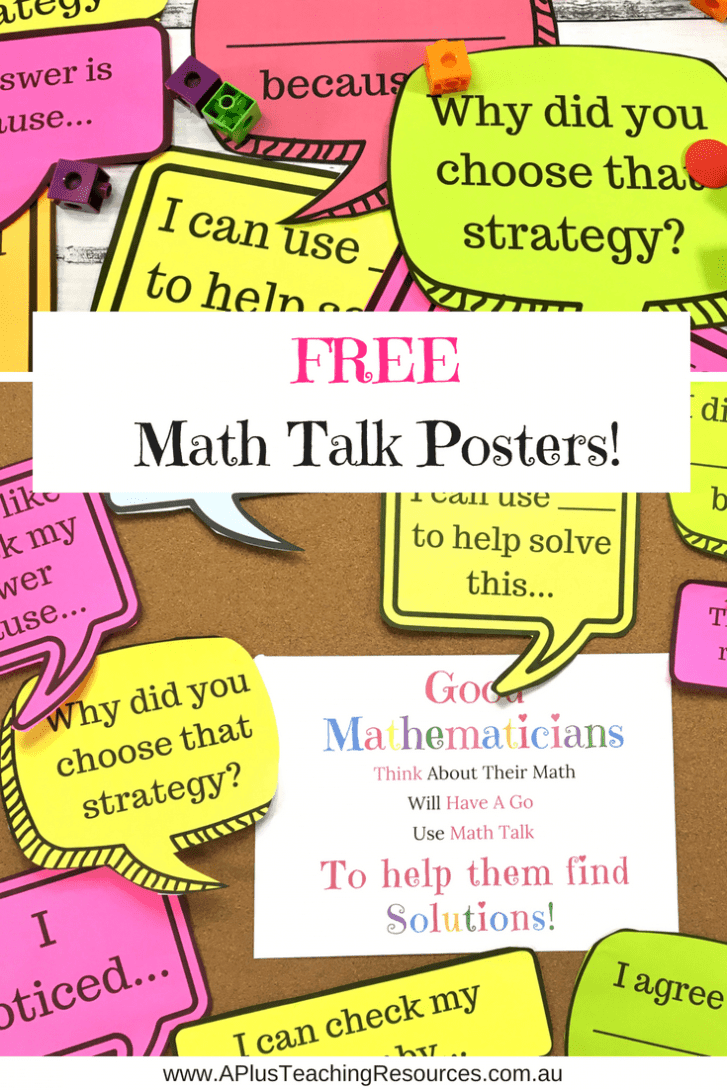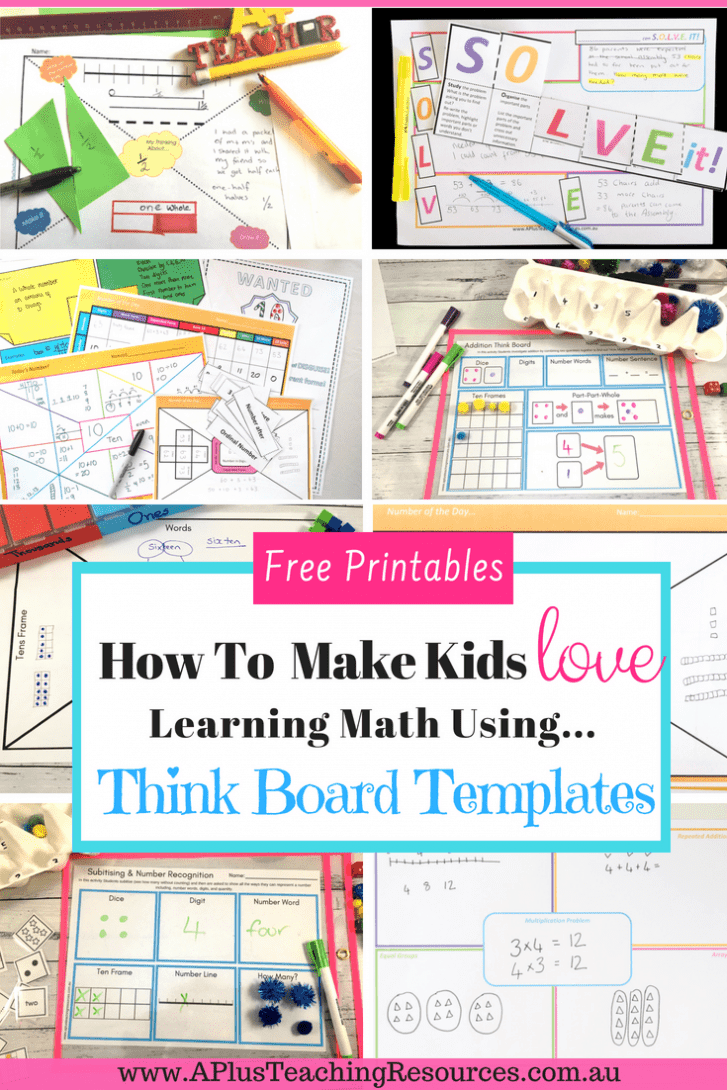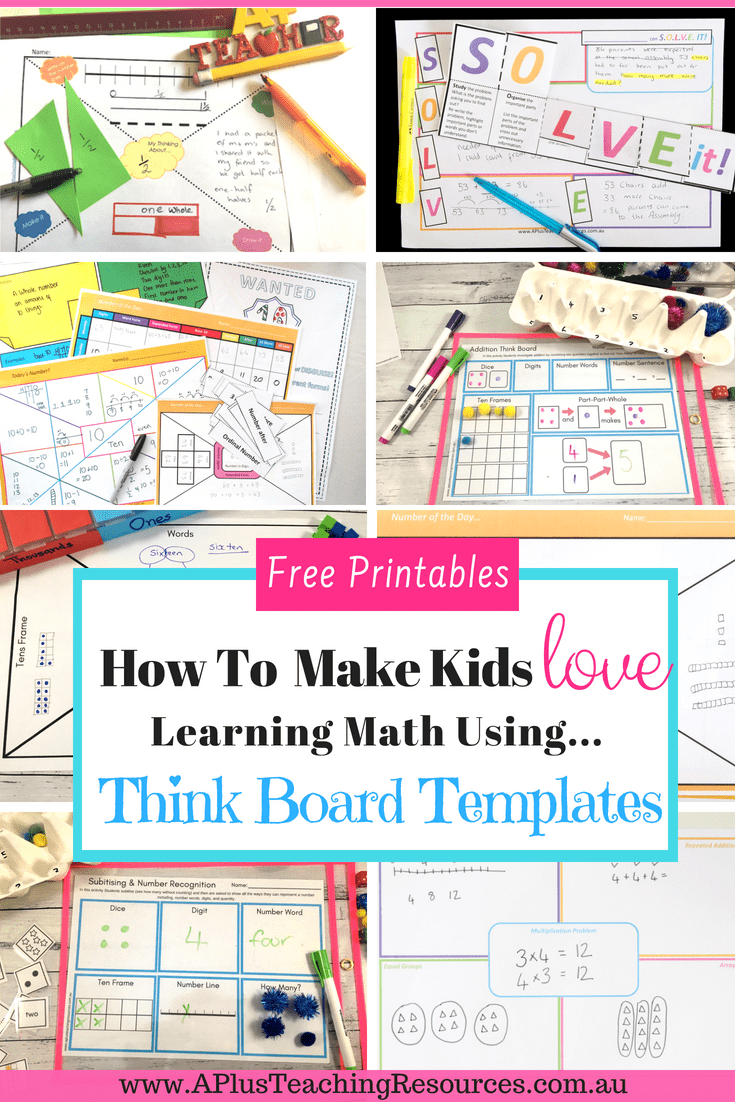 Find more Snowman Crafts For Your Classroom On Our Pinterest Boards Snowman Crafts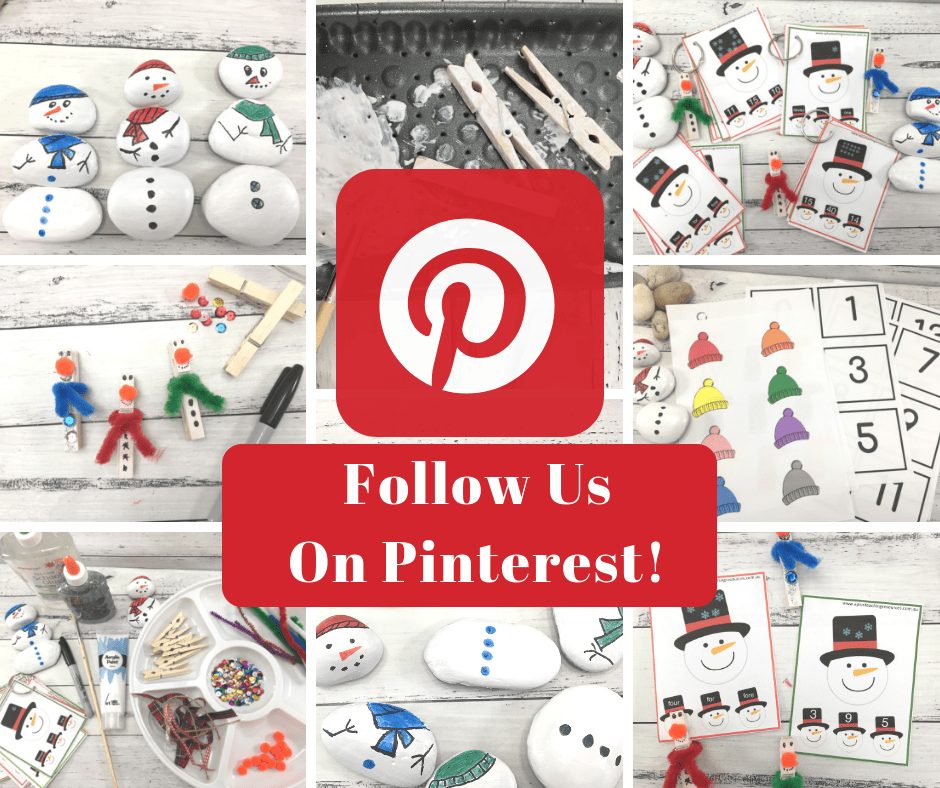 PSST! If you want to Save time and $$$ on Teaching Resources Join Our VIP Club! Get instant access
To ALL our PAID & FREE Resources Plus 20+ New Activities Every Week! Click The Image Below To Find Out More…